10 most beautiful Yountville wineries, tasting rooms and vineyards you'll find
Tucked away in the heart of Napa Valley, wineries in Yountville are sanctuaries for wine lovers looking for a scenic upscale wine tasting experience.
This quaint town in California is a wine lover's dream come true, with a plethora of exquisite vineyards, tasting rooms, and wineries offering a sensory experience through the best vintages.
Yountville hosts over 20,000 people every year. Napa Valley as a whole receives over 4 million visitors per year. That number seems small maybe but when you consider Napa Valley produces less than 2% of California's wine, that stat really puts those tourism numbers into perspective.
People flock to Yountville for the beautiful scenic wineries, the charming small town feel and of course, the food. We recommend spending an entire day and even one night in Yountville. Our favorite place to stay is Maison Fleurie, said to be the oldest building in Yountville.
The best seasons to experience Yountville's wineries are in the spring and fall, when the vineyards are covered in colorful fall foliage or lush greenery. Comfortable temperatures make it possible to enjoy world-class wine tastings and leisurely walks through landscapes covered in vines. The summers are very hot and the winters are fairly mild although can be pretty wet. Winter is a great time to visit Yountville because the prices for hotels are lower and there are less crowds.
Let's dive into our top 10 picks for Yountville wineries, tasting rooms and vineyards.
Yountville Winery Map
1. RH Wine Vault In Yountville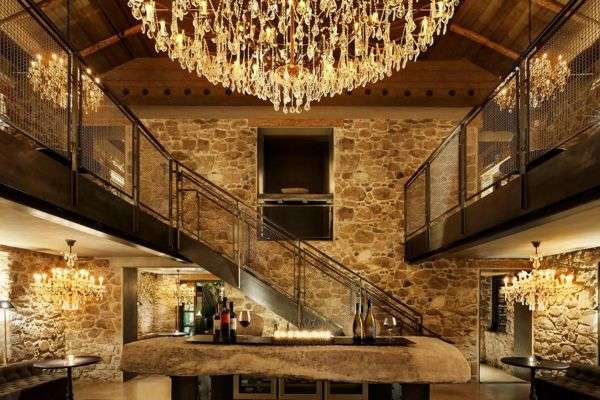 Location: 6725 Washington St, Yountville, CA 94599, United States
The RH Wine Vault (Restoration Hardware) presents a thoughtfully selected array of wines from California, renowned as America's premier wine-growing region. Situated within the historic Ma(i)sonry Building, a landmark constructed in 1904 and listed in the National Register of Historic Places, this establishment provides tastings available by the flight, glass, or bottle. 
Highlighting wines exclusively sourced from distinguished producers in Napa and Sonoma County, these vintners, steering small, family-owned enterprises, are creators of some of the globe's most lauded wines. Visitors are encouraged to delve into the narratives behind these exceptional wines, each narrative proving as distinct and captivating as the wines themselves.
Why we love RH Wine Vault: The garden at RH is really an oasis in downtown Yountville. Don't miss an opportunity for the outdoor tasting. If you're having food, ask for a table on the sidewalk (not in the garden). This provides for great people watching. Everyone will be so jealous you snagged the best table in town.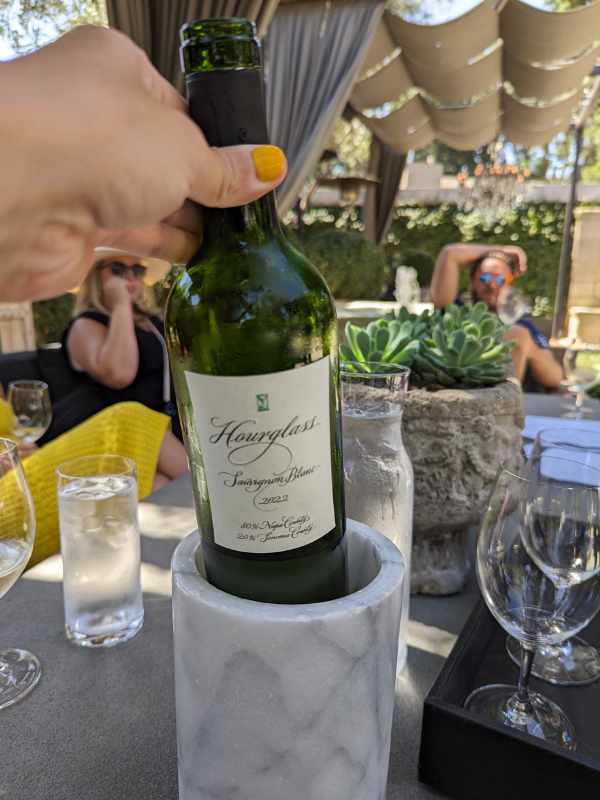 2. Jessup Cellars In Yountville
Location: 6740 Washington St, Yountville, CA 94599, United States
Over the last two decades, Jessup Cellars in Yountville has cultivated a devoted following drawn to its ultra-premium wines. They have quietly garnered a reputation, spread by word of mouth, for hosting one of the most amiable tasting rooms in the entirety of wine country.
Jessup Cellars offers a Classic Tasting Experience that involves guided wine tasting with a pairing plate for $60. There's also a Wine Only Tasting Experience for tasting flights of 3 for $30. They feature virtual and in-home tasting options and can help you organize the event if you're having a large group of people.
Reservations are recommended and can be made on the Tock app but you can also walk-in if you're feeling spontaneous (and lucky).
Why we love Jessup Cellars: Their tasting room and patio are beautiful, yes. But what we loved most was the service and the Classic Tasting of 5 wines of their current releases accompanied by a lovely snack plate.
---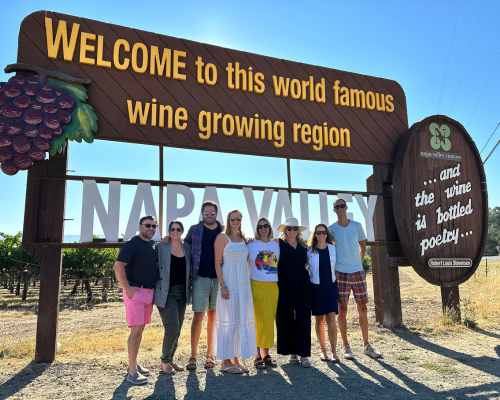 Planning a trip to Napa but don't know where to start, or worse yet, you're 10 hours deep and frustrated? You won't want to miss our Napa Trip Planner!
---
3. Goosecross Cellars In Yountville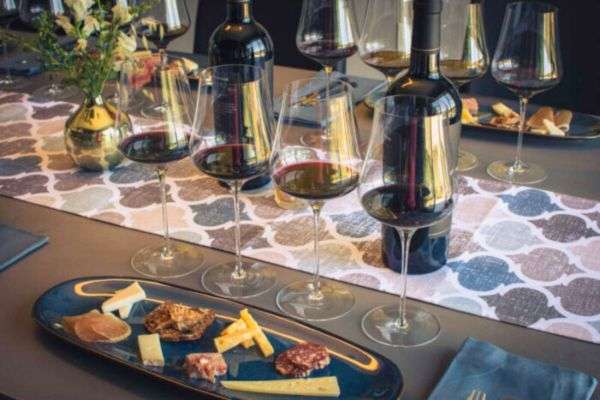 Location: 1119 State Ln, Yountville, CA 94599, United States
At Goosecross, guests can bask in the breathtaking vistas of the State Lane Vineyard, the Yountville Hills, and the westward stretch of the Vaca Mountain Range, all while indulging in the artistry of meticulously crafted wines. The cellar offers four different wine tasting experiences.
Goosecross goes beyond a mere tasting experience, encouraging guests to fully immerse themselves in the winery with an exclusive behind-the-scenes tour from their Food And Wine Tasting Experience. The tour culminates in an elevated tasting featuring our most exclusive estate wines, thoughtfully paired with artisanal cheeses and charcuterie.
Tastings are by reservation only.
Why we love Goosecross: All tastings are special and enjoyable but our favorite was the guided food and wine pairing. This immersive experience is 90 minutes and $120 per person. You'll hear the story of their farming practices and winemaking techniques while taking in the views on a stroll around the estate. After the tour your tasting begins with their most exclusive estate wines and paired with a selection of artisanal cheeses and charcuterie.
4. Cosentino Winery In Yountville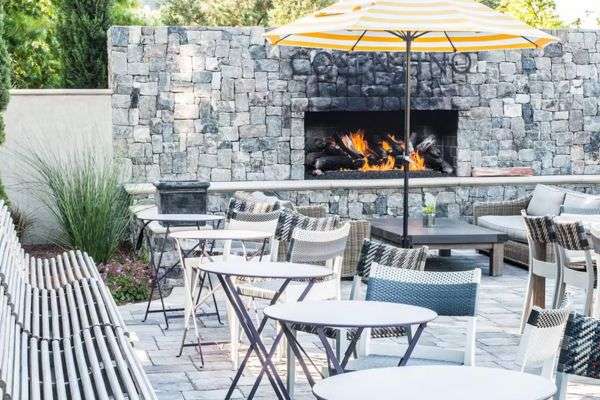 Location: 7415 St Helena Hwy, Napa, CA 94558, United States
Cosentino Winery, recognized for pioneering the creation of the inaugural designated and licensed Meritage wine—a Bordeaux-inspired blend—in 1986, maintains its innovative approach to winemaking to this day.
Positioned ideally along the St. Helena Highway, the winery is the go-to destination for those seeking a tranquil space to unwind, savor, and appreciate the distinctive varietals from Napa and Lodi. With nearly four decades of expertise in crafting and sharing its wines, Cosentino Winery remains committed to curating memorable experiences.
Why we love Cosentino Winery: Cosentino is laid back and offers a beautiful space to relax and try some different wines (other than the famous Napa Cab). We also love the reasonable tasting fee of $30. Warm up near the fireplace during chillier months
5. CHANDON In Yountville
Location: 1 California Dr, Yountville, CA 94599, United States
CHANDON is one of the most exciting and celebrated sparkling wine houses in Napa and certainly in Yountville. This property is gorgeous. Make a reservation for tastings and experiences Thursday – Sunday. By the glass or bottle service is available for walk-in on Monday. Tasting experiences begin at $55. Enjoy a five course farm to table food and CHANDON pairing for $155 per person.
Why we love CHANDON: Be sure to check out their tasting events and experiences for groups. For example, if you're in town in October, their oyster and CHANDON experience can't be missed.
6. Bell Wine Cellars In Yountville
Location: 6200 Washington St, Napa, CA 94558, United States
Bell Wine Cellars, enveloped in tranquility, boasts an unspoiled and idyllic ambiance just beyond the outskirts of downtown Yountville. The tasting room is nestled amidst vineyard rows.
As a working winery, Bell Wine Cellars offers visitors more than just a wine-tasting experience. From immersive vineyard and winery tours to sensory tasting sessions, a team of sommeliers, vintners, and wine experts stands ready to guide you through the most exceptional facets of California wine country.
Bell Wine Cellars offers four on site experiences beginning at $65 per person.
Why we love Bell Wine Cellars: We love their Grape To Glass Tour & Tasting not only for the juicy deliciousness but also because we loved hearing them speak about the relationship between winemaker and terroir.
7. Hill Family Estate In Yountville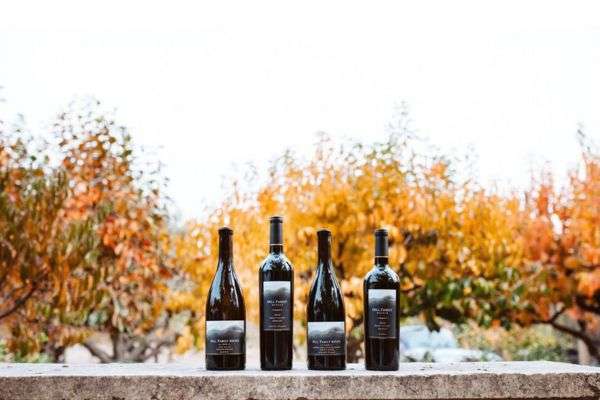 Location: 6512 Washington St, Yountville, CA 94599, United States
The Hill Family Estate tasting room is right smack dab in the middle of downtown Yountville and sandwiched between Bouchon Bistro and Ad Hoc. Doug Hill has grown grapes for more than forty prominent wineries including Far Niente, Cakebread, Silver Oak and Quintessa to name a few.
Hill Family Estate offers two locations for tastings:
Downtown Yountville Tasting Room
At their historic tasting room, they offer a seated wine tasting where you'll enjoy and explore wines made from grapes that Doug has been farming since the 1970s. This tasting experience is $40 per person. Walk-ins and reservations are accepted and can be booked on the Tock app.
estate winery
Their Secret Garden Tour offers an immersive experience, commencing with an hour-long exploration of Hill Family Farms—an enchanting 1.3-acre oasis concealed within Yountville. Bursting with over 120 fruit trees, various vegetables, herbs, and 25 culinary flowers. The farm's produce is exclusively utilized by select restaurants, particularly Thomas Keller's The French Laundry. Following the tour, you'll enjoy a seated tasting at the Hill Family Estate tasting room in Yountville after strolling through our garden. This experience is $75 per person.
Why we love Hill Family Estate: We love the experience that Doug Hill brings to the California wine industry. We also love the location of the tasting room. You can be anywhere in downtown Yountville and walk to Hill Family Tasting room in less than 15 minutes. Meaning, everyone walks by to get anywhere. Great people watching.
8. Handwritten Wines In Yountville
Location: 6494 Washington St, Yountville, CA 94599, United States
The winemaking story of Handwritten Wines revolves around creating expressive small-lot Napa Valley District Cabernet Sauvignon.
Handwritten offers three different wine tasting experiences for side-by-side comparisons of their Napa Valley District wines, all accompanied with a casual food pairing, and begin at $60 per person.
Why we love Handwritten Wines: We love the Classic Experience that includes 4 wines accompanied with truffle potato chips and fluffa crackers. Yum.
9. Cliff Lede Vineyards In Yountville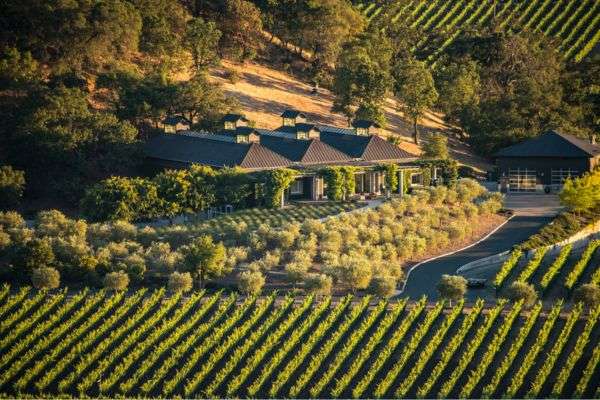 Location: 1473 Yountville Cross Rd, Yountville, CA 94599, United States
Established in 2002 by Cliff Lede, Cliff Lede Vineyards emerged after the acquisition of 60 acres in the Stags Leap District of Napa Valley. Prioritizing the production of wines sourced from their estate vineyards, Cliff enlisted industry experts to oversee redesigning and replanting a significant portion of the estate. The contemporary winery, designed by the globally acclaimed architect Howard Backen (who also designed Davis Estates) and finalized in 2005, seamlessly integrates time-honored methods with cutting-edge technology.
Cliff Lede Vineyards provides multiple wine tasting experiences to large and small groups. Private tours and tastings are available on their veranda, in the Backstage Tasting Lounge in the vineyard or in The Library and begin at $60 per person. They also have private group tastings available.
Why we love Cliff Lede Vineyards: We love the guided wine tasting on the veranda with vineyard views. You know the saying wine tastes better with food? Well we think beautiful scenery enhances your experience and makes the wine taste better. Cliff Lede Vineyards gets it.
10. Hestan Vineyards In Yountville
Location: 6548 Washington St, Yountville, CA 94599, United States
In 2013, Hestan Vineyards unveiled a tasting salon in the heart of Yountville to welcome visitors. This modern and striking salon, constructed with poured concrete, hand-forged steel, and glass, has become a sought-after destination for wine enthusiasts and architecture lovers.
The tasting salon is open daily, offering a selection of wine tasting flights. Tastings are $40 per person and are approximately 60 minutes. They do require reservations which can be made online.
Situated on Napa Valley's secluded eastern slopes, Hestan Vineyards (named for Helen and Stanley Cheng) is a picturesque estate spanning 110 acres with varietals such as Cabernet Sauvignon, Merlot, Cabernet Franc, Petit Verdot, Malbec, Sauvignon Blanc, and Grenache planted.
Guests are also invited to explore the 237-acre private estate, guided by knowledgeable staff providing insights into Hestan's heritage as they traverse the vine-covered landscapes. The experience culminates in a seated tasting featuring Hestan's premier collection, with a focus on their most coveted vintages.
Why we love Hestan Vineyards Tasting Salon: We love the California mod architecture and the street views from the front lounge. If you're willing to make the 40 minute drive outside of Yountville, their private estate seated tasting is pretty special too. Email for an appointment.
Yountville Wine Tasting Tours And Experiences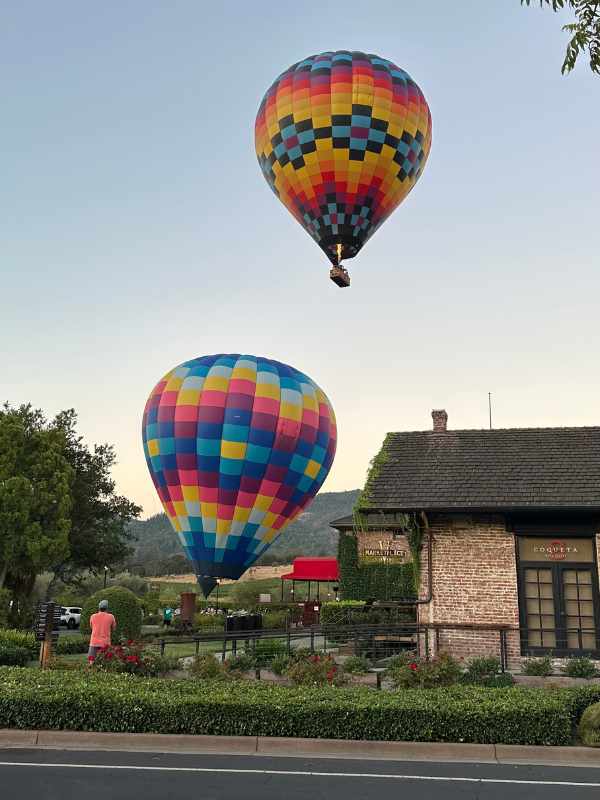 In this enchanting corner of Napa Valley, discover a curated selection of Yountville wine tours and tastings. From intimate encounters with boutique wineries to guided tours through lush vineyards, each experience invites you to savor the terroir, the craftsmanship, and the stories that unfold with every sip.
A trip to California's wine region is a must-do when visiting, but choosing which wineries to visit can be difficult. This private wine tour with concierge service helps you prepare ahead to experience the wineries you want to visit. Also, you won't have to worry about transportation, so you can enjoy the day.
Indulge in a fine dining and wine experience at Yountville. You might be already aware there are a lot of Michelin-starred restaurants in Yountville. As you go from one renowned chef's restaurant to the next, you can sample farm-to-table cuisine matched with delectable regional wines. The tour involves wine and food tastings, a three-course lunch, and educational commentary from your guide.
With so many wineries in Napa Valley and Sonoma, two regions well known for their wine production, it might take a lot of work to figure out where to start. This Napa and Sonoma Private Wine trip offers both the option to create a trip or follow a pre-planned itinerary that stops at some of the best wineries in the region.
Discover The Best Yountville Wineries And Tasting Rooms
Discover the rich tapestry of Napa Valley's viticultural excellence on a sensory expedition as you visit the top Yountville wineries and tasting rooms. Every location encourages guests to discover the complex flavors and tales in each sip, from the intimate settings of attractive tasting rooms to the breathtaking scenery of world-famous vineyards.
Wine enthusiasts looking for experiences that leave a lasting impression on their palates and memories will find sanctuary in Yountville, with its distinctive terroirs and driven winemakers. The trip through Yountville's wine region celebrates the creativity and craftsmanship that define this alluring corner of the wine world, whether one indulges in the painstakingly made vintages of established estates or finds undiscovered gems off the main road.
---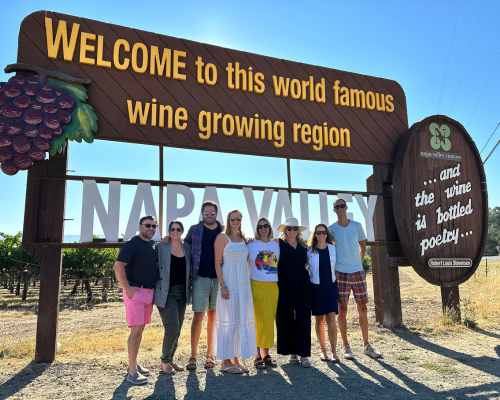 Planning a trip to Napa but don't know where to start, or worse yet, you're 10 hours deep and frustrated? You won't want to miss our Napa Trip Planner!
---
Wineries In Yountville FAQs
What is Yountville known for?
Yountville is a charming and picturesque town in the heart of Napa Valley, California. It is particularly celebrated for its world-class wineries, Michelin-starred dining experiences, intimate luxury resorts, art galleries, and a captivating small-town ambiance. The town is often considered a culinary and viticultural haven, drawing visitors seeking a delightful blend of gourmet cuisine and exceptional wines.
Are Yountville wineries worth a visit?
Yountville's wineries are worth a visit, offering wine enthusiasts a diverse range of experiences. The town is home to some of Napa Valley's most esteemed wineries and tasting rooms, each with unique charm and character. Visitors can explore lush vineyards, indulge in tastings of premium wines, and often enjoy breathtaking views of the surrounding landscapes.
What is the most famous winery in Yountville?
Yountville is home to several prestigious wineries, and one of the most famous is likely Domaine Chandon. Established in 1973, Domaine Chandon is renowned for producing high-quality sparkling wines using traditional methods. As the first American branch of the French Champagne house Moët & Chandon, Domaine Chandon has played a significant role in shaping the sparkling wine industry in Napa Valley.
What is the difference between a winery and a tasting room?
A winery is a facility where wine is produced. It encompasses the entire winemaking process, from growing and harvesting grapes to fermentation, aging, and bottling. A winery typically has vineyards, production facilities, and cellars.
On the other hand, a tasting room is a designated space within or affiliated with a winery where visitors can sample and taste the wines produced by that winery. Tasting rooms are places where the public can experience the final product of the winemaking process.