Top Gold Coast Wineries, Wine Tours & Accommodation
Are you looking for the best Gold Coast wineries, wine tours and accommodation? We've got you covered with where to stay, where to wine taste and how to get around the Gold Coast, Queensland, Australia.
If your buns are severely toasted (been there) and you're looking to spend a day sipping instead of sunbathing at Australia's Gold Coast wineries, you're in the right place.
We've listed the top 7 wineries, best wine tours, best spots to picnic, top accommodation from the beach to the Canungra River and the best options for getting around.
Buckle-up buttercup.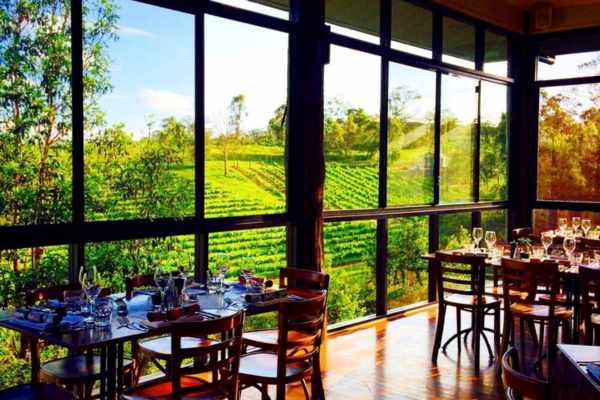 Where Is The Gold Coast?
Australia's Gold Coast wineries are in the southeast corner of Queensland. The Gold Coast is about 50 miles south of Brisbane and 520 miles north of Sydney.
The Gold Coast is most well known for its incredible skyline where one of the tallest buildings in the world stands, meter maids with their itty bitty teeny weeny yellow polka dot bikinis and certainly its beaches and nightlife. The Gold Coast has it all.
The stretch of sand most famous is called Surfers Paradise. With beautiful sand and surf, people from all over the country and the world flock to the Gold Coast chasing their endless summer.
The elevation of Australia's Gold Coast is only 36' above sea level which is a stark difference from the town of Stanthorpe that is only 147 mi away.
Gold Coast Wine Scene
Queensland has an up and coming wine scene. Right now the Australian section at your local wine shop is full up with wines from Barossa but soon enough, you'll be asking for Shiraz from the Granite Belt.
Top 7 Gold Coast Wineries
Sirromet Winery
850 Mount Cotton Road, Mount Cotton, South East of Brisbane
Sirromet Winery in Mount Cotton is a short drive from the Gold Coast. You could literally spend an entire day here. There are winery tours, tastings, delicious food and places to sit and hang out overlooking their beautiful property.
The wine at Sirromet is grown in the Granite Belt Region, which is known for its special combination of rich soil, high altitude and cool climate.
We highly recommend the Tuscan Tour & Taste experience. It includes a tour, tasting of 6 wines, plus a taste plate with a main course and a glass of wine (because we haven't had enough) enjoyed on their Tuscan style terrace. This experience is 3 hours and $92 per person.
Want to arrive in style? Book your transportation via helicopter. Sirromet has a private helicopter pad!
Cedar Creek Estate
104—144 Hartley Road, North Tamborine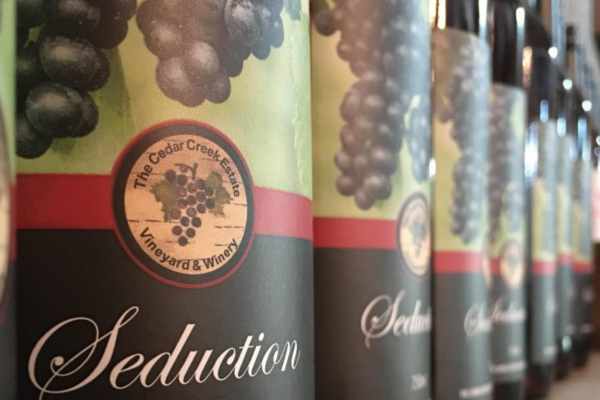 A short 50 minute drive from Gold Coast,their cellar door is open 7 days a week. Featured tastings include 5 wines. Cedar Creek Estate offers white, red, or fortified wines and are $9 per person.
Cedar Creek is also known for having an exceptional wedding venue and has won several awards.
O'Reilley's Canungra Valley Vineyards
852 Lamington National Park Road, Canungra
O'Reilley's Canungra Valley Vineyards sits on the Canungra Creek and offers a relaxing and serene place to sip. It's about a 45 minute drive from Gold Coast but the lush landscape makes you feel like you're far away.
Their 164 year old historic homestead is a great place to picnic with your freshly made pizza or specially curated picnic basket (with wine of course).
Sarabah Estate Vineyard
Have you ever wanted to have a picnic in a vineyard? Sarabah Estate Vineyard has you covered.
Sarabah Estate serves food at their Chalet Bistro. You can choose to sit in or take home a wood-fired pizza. You can also have a picnic in the vines. Can you picture how incredible this experience is? After your relaxing afternoon get jazzed with a coffee and hang out with the house alpacas before your drive back to the coast.
Wine tastings are offered Friday, Saturday and Sunday. The bistro kitchen closes at 4pm daily but pizza is served after the bistro closes. Umm, no problem.
Witches Falls Winery
79 Main Western Road, North Tamborine
In 2003, Witches Falls Winery introduced its first vintage. All wine is made on site which allows complete control of the wine making process. Their team of wine making experts hail from top wine regions around the globe such as Burgundy, Napa Valley and New Zealand.
Witches Falls Winery respects minimal intervention, letting the terroir speak for itself.
Wine tastings are offered daily and while there isn't a restaurant on site they have an assortment of local cheeses, patés, relishes, and other nosh you can buy to build your own tasting menu. Love it. Make the 45 min drive, it's totally worth it.
Ocean View Estates
2557 Mt. Mee Road, Ocean View, near Caboolture
North of Brisbane, Ocean View Estates planted their first vines in 1998. Estate grown varietals include Viognier, Chardonnay, Shiraz and Ruby Cabernet. Verdelho and Merlot are locally sourced from the South Burnett region.
If their award winning wines aren't reason enough to come visit, the incredible views from the restaurant should get you here. If you find you're slightly toasted after your tasting, they have accommodation available.
Tastings are offered Wednesday, Thursday and Saturday and are $45 per person.
Mount Nathan Winery
220 Clagiraba Road, Mt. Nathan, Queensland 4211 Australia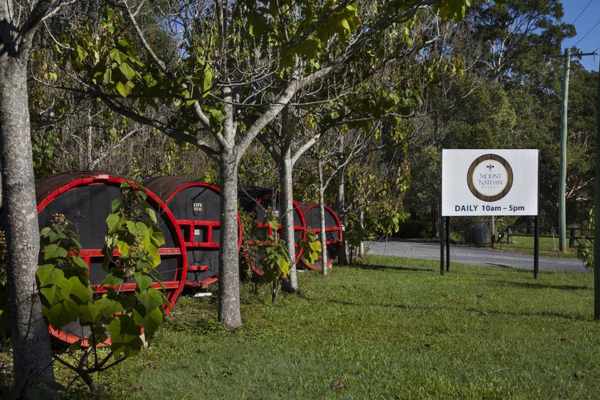 Mount Nathan Winery is a super short 20 minute drive from the Gold Coast. George Gibson and his son Peter have been experimenting with varieties of winemaking from using traditional grape to assorted fruits and vegetables and honey since the 2002.
Their honey fortified wines have been winning awards since 2012. Guided wine tasting of five wines (plus two complimentary glasses) are offered daily from 10am-5pm and are $10AUD per person.
The Overflow Estate 1895
1660 Beaudesert Boonah Rd, Wyaralong QLD 4285, Australia
The Overflow Estate is a 10 year old vineyard that sits on Lake Wyaralong. When we say this property has views we mean gorgeous lake views through the vineyard from the ultra modern cellar door. What a fantastic juxtaposition between modern and traditional. This boutique winery is an easy 1.5 hour drive from Gold Coast. Taste an assortment of traditional Italian and Spanish varietals.
Tastings are available Wednesday thru Sunday. Bookings are preferred. Reservations are required for the restaurant.
Are you looking to plan your wedding here? The Overflow Estate 1895 touts itself as being Queensland's luxe wedding venue. The property was practically built for special events. This is definitely an instaworthy spot.
How To Get Around
Rent a Car
Navigating around the Gold Coast is easy in a rental car. Discovercars.com makes renting a car super easy with locations all around the globe.
Transfers and Day Tours
You can also look for shuttle services between your destination and Surfers Paradise. Try Gray Line Gold Coast Day Tours, Scenic Day Tour Group and Escape Shuttles.
Best Gold Coast Winery Accommodation
If you're visiting Gold Coast wineries, you might want to find overnight accommodation in wine country or at the beach.
These top accommodations on the Gold Coast and in the Gold Coast Hinterland wineries region are offering plenty of variety.
Top Gold Coast Wine Tours
want to bring your wine from the gold coast home with you?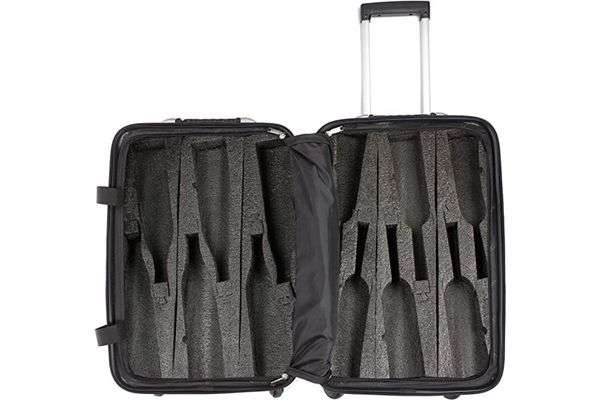 We recommend the VinGardeValise 12 bottle wine suitcase. There are a couple ways you can use this suitcase. One is, when you come home you only pack half the suitcase with wine and the other side clothes; or, what we do is bring a duffle bag to carry our clothes home. You can still check a duffle bag home btw, you don't have to schlep it around for all four connections.
Pro tip: you can also use the duffle bag to drop off your clothes to be laundered if you're doing an extended trip. Multiple uses for one duffle bag.
Gold Coast Wineries FAQ
What are the best wineries In the gold coast, Australia?
Our list of the best wineries on the Gold Coast are:
Sirromet Winery
Cedar Creek Estate
O'Reilley's Canungra Valley Vineyards
Sarabah Estate Vineyard
Witches Falls Winery
Ocean View Estates
Mount Nathan Winery
The Overflow Estate 1895
What are the best wine tours in gold coast, australia?
Our picks for the best Gold Coast wine tours are:
-Winery tour to Tamborine Mountain, includes gourmet two course lunch. This tasting tour around Mt. Tamborine includes all the things. Vintages from multiple wineries, spirits from Tamborine Mountain Distillery, Witches Chase Cheese Factory plus a 2 course lunch! Everything is included.
-The Hinterland Heritage wine tour takes you around to the best wineries in addition to the most heritage buildings in the area. You'll visit four different estates, learn about wine making and have lunch. Three of the wineries listed above are on the tour!
-Gold Coast sunset cruise with sparkling wine and nibbles platter? Did we just become best friends?! This is a small group sailing cruise. Less than 10 people in the group but it's so gosh-darn romantic you feel like the only couple. And if you're solo, awesome. Sip your wine and experience euphoria on your own.
-Sirromet Winery Tuscany tour and taste. This experience at Sirromet Winery includes the tour, tasting and 2 course lunch.
-Private Tamborine Mountain wine and dine. Taste at three different wineries on this gourmet day trip, plus a 2 course lunch at Hampton Mason Wines. Also taste spirits and stop at a Scenic Rim lookout for those oh so insta-worthy selfies.
How do i get around the gold coast wineries?
To get around the Gold Coast you can rent a car or you can also look for shuttle services between your destination and Surfers Paradise. Try Gray Line Gold Coast Day Tours, Scenic Day Tour Group and Escape Shuttles.
what is the best Gold Coast Accommodation?
Our top picks for the best Gold Coast accommodation are:
Bel Air on Broadbeach
Circle on Cavill, Surfers Paradise
Zenith Ocean Front Apartments, Surfers Paradise with views of Skypoint Observation Deck
Tamborine Mountain Bed and Breakfast, Tamborine Mountain
The Cottage on Lamington, Canungra 
Greenlee Cottages, Canungra