Rome Wine Tasting: Regions, Pairings & What To Buy At Home Now
A wine tasting in Rome (sigh). If you're thinking about expanding your wine horizons and drinking outside your comfort zone come with us as we go down the road less traveled for a Rome wine tasting in one of Italy's many regions. We're going to try some new wines and get in to how to travel around Rome with a wine tasting focus.
To get ready for our Roman Holiday, we set the theme for this month's Carpe Vinum as: The wine regions in and around Rome: Rome Wine tasting.
The Lazio wine region is the wine region of Rome.
You can't always just stroll into your neighborhood wine store and pick up an armful of wines from the Lazio wine region— not like Chianti.
So, we expanded our focus to include Rome's neighbors: Umbria, Abruzzo, and Campania.
We've got work to do. Let's get cracking!
Working north to south…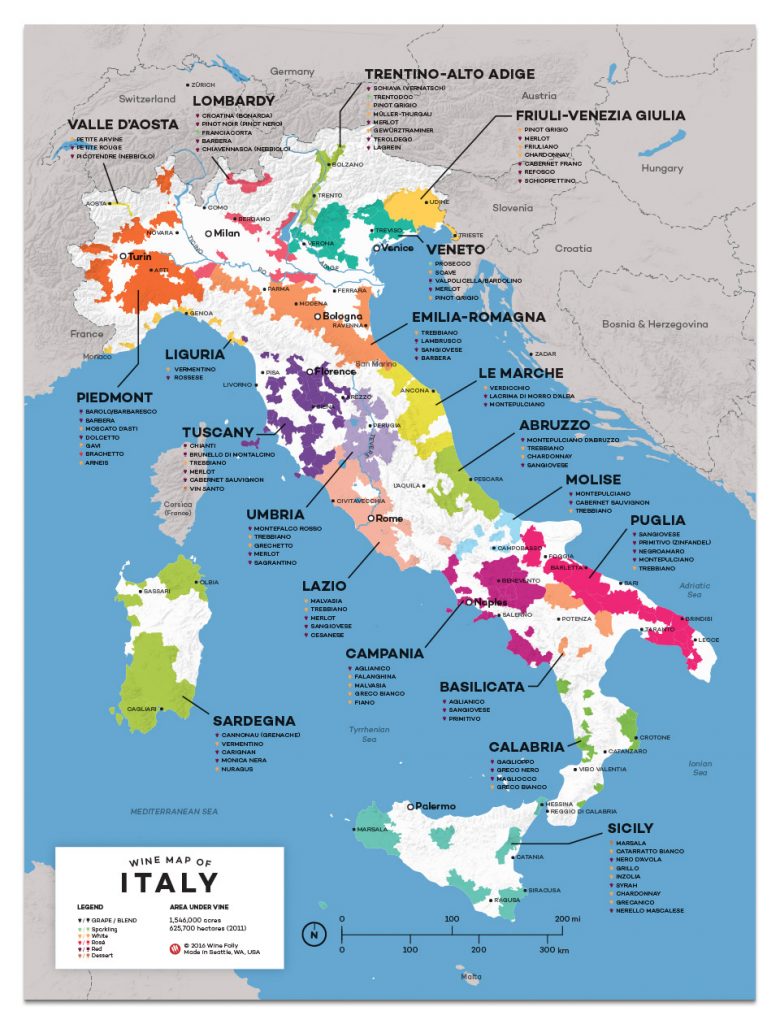 Rome Wine Tasting: Umbria Wine Region
Umbria Food Pairing
Olive oil
Black truffles
Walnuts
Lentils
Chocolates (from Perugina).
Important White Grapes Of Umbria
Grechetto
Trebbiano (known locally as Procanico)
Chardonnay
Important Red Grapes Of Umbria
Sangiovese
Sagrantino
Gamay
Umbria wine region near Rome is the only region in Italy that has both no coastline and no common border with another country (you'll need that info on Jeopardy one day, I'm sure of it).
The majority of the wine is "light and white", and the most well known white wines come from the Orvieto DOC.
Those wines are mostly a blend of Grechetto, Trebbiano, Malvasia and Chardonnay.
When it comes to red wine, Umbria's neighbor to the northwest, Tuscany, gets all the attention. (Tuscany is Umbria's Marcia! Marcia! Marcia!).
Like Tuscany, the most widely planted red grape in Umbria is Sangiovese, and I'm told these wines tend to be more rustic than the Sangiovese from Tuscany.
And psssst . . . they're also much cheaper. Another interesting red grape in Umbria is Sagrantino. It's supposed to be killer with cured meats, pasta and strong cheeses.
And there's a dessert version called Sagrantino passito. Yes, please.
Umbria wine wish-list: Orvieto, bargain Sangiovese and Sagrantino (especially the passito).
Rome Wine Tasting: Lazio Wine Region
Lazio Food Pairing
Artichokes
Asparagus
Peas
Pecorino cheese
Lazio Important White Grapes
Malvasia
Trebbiano
Some Chardonnay, Sauvignon Blanc and Viognier
Lazio Important Red Grapes
Cabernet Sauvignon
Cabernet Franc
Merlot
Cesanese
There are no DOCG wines in Lazio, but there are 25 DOC wines.
Most of the wines from Lazio are white, not red — that was news to me. I always thought the first duty of an Italian wine was to be red.
The most common white wine grapes are Malvasia and Trebbiano — both light, dry and crisp, with fairly high acidity.
They are intended to be drunk young . . . while sitting in the sunshine at a trattoria, just watching the Roman world go by.
Perhaps the most interesting DOC zone in Lazio is Est! Est!! Est!!! di Montefiascone — reportedly named in the 12th century by a German bishop, Johann Fugger.
Bishop Fugger was on his way to Rome for the coronation of the Holy Roman Emperor, Henry V.
According to legend (so you know it's true), the bishop was a bit of a foodie/oenophile, so he sent a scout ahead of the route to scope out establishments with good food and wine.
When the scout found a good osteria, he wrote "Est!" on the door, which means "it is" in Latin. When the scout arrived in Montefiascone, he was so excited about the wines he tasted at the osteria, he wrote "Est! Est!! Est!!!" on the door . . . the Middle Ages equivalent of a Michelin Star.
Lazio wine wish-list: Est! Est!! Est!!! and Frascati Superiore.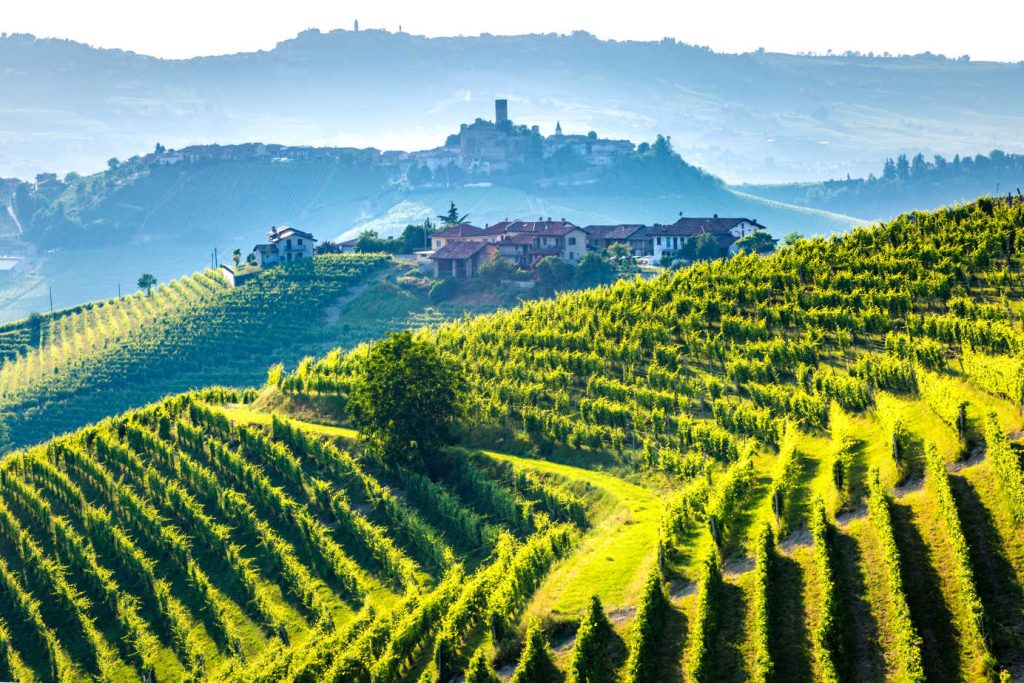 Rome Wine tasting: Abruzzo Wine Region
Abruzzo Food Pairing
Mortadella sausage
Lamb
Saffron
Sheep's milk cheeses
Porchetta (pork roast)
Abruzzo Important White Grapes
Abruzzo Important Red Grapes
The hills are alive. Abruzzo is a mountainous region, and produces only one DOCG wine and three DOC wines. Huh?
I thought every region in Italy produced hundreds of different wines. But my biggest surprise? Over two-thirds of the wine made in Abruzzo is made by large cooperatives, and sold to other regions in Italy (Tuscany, Piedmont and Veneto) and France(!!) for blending purposes.
The most important wine in Abruzzo is Montepulciano d'Abruzzo. But don't confuse this Montelpulciano with the Tuscan Vino Nobile di Montepulciano.
In Tuscany, Montepulciano is the name of the town, in Abruzzo, it's the name of a grape. Not that Italian wine is confusing or anything.
Abruzzo wine wish-list: Montepulciano d'Abruzzo and Rosato d'Abruzzo.
Rome Wine Tasting: Campania Wine Region
Campania Food Pairing
Buffalo mozzarella
San Marzano tomatoes
Eggplant
Hazelnuts
Almonds
Campania Important White Grapes
Falanghina
Fiano
Greco
Coda di Volpe
Campania Important Red Grapes
Campania is the shin of Italy's boot and is south of Rome, and includes the famous city of Naples.
Campania's oldest winery, Mastroberardino, has been working diligently to preserve many native grapes in the region.
Not too long ago, I had the opportunity to taste a bottle of 1980 Mastroberardino Taurasi Riserva.
Inside that bottle, I found the key to Pandora's Box. You won't believe what I found inside that box . . . click here to find out!
The most famous alcoholic beverage in Campania isn't wine, but Limoncello . . . Italy's sunshine in a bottle. We probably need to end Carpe Vinum with a little sip of Limoncello. It just seems prudent.
Campania is home to only one DOCG wine, the powerful red, Taurasi, made from the Aglianico grape.
In fact, it's the only DOCG red wine in southern Italy. I've tried a few Taurasi wines before, and I'm a big fan of the Old World, rustic funk.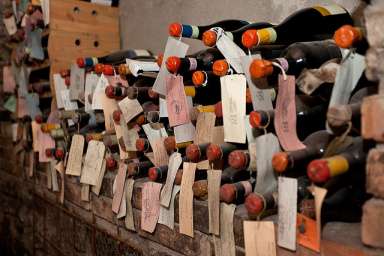 Another well-known Campania wine is Lacryma Christi or, "Tears of Christ" wine, made on the hills of Mount Vesuvius. It's made in both white and red versions, and archaeologists have determined (from residue left in taps) that Lacryma Christi is the wine that most closely resembles the wine that ancient Romans drank.
So now you know what the house wine at The Colosseum was . . .
Campania wine wish-list: More Taurasi and Lacryma Christi (red and white)
Carpe Vinum Takes A Roman Holiday
Related Articles
Rome Wine Tasting FAQ
Can you do wine tasting in Rome?
Rome is an excellent place to do some wine tasting. Taste some of the best Italian wines during a food and wine tour in the regions around Rome like Lazio, Umbria, Abruzzo and Campania.
Are there vineyards in Rome?
There are many vineyards and wineries in the wine regions that surround the capital city of Rome. But they are spread apart. It's unlike wine tasting in the US.
Where is the best place to wine taste in Italy?
If you're looking for the most concentrated wineries in a region, Sicily has the most vineyards of any other region in Italy, so it's no surprise that it's one of the best places to visit for wine.
Can you do a day trip from Rome to Tuscany?
Yes, there are day trips to Tuscany from Rome. It's easy to enjoy the delicious food, famed wine and breathtaking scenery all in one day! Learn about Tuscany's rich culture and history. See for yourself why this region is so unique.