Your 2023 Guide To The Best Wineries In Montepulciano
We've sipped and tasted our way around Montepulciano, Italy, to bring you the best wineries in Montepulciano.
Montepulciano is a picturesque town located in the heart of Tuscany, Italy. Nestled atop a hill, it offers breathtaking panoramic views of the surrounding vineyards and countryside.
Spring (March to May) is ideal for mild weather, lush landscapes, and fewer tourists. Summer (June to August) is the peak tourist season, with warm temperatures and vibrant cultural events, but it can be crowded. If you prefer the tranquility of the off-season, consider visiting in the fall (September to November) when the grape harvest is in full swing, offering a unique wine-centric experience.
Let's dive right in on the best wineries in Montepulciano and a few accommodations for a pleasant stay.
Map Of Wineries In Montepulciano
Cantina de' Ricci
Location: Via Ricci, 13, 53045 Montepulciano SI, Italy
Located in the historical city of Montepulciano, the well-known winery Cantina De' Ricci gets its name from the Ricci family of 1150. This winery's cellar contains their oldest barrel, which is from 1337!
The adventure begins when you walk down the lengthy staircases for the wine tasting and tour of the historic cellar. It's one of the highlights of visiting this renowned winery. Get a behind-the-scenes peek at the wine as it ages in enormous barrels (puncheons)—up to 10,000 liters, to be precise—shielded by the enormous vaults of the cellar.
The wines at Cantina De' Ricci are made from various red and white grapes. Only spent €5 to try six different wines.
Talosa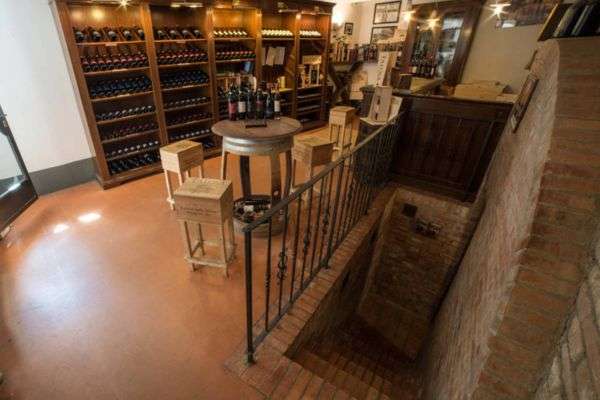 Location: Via Talosa, 8, 53045 Montepulciano SI, Italy
Founded in 1972, Talosa was first owned by the Jacorossi family. It is located close to the Piazza Grande in Montepulciano's old center, where you can visit its historic cellar and its wine shop.
Discover more about this charming winery's commitment to sustainable winemaking methods as you stroll through its hectares of vineyards on one of its guided tours. Via Talosa 8, the entrance of the wine shop provides easy access to the cellar. You'll need a break after that last excursion.
Private tours of cellars can be scheduled. You'll taste multiple wines in a private tasting room, after which there is a guided tour of the cellar. A particularly magnificent wine with great aging potential is their exceptional Vino Nobile di Montepulciano DOCG. Yum.
Avignonesi
Location: Via Colonica 1, 53045 Montepulciano SI, Italy
Avignonesi is situated in the charming Val di Chiana region. The award-winning Vino Nobile di Montepulciano DOCG and the renowned Vin Santo are just two of the excellent wines produced by this estate. The former is primarily recognized for its use of Sangiovese grapes.
The family that carries the name Avignonesi founded the estate in 1974. Virgine Saverys purchased it in 2009 and transformed it into the magnificent 420+ acre Montepulciano vines you see today. In fact, Avignonesi is so big that a helicopter can take you to the property!
Avignonesi is a Biodyvin-certified organic vineyard. It's the biggest biodynamic winery in all of Italy. Join some tours and classes at the vineyard involving organic food and learning more about sustainability.
Icario
Location: Via delle Pietrose, 2, 53045 Montepulciano SI, Italy
This winery in the Tuscan region of Montepulciano is an absolutely wonderful setting.  Visitors rank their Nysa Rosé wine as the best in all of Tuscany.
Founded in 1999, the Icario has become one of the top producers of Montepulciano wine, known as Vino Nobile. This 126+-acre winery, situated halfway between Val di Chiana and Val d'Orcia, uses holistic precision farming to lessen the use of chemicals on its grapes.
A great way to spend time in Montepulciano is to go on a private wine-tasting tour at Icario. In addition to lunches and aperitifs made with regional products, wine tastings, cellar excursions, and weeklong rentals of a lovely B&B with a swimming pool are all available to to guests.
Tenuta Valdipiatta Winery
Location: Via della Ciarliana, 25/A, 53045 Montepulciano SI, Italy
Located outside of Montepulciano is the esteemed Tenuta Valdipiatta Winery. It was first established in the 1960s.
Giulio Caporali purchased this spectacular estate vineyard and winery in the 1980s. It was officially certified as organic by the EU in 2018. The winery, which emphasizes sustainable cultivation, creates a variety of exceptional wines, including the highly regarded Riserva.
Visit their wonderful tasting room, where the friendly staff will walk you through various outstanding wines renowned for their longevity, complexity, and balance. Their Classic Tour and Tasting is only €22 or the Flavors of Tuscany tour for €32, where you get to learn about their winemaking process for Vino Nobile di Montepulciano and try traditional products, including Pecorino di Pienza DOP sheep milk cheese, cold cuts, and their own Organic Extra Virgin Olive Oil.
Poliziano
Location: Via Fontago, 1, 53045 Montepulciano SI, Italy
Poliziano, which is situated in the center of Montepulciano, is a real fusion of innovation and history. Azienda Agricola Poliziano, established in 1961 by Dino Carletti, is on the Poliziano Estate. Three generations have now worked in this family business. This wine estate that started as a "mere" 54 acres, has grown to an incredible 640 acres between Montepulciano and Cortona.
The first harvest of Poliziano's 100% certified organic wines occurred in 2021. The emphasis is on strategically placing the grapes (and then reevaluating and planting them again) in areas with the best soil for the estate's mostly Sangiovese grapes. Additionally, almost 20% of the winery's electricity comes from solar panels.
Their excellent wines capture the region's spirit thanks to their sophisticated winemaking processes and careful vineyard management.
Fattoria Svetoni
Location: Via Umbria, n. 63, 53045 Montepulciano SI, Italy
The Grand Duke of Tuscany owns Fattoria Svetoni, formerly Leopoldina, and has been making wine there since 1865. You may experience the royal Tuscany with almost 57 acres of vines, a centuries-old cellar, an exquisite wine resort, and a house for rent!
Although Fattoria Svetoni is best renowned for its Sangiovese grapes, it is a farm and winery making white wines, rosés, and reds. A comprehensive tour of the winery and a tasting in the old cellar accompanied by fresh local produce make up this ultimate experience. This Sangiovese Shades special tasting costs €69. A much cheaper option would be their Svetoni tasting for €39, involving a glass of wine and cold cuts.
Cantina Ercolani
Location: Via di Gracciano nel Corso, 80-82, 53045 Montepulciano SI, Italy
Being one of the most well-known wine shops in the region with some genuinely amazing local wines, Cantina Ercolani is a terrific place to start your tour of the area.
In 1988, Cantine Ercolani was established in Montepulciano, where great-grandfather Ercolani had already demonstrated his love and expertise in the wine cellar in the 1940s. The Genuineness of the raw materials, the agriculture and manufacturing processes, and the traditional cuisine remain unchanged as the company grows, acquires new land, broadens its perspectives, and fortifies its personnel. About 150 hectares of land, including crops, truffle grounds, vineyards, olive groves, sheep farms, and direct sales, are processed by skilled workers.
Contucci
Location: Via del Teatro, 1, 53045 Montepulciano SI, Italy
One of Montepulciano's oldest wineries is the Contucci Family Cellars. The Contucci family has been growing grapes since the Renaissance. As recorded in 1773, they were, in fact, one of Vino Nobile's "founding fathers."
This winery provides an intriguing look into the area's winemaking history. Owing to their attractiveness, these cellars get daily visits from travelers from all over the globe.
Explore an underground sea of oak barrels on a cellar tour, all stocked with the family's incredible wines produced from the renowned Montepulciano grape varietal. Excellent results are obtained from long-term maturation of small quantities of Vino Nobile, even for 40 or 45 years (the oldest bottle today is from 1887). The estate produces extra virgin olive oil in addition to wines.
Cantina Salcheto
Location: Via Villa Bianca, 15, 53045 Montepulciano SI, Italy
Salcheto Winery is one of Montepulciano's most distinctive and energy-efficient wineries, established in the 1980s.
This sustainable, energy-autonomous winery, housed in a farmhouse from the 13th century, uses solar skylights, adiabatic roof irrigation, and photovoltaic energy production. Every one of these actions contributes to waste and carbon footprint reduction.
Using carbon-neutral and biodynamic methods, Salcheto creates superb Vino Nobile di Montepulciano DOCG wines that showcase the distinct qualities of the area. Salcheto makes dessert wines, rosés, white wines, and red wines. Additionally, this winery has won numerous international accolades for its exceptional Vino Nobile.
Salcheto has a wine bar open daily, along with cellar excursions that end with a tasting. You can also sit at the wine bar and order a tasting-only à la carte lunch.
Where To Stay In Montepulciano
Known for its rolling vineyards, medieval charm, and world-class wines, Montepulciano has a variety of accommodations to suit a wide range of preferences. Let's look at some of the best places to stay in Montepulciano to make sure your trip is unforgettable and precisely meets your needs and expectations.
La Pievina
Location: Via Di Totona 32, 53045 Montepulciano, Italy
La Pievina is a family-run farmhouse with a pool in the Tuscan countryside three kilometers west of Montepulciano. Situated on a quarter of an acre of exclusive farmland, it provides sweeping views of the hills and vineyards.
With its tables, chairs, gazebo, and BBQ, the garden is a great place for guests to relax. Breakfast is served every morning and includes handmade baked goods.
Rustic-styled apartments and rooms have wrought iron beds and wooden furniture. Every one features a TV, balcony, and own bathroom. A kitchen and a living room with a fireplace further enhance the features of the accommodation.
Fruit, vegetables, and olive oil are grown at La Pievina; cattle are also raised there. The farmhouse offers free parking and is conveniently located near the A1 freeway.
Why we love this place: Great staff, beautiful views and a wonderful breakfast! This place books up fast!
Appartamento Centro Storico La Pulcianella
Location: 38 Via Piana, 53045 Montepulciano, Italy
Situated close to Bagno Vignoni and Bagni San Filippo, the Appartamento Centro Storico La Pulcianella is 5.2 kilometers away from the Terme di Montepulciano. The hotel is 47 kilometers from Mount Amiata and has free WiFi available all across the property.
The air-conditioned apartment features a living area, a kitchenette equipped with a coffee maker and dishwasher, and a bathroom with a shower and slippers. The apartment comes with towels and bedding.
The nearest airport to this accommodation is Perugia San Francesco d'Assisi Airport.
Why we love this place: If you're looking for an authentic Tuscan experience book this place! Great views too!
La Casina Di Iole
Location: Via di Ciliano, 8 , 53045 Montepulciano, Italy
Mount Amiata, Bagni San Filippo, Bagno Vignoni, and Terme di Montepulciano are all quite close to La Casina Di Iole. The nearest airport is Perugia San Francesco d'Assisi Airport.
The kitchenette, bathroom, and one bedroom are all air-conditioned. There's also a flat-screen TV ready to use for renters.
Why we love this place: Right in the center of Montepulciano. Great views from the kitchen window.
Add The Best Montepulciano Wineries To Your Itinerary
As we conclude our exploration of Montepulciano's enchanting wine country, one thing is clear: adding the best Montepulciano wineries to your itinerary is a must for any wine lover and traveler seeking a truly immersive experience.
The rich history, breathtaking landscapes, and exceptional wine traditions of this Tuscan gem are waiting to be discovered. Montepulciano offers a diverse and captivating wine scene, from the traditional cellars of historic estates to innovative winemakers pushing the boundaries of modern viticulture. Each winery visit is an opportunity to taste the heart and soul of this remarkable region.
related articles
Best Wineries In Montepulciano FAQs
What is the most famous wine in Montepulciano?
The most famous wine produced in Montepulciano is "Vino Nobile di Montepulciano." This red wine, made primarily from the Sangiovese grape variety locally known as Prugnolo Gentile, is renowned for its rich and robust flavor profile, often characterized by dark fruit notes, balanced acidity, and aging potential. It has earned the DOCG (Denominazione di Origine Controllata e Garantita) status, signifying its exceptional quality and strict production standards.
Is it worth staying in Montepulciano?
Staying in Montepulciano is a worthwhile experience. The town's historic charm, stunning vistas, and its prominence in the Tuscan wine scene make it a fantastic destination. Visitors can explore medieval streets, sample exceptional wines, and savor delicious Tuscan cuisine. Whether you're a wine enthusiast, a history buff, or simply seeking a romantic getaway, Montepulciano offers a unique and memorable stay.
Why is Montepulciano famous?
Montepulciano is famous for several reasons. Firstly, it is renowned for producing Vino Nobile di Montepulciano, one of Italy's most esteemed red wines. Additionally, its picturesque hilltop location provides breathtaking views of the Tuscan countryside. The town is steeped in history, with well-preserved Renaissance architecture and cultural heritage, making it a popular destination for travelers seeking wine and culture.
Is Montepulciano a good wine?
Montepulciano is not just a good wine; it's an exceptional one. Vino Nobile di Montepulciano is highly regarded for its quality and has earned the prestigious DOCG status. It offers a complex and layered taste experience, making it a favorite among wine connoisseurs and enthusiasts.
Is Montepulciano closer to Rome or Florence?
Montepulciano is closer to Florence than Rome. It's situated in the heart of Tuscany, approximately 70 kilometers (43 miles) southeast of Florence and about 190 kilometers (118 miles) north of Rome. You can easily reach Montepulciano from either city, but Florence is the more convenient option for a day trip.
How many days do you need in Montepulciano?
The number of days you need in Montepulciano depends on your interests and the depth of exploration you desire. For a basic visit to sample some wines and experience the town's beauty, a day trip can suffice. However, to fully immerse yourself in wine tasting, explore the town, and enjoy leisurely meals, it's recommended to spend at least two to three days in Montepulciano.