your ultimate guide to hyland estates winery: a Review & Tasting notes
If you're opening a bottle of Oregon wine, chances are pretty high it'll be a good, probably even a great wine. All four of the wines we tasted at Hyland Estates Winery fall into the latter category.
There's a lot of wine in this world, and sometimes I get ahead of myself in a rush to taste it all.
And I need to step back and remember this is a marathon, not a sprint.
Despite internet panic alarms to the contrary, the world isn't going to run out of wine.
One bottle at a time is the perfect pace to learn.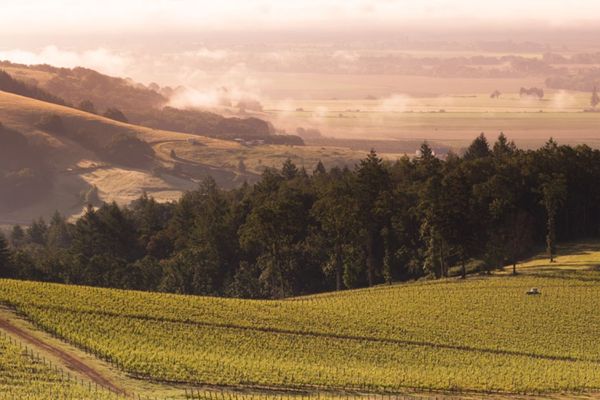 Every bottle of wine presents an opportunity to learn something, and visit a new country.
It could be my own Virginia backyard, or someplace I'd only ever dream of going.
Together with history & people, terroir is tethered to the wine in my glass.  
Each bottle is a collateral lesson — in geography & climate and geology.
I like to think of the whole picture as the Terroir Tangle.
I visited the Willamette Valley of Oregon, and Hyland Estates Winery.  
I tasted a total of four bottles of Hyland Estates wine — 2 whites and 2 reds . . . one bottle at a time!
The History Of Hyland Estates Winery
The first vines were planted at Hyland Estates in 1971, making it one of the oldest vineyards in Willamette Valley.
Prior to 1970, the valley was mostly berry fields and fruit trees.
Hyland Estates Winery has over 200 acres, 100 of which are under vine.
Hyland's Gewürztraminer, Riesling and Chardonnay vines were some of the first planted in Oregon.  
And some of the biggest names in Oregon wine use Hyland Vineyard to make their own single-vineyard wines:
Penner-Ash, Bergstrom, Beaux Freres, and Antica Terra.
That's good company, right there.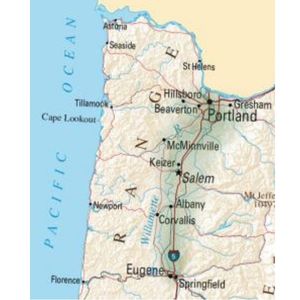 Hyland Estate is biodynamically farmed.
We didn't chat a lot about that particular angle last night (I can't believe no one mentioned cow horns stuffed with manure), but it's obvious the owners are committed to doing their part to tend to the terroir of tomorrow.
Applause, applause.
Hyland Estate's Geography And Climate
The Willamette Valley is located in western Oregon.
(Pro tip: Willamette is pronounced like dammit!)
It's bound on the west by the Oregon Coast Range and bound on the east by the Cascade Range.
The Willamette Valley has a mild climate with cool, wet winters and warm, dry summers.
Hyland Estates is located within the McMinnville AVA, a sub-region of the Willamette Valley, and the western-most AVA in Oregon.
It's also the smallest (it's only about 20 miles), with only 10 wineries! Located in the foothills of the Cascade Coast Range, the McMinnville vineyards are protected from potential weather extremes.
Hyland Vineyard is planted at 600-800 feet, where temperatures are cooler in the summer and warmer in the winter, allowing for a longer growing season (when the grapes are happy, the winemakers are happy).
The Geology Of The Willamette Valley
The Willamette Valley was repeatedly flooded at the end of the last Ice Age.
The floods brought with and deposited tons of volcanic and glacial soil from Washington.
The Willamette Valley's signature soil is Jory, a volcanic soil composted mostly of basalt.
The soils in the McMinnville AVA are mostly marine sedimentary soils on top of basalt.
The McMinnville AVA sits on top of a large rock called the Nestucca Formation, a 2,000-foot-thick bedrock slab with a bunch of basalt intrusions.
This affects the composition of the ground water, which in turn affects the characteristics of the grapes.
This is a gift-wrapped opportunity to say something geeky at a wine tasting like, "Is it me, or do I detect a hint of basalt?"
Don't even think about saying this when you host your own wine tasting at home.
Hyland Estate's Wine Tasting
Increasingly, it feels like Oregon is a wine region that can do no wrong.
If you're opening a bottle of Oregon wine, chances are pretty high it'll be a good, probably even a great wine.
All four of the wines we tasted fall into the latter category.
Hyland Estates Riesling /90-93 points
100% Riesling sourced from 43 year old, self-rooted Riesling vines.
Flint and petrol on the nose. A second whiff gives me lemon bar. Praise Bacchus!!
A deliciously dry (only 0.8% residual sugar) Riesling.
Immediate mouthfeel gives a light effervescence. Beautifully balanced. So clean and pure of character. Killed it with pork carnitas for dinner! 12% ABV.
Hyland Estates Gewürztraminer /89-91 points
100 % Gewürztraminer, sourced from 43 year old, self-rooted Gewürztraminer vines.
Is this wine part pheromone? I'm thinking of wearing this wine as my new signature scent!
Abundant lychee and rose petals on the nose. As the wine sits open, I get almond flower, as well. Another deliciously dry wine (only 0.4% residual sugar). 12% ABV.
I know this is my own palate talking . . . but my favorite thing about these two whites is that neither is congested with extraneous sugar. Bravo!
Hyland Estates Pinot Noir /89-91 points
100% Pinot Noir. 100% malolactic fermentation, barrel aged for 10 months in 20% new French oak, and the remainder in once-used barrels.
Sourced from Coury (a vine of mysterious origin, brought from France by Charles Coury) and Wädenswil (a Swiss clone, ideally suited for Oregon climate), both self-rooted vines planted in 1979 and 1989.
I get smoke and black pepper on the initial whiff. A lot of good funk going on in this glass.
It took a while to coax out of the glass, but I finally found a just-ripe red currant. Black olive on the finish.
Well structured with graceful tannins. 
Hyland Estates Coury Pinot Noir /93-95
100% Coury Pinot Noir. Whole cluster ferment. Aged for 10 months in French oak, 35% new, and the remainder in once-used barrels.
This is one of those you-know-it's gonna-be-good-before-you-even-taste-it wines.
Strawberry and nutmeg on the nose. Not sure how a wine this elegant can be this powerful.
Layer after layer of flavor. Incredible plush mouthfeel. A toe-curling wine that I don't want to share with anyone!
Will age beautifully, but a splendid glass of wine right now. $65. And worth every penny.
The other three wines are GRRR-EAT (read as Tony the Tiger), but hands down, Coury was the winner of the night for me!
Thanks to winemaker, Anne Sery, for taking the time to chat with all of us, to Sacred Drop Marketing for providing such wonderful background materials, and to Protocol Wine for organizing and facilitating such a great night!
Hyland Estates Winery FAQ
What is the most beautiful winery in Oregon?
Willamette Valley is gorgeous. The wineries that top our list for being the most beautiful are:
– RÉSONANCE, Carlton
– Laurel Ridge, Carlton
– Tyee Wine Cellars, Corvallis
– Left Coast Estate Rickreal, Salem area
-Alexana, Newberg
– Penner Ash, Newberg
– Sarver Winery, Eugene
– Willamette Valley Vineyards, Salem
– Domaine Drouhin Oregon, Dayton
– Lumos, Corvallis
– Cherry Hill Winery, Salem
Who is the largest wine producer in Oregon?
Ste. Michelle Wine Estates is the largest wine producer in Washington, having acquired A to Z Wineworks.
What wine grows best in Oregon?
Oregon and the Willamette Valley are most famous for the Pinot noir, which is produced throughout the state. Pinot noirs from the Willamette Valley have received much critical acclaim from wine connoisseurs and critics all over the world.