13 things i learned from tanaro river imports
Tanaro River Imports specializes in small producers from Alsace and northern Italy.
I participate in a virtual, 4-week long wine tasting and education series. We discuss things like terroir winemaking, grape varieties, culture and pairings. 
It focuses on a singular theme, but wines and/or wineries change each week.
Part of the wine chat experience is the opportunity to taste some sample wines from the guest wineries. And in return, participants are asked to write-up their impressions of both the wines and the evening.
With so many of my fellow bloggers writing keenly about the very same thing, I wanted to come up with an angle that's at least a little bit different.
In our latest virtual wine chat our guest was George Tita of Tanaro River Imports, specializing in small producers from Alsace and northern Italy.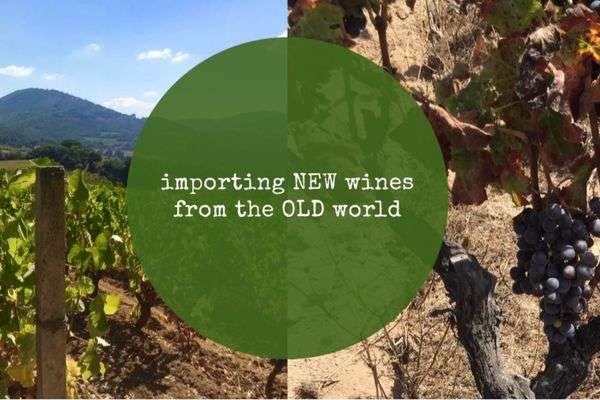 Tanaro River Imports Education
1. The Beck-Hartweg Family has been making wine in Dambach-la-Ville, Alsace since 1590 (for the mathematically challenged, that's 426 years!!)
2. Beck-Hartweg is a family business — they have exactly zero employees. All the work is done by the family.
3. The Beck-Hartweg vineyards are certified organic; they use no pesticides. And, their logo is a hoverfly on a wort flower. The hoverfly protects the vines against grape worms (kind of like a super hero).
4. Dolcetto means "little sweet one", but it's neither sweet nor little.
5. Dolcetto is the Lady Edith Crawley of Piedmont. Often overlooked, but ultimately a force to be reckoned with. I really need to buy more Dolcetto.
6. According to George, if you're invited to a friend's house for dinner in Piedmont and you bring Dolcetto, it says, "we're friends, no need to impress, leave the Barolo at home." Feel free to bring Dolcetto to dinner at my house anytime!
7. Barbera is often called "the people's grape" in Piedmont. It's what most Piedmontese drink with dinner, and it's the most widely planted grape in Piedmont.
8. Roero is a small DOCG in the Piedmont region of Italy, north of the Tanaro River. The region was underwater until about 100,000 years ago, when the Tanaro River changed its course.
9. The soil in Roero is sandier (because it used to be underwater) than their neighbors in Barolo and Barbaresco, something keenly reflected in the terroir.
10. Roero Nebbiolo is Barolo without the sticker-shock.
11. Of all the vineyards in Piedmont, Nebbiolo covers only 6% (Karen MacNeil's Wine Bible says 8%). Either way, that came as a surprise to me!
12. Umbria is the only Italian wine region that doesn't have a coastline, or border another country.
13. The highly tannic Sagrantino grape is native to Umbria, and rarely grown outside the region.
Tanaro River Imports Wine Tasting Notes
2011 Beck-Hartweg Pinot Gris Cuvée Prestige /88 points
From Alsace, France.  My first whiff was a complete surprise — black licorice.  I wasn't sure how I felt about black licorice in my Pinot Gris, but you know what?  It worked.  Flavors of stone fruits, laced with minerals.  Dry and well balanced.
2012 Riesling Cuvée Prestige /88
From Alsace, France. Sourced from the Beck-Hartweg's Franknstein vineyard, which is mostly granite soils. It's not a single vineyard, but split over five different hills. The nose is a bit shy, lending to a lighter body, with flavors of wet stones, chalk and petrol. Clean and crisp and very Alsatian.
Pairing:
Coq au Riesling (this was my pairing). Coq au Riesling is a traditional dish of the Alsace region of France. It's a variation on the traditional French classic, Coq au Vin (chicken braised in wine). Julia Child once said, "this popular dish may be called coq au Chambertin, coq au Riesling, or coq au whatever wine you use for its cooking." I love Julia. Both wines were excellent with the Coq au Riesling, but my final nod goes to the Riesling.
Alsatian Pizza (Crème Fraîche, white cheddar, caramelized onion & bacon on a thin crust)
Paprika Shrimp with Citrus Avocado Salsa and Saffron Quinoa
Oysters & Caviar
Sauerkraut (this was Beck-Hartweg's recommended pairing — still need to try this)
2012 Azienda Agricola Brangero, Dolcetto di Diano D'Alba /88
From the tiny, medieval commune of Diano d'Alba in Piedmont, Italy. Aged entirely in steel. Dusty and rustic. Well structured with lower acid and friendly tannins. The Dolcetto sang to me without food! I found the Dolcetto more complex than the Barbera, but I'm #TeamFunk.
George had this to say about Dolcetto: "Dolcetto quality depends on where its grown. Most producers in Barolo and Barbaresco save their best dirt for Nebbiolo." As long as they save a plot or two for Dolcetto.
2014 Cantina Roagna Giuseppe di Marco Barbera d'Alba /87
From Roera, Italy, just north of Alba. This was much more fruit-forward than the Dolcetto for me, more simplistic even. Flavors of cherry, strawberry, and violets. Lower tannins, higher acidity.

Pasta Bolognese (my pairing). I found both wines happy partners with the Bolognese, but I kept coming back to the Dolcetto!
Meatloaf
Braised Lam Shanks
Spinach & Ricotta Conchiglie
George suggested these Diano pairings: Carne Crudito, Russian Salad, Plin with Butter and Sage
2010 Germano Angelo Azienda 2010 Nebbiolo d'Alba "Visette" /87
From the Nebbiolo d'Alba DOC in Piedmont, Italy. 100% Nebbiolo. This is what's often called a "Baby Barolo", it's aged 6 months less than a regular Barolo, and at considerably less $. Aged in old oak casks with no imparted flavors. Dark ruby color. Flavors of tar, black licorice, cherry, cloves, and fig. Beautifully balanced.
2012 Azienda Agricola Romanelli Montefalco Rosso Umbria, Italy /88
From the landlocked Umbria region of Italy. A blend of 65% Sangiovese, 15% Sagrantino, 10% Merlot, and 10% Cabernet Sauvignon. Light ruby color. A bit sour on the nose. Flavors of white pepper, rose petals, sour cherry, baking spices. Puckering acidity, drying tannins. Medium body. Elegant and expressive. Three cheers for Umbria!
Lasagna Soup (this was my pairing). I realize Lasagna Soup is sacrilege to most Italians, but you can't beat it for a quick, satisfying, weeknight meal. I preferred the Montefalco with the Lasagna soup. It was a little lighter in body, and that Baby Barolo was crying for more meat than I had in my bowl!!
Bacon & Egg "Sammy"
Cincinnati Chili
Braised Lamb Shanks
Rigatoni with Spicy Red Sauce