Artichokes Wine Pairing: Armchair Sommelier vs. The Iron Chef
The elusive artichoke wine pairing. Why is it so hard to pair wine with artichokes? The answer? Biology. We'll get to that.
4 artichoke dishes, 5 artichokes wine pairings.
The theme for this month's Carpe Vinum (the wine club I'm part of) was Iron Chef.
Our secret ingredient was (cue dramatic music) . . . ARTICHOKE! We all tried to find recipes that hadn't been done and overdone — no room at the table for Spinach Artichoke Dip — and then we tackled the challenge of how to pair artichokes with wine.
I have a special place in my culinary heart for artichokes. Once upon a time, my husband and I lived in Monterey, California. My husband was attending the Naval Postgraduate School and I was working in the catering department at the Hyatt Regency.
We'd move back in a heartbeat . . . if it didn't cost the GDP of Lichtenstein to live there.
Monterey is just south of the town of Castroville, California — the Artichoke Capital of the World.
Artichokes are everywhere. My husband used to run next to fields of artichokes that stretched for miles. Some of those artichokes may or may not have ended up in my kitchen.
The Monterey AVA (American Viticultural Area) was just a decade old and new vineyards were popping up by the month.
So we ate a lot of artichokes and drank a lot of wine. You see why we miss it.
A flowering artichoke is magnificent. Mother Nature has an amazing color palette at her disposal.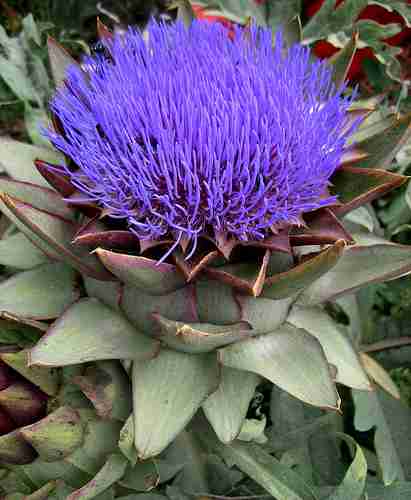 The Nightmare Artichokes Wine Pairing
Now . . . artichoke has long been maligned as a nightmare wine pairing. Mostly because there is a chemical in artichokes called cynarin that makes wine (and other things) taste sweeter.
What that means for wine pairing is that whatever wine you're drinking will shift balance with artichokes . . . so plan accordingly.
For example, if you're drinking a Riesling Kabinett, it will probably shift into to the Riesling Spätlese category.
Or if you're drinking a wine that's unbearably dry on its own, it just might be a perfect match once you pair it with an artichoke.
So let's get to it . . .
Allez Cuisine! Stop. Read that again in The Chairman's voice . . . ALLEZCUISINE!!!
Now, we're ready!
Stuffed Artichoke Wine Pairing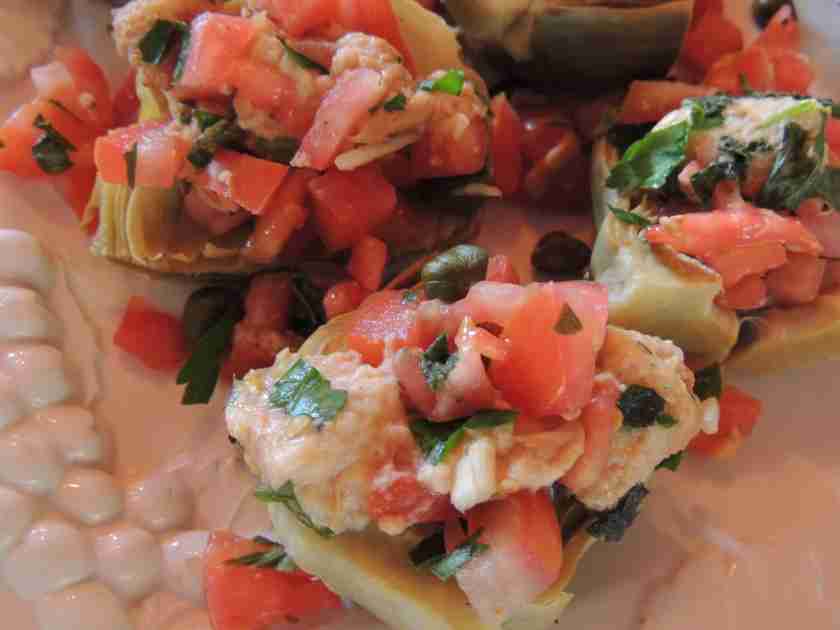 Giada De Laurentiis' Stuffed Artichokes. The presentation on these is über-clever.
The artichokes function as a little boats for the stuffing mixture, which has a lot of flavors going on: lemon, basil, mint, garlic, tomatoes and capers.
There's an unexpected smooth texture added by the Italian bread cubes. Loved this — delicious! BTW, Giada doesn't call for salt, but you'll want salt.
Masia de la Luz Cava Brut NV
I adore Spanish Cava — it's one of the best sources for budget bubbles on the planet. This Cava is 50% Macabeo, 30% Xerelo, and 20% Parellada.
Retail is $18. The light bubbles tickled my nose with notes of yeast and buttered toast. Light bodied, with flavors of green apple and grapefruit. The finish is lightning fast . . . wish it hung around a little longer.
The pairing is wonderful . . . proving once again that bubbles go with everything! The bubbles are a beautiful contrast in texture to the smoothness of the bread cube stuffing. And the saltiness of the capers is perfectly balanced to the zippy acidity in the Cava.
Lovely.
Artichokes Two Ways Wine Pairing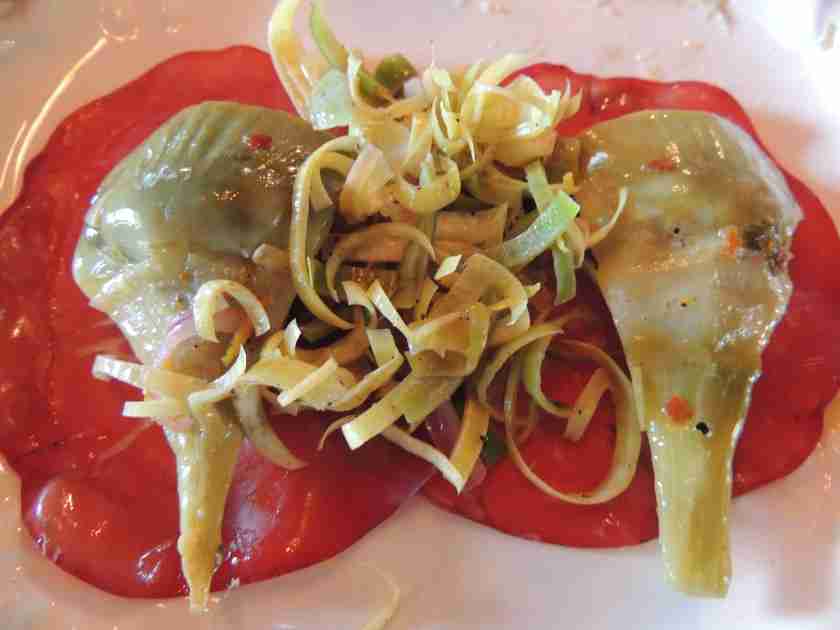 (Artichokes two ways deserve two wines)
Artichokes Two Ways with Bresaola. Presentation is everything — look at how gorgeous this is on the plate!
Artichokes the First Way (the two larger artichokes on each side) are simmered with white wine, lemon slices, garlic, crushed red pepper and mint. It's phenomenal.
The crushed red pepper lends a surprising hint of heat to the dish. Artichokes the Second Way (in the middle) are actually a raw baby artichoke salad . . . yep, raw.
It's so crunchy and yummy. The bresaola adds color and a salty balance to that perception of sweetness given off by the artichokes.
Domaine Weinbach Clos des Capucins Pinot Gris 2020
A light straw color in the glass. Medium-bodied and ever-so-slightly effervescent, with a nose of lemon cream.
Well balanced, a skosh sweet, with flavors of peach and warm spice. Reminds me of peach cobbler. Zippy and delicious.
Hands down, this was the better of the two wines with the Artichokes Two Ways. The slight perception of bubbles in the wine is a great complement to the saltiness of the Bresaola.
And the touch of sweetness balances the crushed red pepper beautifully. Yum!
Tiberio Trebbiano d'Abruzzo 2020
Everything about this wine is light — color, nose, flavors, finish. It's tough for me to pull out flavors — maybe green apple? Simple in structure and balance. I suspect this would taste a lot better if I were sipping it seaside in Abruzzo.
The Trebbiano didn't take anything away from the Artichokes, but it didn't add anything, either.
Agginaropita (Greek Artichoke Pie) Wine Pairing
This dish is a traditional food from the Greek island of Cephalonia in the Ionian Sea. The recipe is simple and delicious. The sweetness of the artichoke is a perfect complement to the salty brininess of the fresh feta. I omitted the dill (because I hate dill) and the mint (because it scared me). It still turned out fantastic. Working with phyllo dough is always a PITA (pain in the ass), but it's worth the effort. I will definitely make this again. BTW, it's a great leftover, too!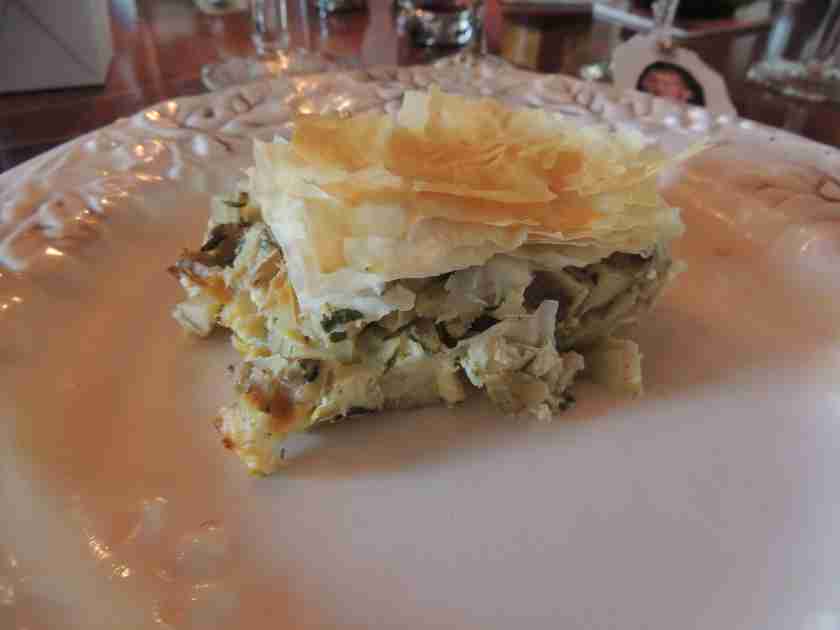 Domaine Foivos Robola 2009
For my wine pairing, I followed the pair ethnic food with ethnic wine rule. Robola is a grape variety indigenous to the island of Cephalonia. According to legend, Cephalus, the son of Hermes, brought the first vine of Robola grapes to the island. Grown on the slopes of Mt. Enos, Robola requires thin soil, sunshine and cool temperatures to produce fruit. Robola is also called Vino di Sasso or Vines of Stone.
Robola is not an easy wine to find. You don't just sashay into Total Wine and pick up a bottle of Robola.
I had to search for it on Vivino, and ended up ordering a bottle (the only bottle they had) from a liquor store in Florida. I was determined to try this wine.
If you can't find Domaine Foivos you can pick up a similar Greek Robola.
Unbelievable tawny color in the glass. I'm so mad at myself for not taking a picture of it. Urgh. The nose is very Sherry. This just got interesting!
Medium bodied, bone dry, with flavors of lemon curd and . . . golden raisins. No question — golden raisins. The finish lingers and lingers. Love this.
This is a home run pairing! Ethnic food + Ethnic wine = Winner!! By itself, the wine is cotton-mouth dry, and the flavors are slightly aggressive.
But with the artichokes, it shifts balance, the flavors soften, and . . . voilá . . . deliciousness!
Flatbread Pizza With Salami, Tomatoes, Black Olives and Artichoke Wine Pairing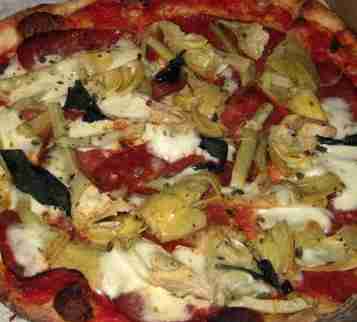 The pizza construction is simple. Just use your favorite tomato sauce (I've always loved puréed canned Marzano tomatoes with salt and fresh basil). Top with artichoke quarters, salami, fresh tomatoes and black olives. Broil until the cheese melts. Buon Appetito!
Gloria Ferrer Sonoma Brut NV
This sparkler is readily available almost anywhere. It was also one of Wine Spectator's Top 100 Wines of the Year. And for good reason. Fresh baked yeast bread on the nose. Flavors of apple, pear and croissant. Seriously – a croissant. Yum!
Artichokes Wine Pairing Final Tasting Notes
We had a great time with this theme . . . we'll definitely do it again. But I ate waaay too much. I couldn't help myself.
Artichoke is one of those flavors that I love so much I will keep eating, even after I'm full!
Rule of thumb for artichokes wine pairing is this, pair artichokes with wines that are highly acidic and contain little to no residual sugar, such as Sauvignon Blanc, Pinot Grigio, Grüner Veltliner, or Albariño.
Artichokes Wine Pairing FAQ
Does red wine go with artichokes?
The bottom line is that artichokes and wine can be very good friends. Just choose a wine that's dry with good acidity and no oak. Albariño, Grüner Veltliner, Sauvignon Blanc, Spanish Cava, Pinot Gris, Robola.
What should I pair artichokes with?
If you're talking food, artichokes pair well with cream, cheese, produce (capers are a favorite around here) herbs and spices. If you're talking wine, go with a high acidic, dry wine. Not sweet.
Does Champagne go with artichokes?
Most definitely pair a dry Champagne. Pairing a dry Champagne with artichokes can offer a superb balance.
What wine goes with Jerusalem artichokes?
Asparagus/Jerusalem Artichoke soup pairs amazingly with a dry Alsace Riesling.