Best Wine To Avoid A Hangover
Are you looking for the best wine to avoid a hangover? You've come to the right place. Check out our guide to see which is the best for you.
Time to read: 6-8 minutes
A bottle of white, a bottle of red, perhaps a bottle of rosé instead. Billy Joel wasn't the first person to say these words but he was the first (and will always be the best I think) to harmonize them.
Point being, there are many different types of wine, and each type has its own benefits to avoid the feeling of a wine hangover. This article will hit the best wine (and wine labels) to drink to dodge a headache the next day. Each type has its own benefits and drawbacks.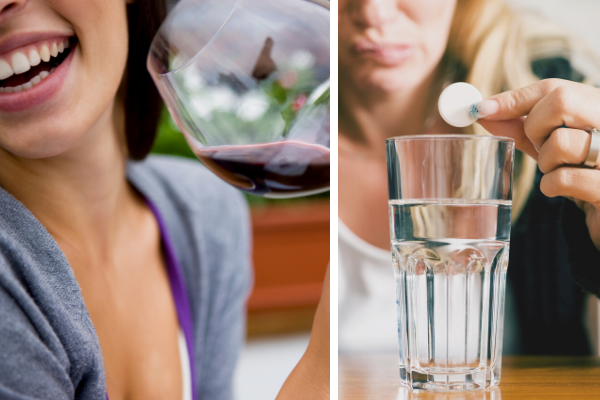 Is White Wine The Best To Avoid A Hangover?
Some people believe that white wine is a good no hangover wine, but this may not be true. White wine contains antioxidants, but they are not as powerful as the antioxidants found in red wine. However, white can be lower in alcohol than red. Some of the best whites for this are Pinot Grigio, Chardonnay, and Riesling.
Pinot Grigio is a type of white wine that is known for its light, crisp flavor. That makes this wine a great choice to avoid wine hangover symptoms.
Chardonnay is another type of cleaner white wine and is known for its smooth, buttery flavor. This makes it a great choice for those who do not want to deal with the strong flavors of other wines.
Riesling is a type of white wine that is known for its sweetness but don't forget there is a type of dry (not sweet) Riesling from Alsace.
If you prefer a sweeter wine but are trying to avoid a headache watch out for Moscato. Too much sugar combined with the dehydrating effect of drinking alcohol can send you to hangover city.
Is Red Wine The best To Avoid A Hangover?
Red wine is often higher in alcohol content than white wine but it also contains antioxidants that can help to reduce the wine hangover symptoms. Red wine is known for its high levels of antioxidants. These antioxidants are beneficial to the body in a number of ways.
Antioxidants in red wine called polyphenols may help protect the lining of blood vessels in the heart. A polyphenol called resveratrol, found in the skin of the grape, has gotten a lot of attention recently for its health benefits.
Red wine also contains tannins. Tannins are found in the skins of grapes and help to bind together different molecules in the wine.
Tannins are an important part of red wine and help give it its flavor. They also help to reduce the number of headaches that people experience. (Pssst… Tannins are also referred to as giving a dry mouth feel on the finish).
Organic Wine
Organic wine is a great choice for those who want to avoid a hangover. This type of wine is made without the use of harsh chemicals and pesticides.
The grapes used to make organic wine are also grown in healthier soil. This results in a wine that is less likely to cause headaches and other unpleasant symptoms the next day. No calling dinosaurs (as my mom put it when I was in college) with organic wine.
Choosing An Organic Wine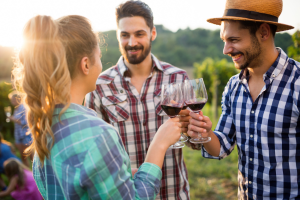 There are a few things to look for when choosing an organic wine.
Make sure that the wine is made with 100% organic grapes.
Check the label to see if the wine is certified organic. This certification ensures that the wine has met strict standards for production.
Try to find a wine that is made by a small, family-owned winery. These wineries often have a more hands-on approach to wine-making, and they produce higher quality wines.
When it comes to avoiding a hangover, choosing organic wines are your best bet. Organic and biodynamic wines are made without the use of synthetic pesticides or fertilizers.
Side note: some say organic wines are made without sulfites. Which wines are sulfite-free? In the words of Marisa Tomei, "That is a trick question!"
You can't make wine without sulfites. Sulfites are not the hangover culprit everyone says they are. AND! sulfite-free wine does not exist. Sulfite is a preservative found in all kinds of food. When you see "no added sulfites" this means the vineyard did not add additional sulfites. Not, that they aren't present in the wine. The more you know. You're welcome.
Dry farms can also be organic. The definition of a "dry farmer" is one who never irrigates his vines, no matter the conditions. Dry farming techniques can result in lower overall yield, but grapes that have less concentrated sugar and produce "drier" wines.
Drier wines can have less alcohol, about 11-12% as opposed to the 14-15% range for many New World wines. You don't have to go all the way back to a dry farm, but seeking out organic or natural wine may be your best bet for a headache-free night.
Natural Wine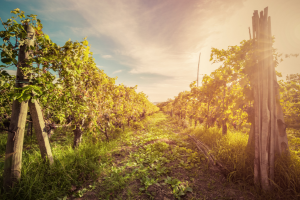 Natural wines are made with minimal intervention and use organic grapes. They rely on the natural yeast that is present on the grapes themselves. In California, there are now over 100 certified organic wineries, and many more that label their wine as "natural."
These wines are made without additives like sulfur dioxide (SO2) and without the use of cultured yeast. Sulfur dioxide is a preservative that is commonly used in winemaking to kill bacteria and stop the fermentation process prematurely.
Some people believe that drinking natural wine is healthier because they don't contain any additives or toxic chemicals, but there is no scientific evidence to support this claim.
The process of making natural wine is much more labor-intensive and time-consuming than making traditional wine. The grapes are harvested by hand and then sorted to remove any rotten or diseased fruit. The grapes are then crushed and the juice is allowed to ferment naturally so it may contain sediments.
Natural wines are also unfiltered, so they retain more of the natural flavors and colors of the grape. If you're looking for a wine that is lower in sulfites, organic, and has a more natural taste, look for wines labeled as "natural".
What's The Difference Between Natural Wine and Organic Wine?
There is a big difference between natural wine and organic wine. With organic wine, the grapes are grown without using any synthetic pesticides, herbicides or fertilizers. However, the regulations for organic grape processing allow for additives and industrial processes.
With natural wine, the winemaker doesn't add any sulfites to the wine. Natural wines use little or no intervention, and are harvested by hand and processed in a low-tech way.
What Causes A "Wine Headache"?
There is debate. As we discussed, some blame sulfites. However, experts argue that sulfites, which can cause asthma and allergic responses, are unlikely to cause headaches.
Okay, so what the heck is the cause? Likely histamine, which dilates blood vessels. Or, it could be tyramine, which constricts and then dilates them. Guess what, both are naturally found in wine. Red wines contain more histamine than Champagnes or sparkling wines and those usually contain more histamine than still white wines.
Some people lack the enzyme that helps metabolize histamine, which may make them more prone to wine headaches (another reason to take a daily anti-histamine).
We Surveyed Our Community. These Wines Are Tops!
White Wine
Foucher Lebrun Le Mont Sancerre Blanc 2020 $23.99

A resounding favorite. Oh man is this one delicious. Upper Loire White 12.5% alcohol. A majority of the tasters noted a light or medium body. Sancerre is on the dryer side with high acidity. With notes of citrus, honey and cheese. Pairs well with pork, shell fish and goat cheese.
Sancerre is a dry white wine made from the Sauvignon Blanc grape. It is produced in the Upper Loire area of France, just after the Loire river bends from traveling north to traveling east. The Upper Loire area comprises the easternmost portion of the valley and is home to two of the Loire's most famous white wine appellations: Pouilly-Fumé and Sancerre.
The vines for Foucher Lebrun Le Mont Sancerre Blanc grow on a combination of clay and limestone soils. The climate in this region is cool with a longer growing season. This allows the Sauvignon Blanc grapes to ripen slowly and evenly, resulting in a wine with excellent acidity and complex flavor.
Foucher Lebrun is a family-owned estate that has been producing wine in the Sancerre region since 1921. They are a biodynamic and organic wine producer who are working to make better wine for the planet. All of their wines are made without any added sulfur, and they only use indigenous yeast. They also focus on working with the land in order to create healthy vines.
Riesling-Alsace Starting around $15

Buy on Wine.com (ships tomorrow)

"Alsace is so hot right now." -Mugatu
Seldom oaked, Alsatian Riesling are typically dry and crisp, with racy acidity and compelling aromas of pears, apples, lemons, flowers and spice.
Alsace is a northeastern French region known for producing excellent wines. On border with Germany, it is known for its wine production. Because Alsace lies adjacent to Germany and just east of the Rhine River, it shares many common grape varieties.
Riesling is the sweetheart of Alsace and a favorite of wine drinkers everywhere for its mix of versatility and low cost. The dry, sunny climate and the soil types found in the region make this wine fresh and alive.
Serve Alsace with fish tacos, sushi, smoked fish, and of course, goat cheese. Sweeter Spatlese are great paired with spicy Thai food and curries.
Rosé Wine
Lieu Dit Rosé $25

Ahhh, Rosé-All-Day. Don't mind if I do. Also, PLEASE DO! Rose is known for being an all day wine because it's lite and fruity. Our community loves drinking rosé in the summertime. At the beach, on the porch or in backyards, rosé can do it all.
Lieu Dit Rosé is known to have great balance. The acidity only enhances its flavors of watermelon and orange peel. As for the region, the varied micro-climates and marine based soils of Santa Barbara County are ideally suited to this set of grapes.
Red- Organic Wine
2018 Montepulciano d'Abruzzo Anfora, Agricola Cirelli under $30

Tasters note Montepulciano is a dry, full-bodied wine with medium to high tannins, high acidity, between 11-13% alcohol. What a beauty.
Montepulciano d'Abruzzo is a world-famous wine region known for its classic Italian red. This region produces an easy-drinking wine with strong aromas and flavors, the most notable flavors of Montepulciano include hints of oregano, pepper, tobacco, and black fruits.
At Cirelli, they ban the use of herbicides and chemical fertilizers or any other product that does not conform with their ideas of organic farming and with the plant's natural phytosanitary defense system.
The fertility of the soil is managed through organic fertilization and the use of Biodynamic Preparation 500 Cow Horn manure. The grapes are handpicked and manually selected.
This fruity red is downright chuggable at $31. They offer winery tours and glamping which is nothing short of magical.
So, Best Wine To Avoid A Hangover?
There are many factors that contribute to a hangover, but one of the most important is not what you drink but how you drink. Make sure you stay hydrated. Drink more water before you go to sleep.
Don't drink on an empty stomach. And remember, alcoholic drinks can contain different levels of alcohol, sulfites and histamines. If you start drinking before noon and want to stay hangover free stick with a sparkling or an organic that we mention above. All four are all available to buy now from the winery directly or wine distributor near you.
How To Avoid A Hangover FAQ
Which wine does not give you a hangover?
Drink low alcohol wines wines. Wine can range in alcohol content from 5-20%. If you're looking to reduce the chance of a wine hangover, opt for a lower alcohol wine like Pinot Grigio, Sauvignon Blanc or Riesling.
How can I drink wine without a hangover?
Here are some additional tips:
– Don't drink too much wine. Ha! I know, but this is #1.
– Pair every glass of wine with a glass of water.
– Drink lower alcohol red wines. 
– Drink quality wines. Stay away from jammy wines or wines that have residual sugar.
What alcohol give the least hangover?
Well, everything in moderation. I could say vodka but once you mix it with a sugary drink or if you have too much vodka you'll get a hangover. The best wine to avoid a hangover is a low alcohol, premium wine.
Why do some wines not give you a hangover?
Histamines are the most likely the culprit behind your hangover from red wine. They occur at a much higher level in red wine than in white wine. It could also be the additives in some wines.
How can I drink all night without getting hangover?
Y'all. Stop asking this question. The best answer is food and water. Stay hydrated. Eating before or at the time of drinking can slow down the absorption of alcohol into the bloodstream. Food can help keep your blood alcohol level lower and may reduce the effects of a hangover.