Is Chateau St. Jean Winery Wirth The Drive?
From the moment you turn down the drive to head towards Chateau St. Jean Winery in Sonoma County, you know you're about to have a jaw dropping experience. At the risk of overselling it… nah there's no risk, you're going to love it. We recommend you start your day here. We did, and I wouldn't do it differently. You will want to experience this place fresh as a daisy. It's a sensory experience. Chateau St. Jean offers seven incredible tasting experiences. We chose the Belle Terre Experience.
Since its founding in 1973, Chateau St. Jean Winery has opened its doors to visitors from near and far to enjoy its historic winery and vines. Nestled at the northern tip of the breathtaking Sonoma Valley, Chateau St. Jean provides wine enthusiasts with a tranquil haven where they can escape everyday life and fully immerse themselves in the Sonoma wine culture.
And let's not forget the pièce de résistance—the Mediterranean Gardens. It's Mother Nature's Instagrammable masterpiece, where vibrant colors dance to the rhythm of the breeze. The view is so stunning it's practically a scene out of a Hollywood movie.
If you're into travel vlogging, meander through the gardens with a glass of Chateau St. Jean's finest in hand, surrounded by lush greenery and the sweet scent of blossoms.
I'll help you picture these scenes with your imagination as we go through my review of Chateau St. Jean Winery.
Need to figure out accommodation and dining nearby? We've got you covered with restaurant and hotel recommendations at the bottom. Exit through the gift shop!
About Chateau St. Jean Winery
Address: 8555 Sonoma Highway, Kenwood, California, 95452
The iconic Chateau, dates back to the 1920s. In 1973 the current three owners acquired the property with a vision for crafting wines that embodied the nuance, character, and quality of Sonoma's distinct vineyards.
The winery, named after the saint-like Jean Sheffield, who played the roles of wife, sister, and sister-in-law to the founders, has since become a beacon of values—rooted in belief and heartfelt hospitality. They're not just wine enthusiasts but Sonoma wine aficionados who see wine as a community celebrating life's joys with a commitment to patience, passion, and pride in perfecting them.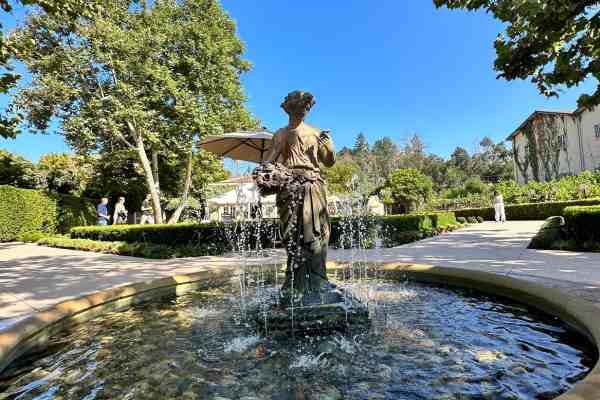 Wine Tasting Experiences And Tours At Chateau St. Jean Estate
Visitors are welcome to stroll along meandering paths through rose gardens, unwind on the patio, have a picnic in a redwood grove, play bocce courts, or just enjoy the expansive grand lawn with some of the best views in Sonoma Valley.
Start with a glass in the Visitor's Center before your official tasting begins.
Chateau Experience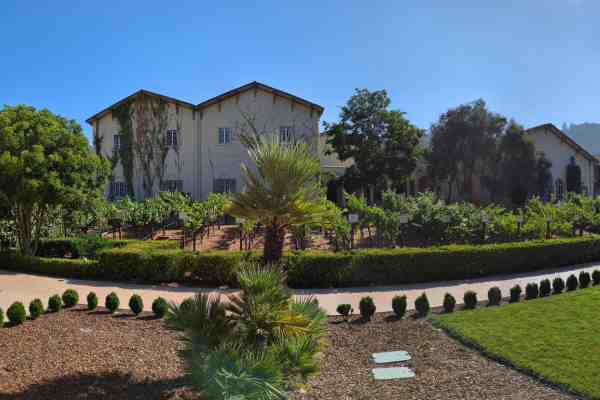 Reservation: $65 per person | 90 minutes | 1-6 people
Savor a seated tasting of the most exclusive Reserve and winery-specific wines right within the exquisite ambiance of a 1920s chateau. Your wine guide, a true expert in the craft, skillfully walks you through a flight of five distinct varietal selections.
It's a sensory journey as you'll be basking in the breathtaking vineyard views with the warm embrace of the richly wood-paneled rooms inside the chateau.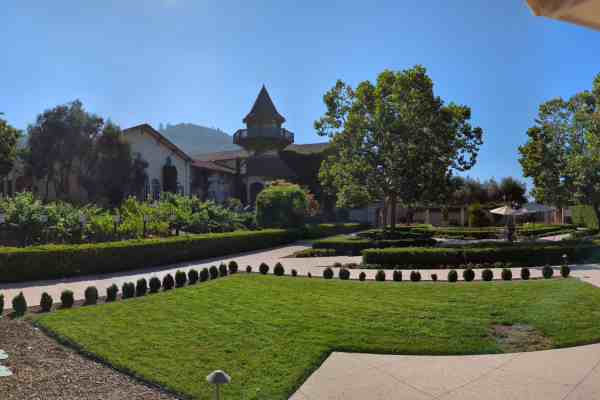 Belle Terre Experience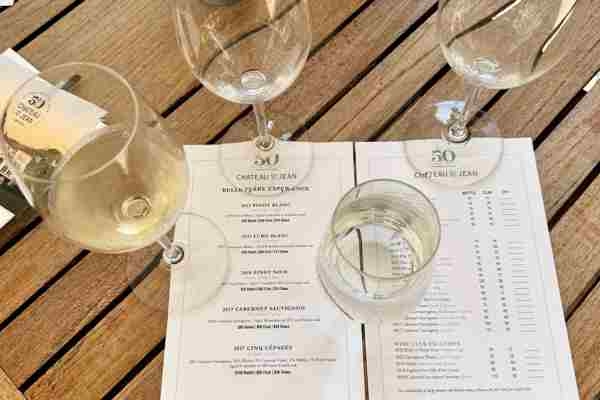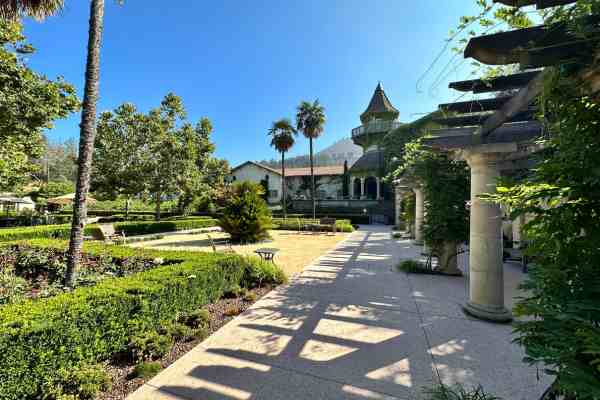 Reservation: $50 per person | 70 minutes | 1-6 people
The Belle Terre Experience is one of my favorites. I had the pleasure of immersing myself in the world of wines through a curated flight of five selections, each representing the unique styles and flavors from premier Sonoma County vineyard sites. 2021 Pinot Blanc, 2021 Fume Blanc, 2018 Pinot Noir, 2017 Cabernet Sauvignon from Alexander Valley (my personal favorite) and the 2017 Cinq Cépages (all the great represented here: Cab Sauv, Merlot, Cab Franc, Petit Verdot).
A knowledgeable wine educator guided the entire tasting, and what made it truly special was the enchanting backdrop of a beautiful rose garden. I absolutely loved the setup there—it added a touch of magic to an already delightful wine-tasting experience.
---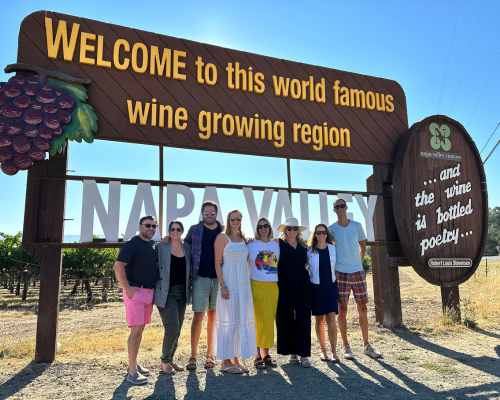 Planning a trip to Napa but don't know where to start, or worse yet, you're 10 hours deep and frustrated? You won't want to miss our Napa Trip Planner!
---
Dejeuner au Chateau: Estate Lunch
Reservation: $65 per person
Now, who's hungry? Secure your very own private outdoor picnic table for an afternoon of wine and an estate picnic lunch. It's the perfect setting for some quality time with friends and family.
For just $65 per person, get ½ bottle of wine per person from their carefully curated list, a reserved picnic table, and the option to choose between a delicious sandwich or salad for lunch. What an absolute treat!
Here are some notes about the lunch experience if you're planning to book:
Available Friday – Sunday
No outside food is permitted
This is a non-hosted experience, so you must be booked 24 hours in advance
Group size should be 2-8 max (must be over 21 to book, of course)
The experience is weather-dependent
This is a 2-hour reservation
Chez Nous Reserve Tasting
Reservation: $90 per person | 90 minutes | 7-15 people
Let me tell you about this another amazing experience! Feel right at home in the chateau's dining room. Enjoy a sit-down, private tasting led by a knowledgeable wine educator who will guide you through a flight of five varietal selections in a setting of another era.
Bocce, Bordeaux & Burgundy Experience
Reservation: $55 per person | 2 Hours | 10-25 people
Suppose you're aiming to experience wine tasting in their outdoor area while unwinding with friends. In that case, the stunning Sonoma Valley environment is always available while sipping wines by the bottle in a private outdoor space that's all yours. This space has picnic tables, lounge chairs, and bocce balls for added fun!
Chateau St. Jean Club Member Tasting
Duration: 90 Minutes
Chateau St. Jean & Connoisseur Wine Club members are welcome to partake in a seated tasting of five wine club-only selections on the exquisite Wine Club Patio. Unwind on cozy lounge chairs as the Wine Club Ambassador provides insight into your tasting experience.
Optional Culinary Add-Ons
At your Chateau St. Jean wine tasting experience, you have the option to include decadent food while savoring the exquisite wines.
You can choose to savor a cheese and charcuterie board with two warm baguettes influenced by French cuisine. Meanwhile, their Visitor's Center Deli offers fresh salads and sandwiches with a French flair made with ingredients from Sonoma. Every sandwich comes with chips and macarons. Check out a wide selection of food and their respective prices here.
Who Is The Goff Family?
Ernest and Maude Goff established their family fortune in the iron ore mines of Michigan's Upper Peninsula and Pacific Northwest lumber. They came to California from Saginaw, Michigan, with four sons and one daughter. They purchased approximately 300 acres of land in the Valley of the Moon area of Sonoma County, California.
Construction on the Goff family's summer home – the Chateau – began in 1920. The Goffs designed an elegant house with solid oak handrails, an oak-paneled hallway, and a large oak fireplace in the living room – which now serves as the Reserve Tasting Room in the Chateau. White wine grapes grew on the property at this time, but with the onset of Prohibition, the family planted prunes and walnuts, too.
How It All Began At Chateau St. Jean
In the early 1970s, Ken Sheffield and Bob and Ed Merzoian – San Joaquin Valley table grape growers and shippers – began a search for the perfect setting to build a premium California winery. The Valley of the Moon was their first choice, and their attention focused on 250 acres of the Goff estate.
The inaugural vintage was produced at another winery by Chateau St. Jean's first winemaker, Dick Arrowood. The first vintage made on the property was in 1975.
In 1980, the winery and grounds in Kenwood, California, were completed. The winery was designed from the ground up to accommodate numerous grapes and keep them separate throughout the winemaking process to make sure vineyard designation stayed pure.
Chateau St. Jean Estate Vineyard At Sonoma Valley
With its intricate topography of hillsides, benchlands, and little valleys, Sonoma County is a diversified and rapidly expanding region. Being a coastal appellation, it benefits from morning fog and sunny afternoons tempered by sea breezes. This ideal climate helps a wide range of grapes to attain rich varietal flavor, from the cold Carneros region in the south to the mild Russian River and Alexander Valleys farther north.
Kenwood's winery and tasting facility surrounds the St. Jean Estate Vineyard. Ninety acres of premium cultivars are planted on the 270 acres of the property. Plants include merlot, petit verdot, malbec, viognier, cabernet sauvignon, cabernet franc, and chardonnay.
When Belle Terre Chardonnay was introduced in 1975, Chateau St. Jean was a trailblazer in Sonoma County vineyard-certified wines. Chateau St. Jean makes merlot, malbec, and cabernet franc from a single vineyard in a few selected years. Moreover, the Bordeaux varietals cabernet franc, malbec, and merlot make Cinq Cépages, the winery's flagship wine.
Chateau St. Jean Wine Club Membership
With recently released, limited-production wines to sip at home and exclusive access to events and some of the most exquisite areas of the chateau and gardens, Club St. Jean enables you to become a member of its unique community.
Enrolling in the Club St. Jean wine club ensures you will receive a portion of wines and offers discounts of up to 20% on all Chateau St. Jean wine purchases made through the Guest Experience Center and online store.
In addition, you get free tastings for you and up to three friends, access to limited-edition wines, and invites to exclusive club events.
Your membership also gives you access to over 20 partner wineries in Sonoma, Napa, and other regions, where you may take advantage of discounts and complimentary samples.
Where To Eat Around Chateau St. Jean Winery
Embarking on a wine-filled adventure at Chateau St. Jean Winery? Well, get ready to treat your taste buds with fine wines and some delicious bites!
Here are some of the best dining spots around Chateau St. Jean, ensuring your culinary journey is as memorable as your wine-tasting experience.
Palooza Brewery & Gastropub
Address: 8910 Sonoma Hwy, Kenwood, CA 95452, United States
Palooza Brewery & Gastropub is a local hangout where families and friends gather over delicious cuisine and beverages in a laid-back atmosphere. This pet-friendly gastropub provides house-brewed beer and handcrafted food prepared with carefully chosen ingredients. They also sell hyper-local wine and artisan cocktails made with regional spirits.
Salt and Stone Restaurant
Address: 9900 Sonoma Hwy, Kenwood, CA 95452, United States
Surrounded by the scenic beauty of wine country, Salt and Stone Restaurant offers a charming al fresco setting where diners can immerse themselves in the fresh air and serene atmosphere. As you indulge in outdoor dining, expect a culinary journey that embraces farm-to-table goodness, featuring everything from crisp salads with freshness to succulent grilled meats and seafood. They also serve cocktails and wines to elevate the experience.
Glen Ellen Village Market & Deli
Address: 13751 Arnold Dr, Glen Ellen, CA 95442, United States
The Glen Ellen Village Market staff takes great pride in providing the finest possible product variety, affordable prices, and customer service. They are available to help you experience the difference, whether you're looking for professional assistance organizing a special occasion or just wanting to recall what it feels like to be pampered. Make sure to check out their salad bar, hot food bar, rotisserie chicken, coffee & espresso bar, sandwiches, and pastries.
Where To Stay Near Chateau St. Jean Winery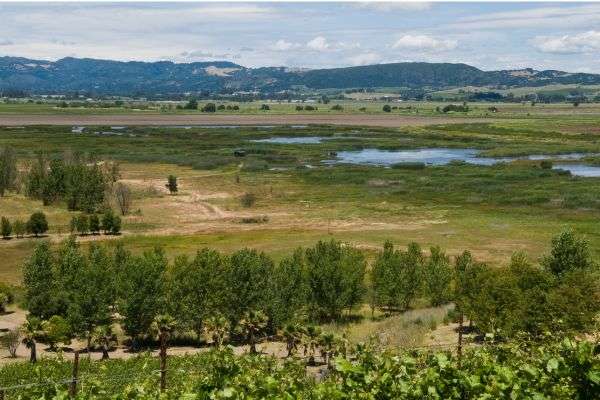 If you're ready to turn your visit into a full-pledged retreat, here's a guide for you. After indulging in the good stuff, you'll need a cozy spot to unwind. So, we've covered you on the best places to stay near Chateau St. Jean Winery.
Kenwood Inn And Spa
Address: 10400 Sonoma Hwy, Kenwood, CA 95452, United States
Why we love this place: Nestled in Sonoma's Valley of the Moon, Kenwood Inn & Spa is an exclusive hideaway spread across two-and-a-half acres, surrounded by vineyards and ancient oaks. Drawing inspiration from Northern Italy, the inn's grounds feature meticulous landscaping, trickling fountains, and sparkling pools, offering a far-away feel in wine country. The Spa at Kenwood Inn provides personalized treatments in a serene atmosphere.
Olea Hotel
Address: 5131 Warm Springs Rd, Glen Ellen, CA 95442, United
Why we love this place: Olea Hotel is located in Sonoma Valley on a hillside. This Sonoma Valley hotel is surrounded by olive and oak trees and has a lovely terrace with patio furniture that looks out over the valley. For those who want to experience Sonoma Valley and everything it offers, the Olea Hotel is the ideal retreat – from intimate guest rooms to quaint standalone cottages with warming fireplaces.
Beltane Ranch
Address: 1500 Santa Rosa Ave, Santa Rosa, CA, United States, California
Why we love this place: Beltane Ranch is gives a down home vibe. Down home on your California estate ranch, to be exact. There are so many places to sit and relax at this property. Adirondack chairs, porch swings and then there's your own personal private patio or terrace. Don't head out in the morning without experiencing Beltane Ranch's beautiful chef prepared breakfast!
Is Chateau St. Jean Winery Worth The Drive?
Chateau St. Jean Winery provides downright good vibes and stunning scenory. From the moment I stepped into that iconic 1920s chateau, it was like entering a portal to an early wine paradise. The Mediterranean Gardens, with their vibrant hues and fragrant blooms, added a touch of magic to the experience.
And oh, the wines! Chateau St. Jean isn't just a winery; it's a symphony of Sonoma's finest flavors dancing on my taste buds. Every bottle's commitment to quality and artistry is nothing short of impressive. Whether I was sipping under the sun on the patio or cozying up in the wood-paneled rooms, each glass felt like a celebration.
---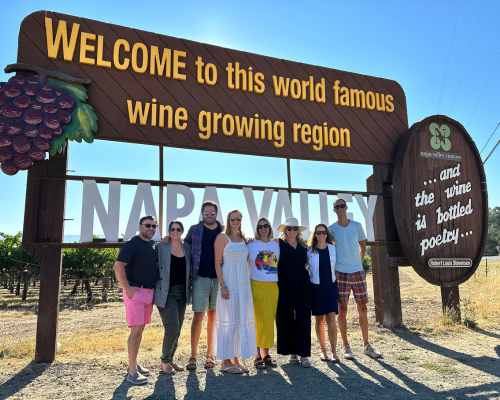 Planning a trip to Napa but don't know where to start, or worse yet, you're 10 hours deep and frustrated? You won't want to miss our Napa Trip Planner!
---
Related Articles
Chateau St. Jean Winery FAQs
Who bought Chateau St. Jean winery?
Treasury Wine Estates, an Australian wine behemoth, sold Chateau St. Jean to Foley Family Wines, a rapidly expanding conglomerate that already owns over two dozen upscale wineries worldwide.
What wine is Chateau St. Jean known for?
Chateau St. Jean is known for producing a variety of wines, but it gained recognition for its Cinq Cépages, a Bordeaux-style blend that has been a flagship wine for the winery.
What is the difference between a chateau and a winery?
The term "chateau" typically refers to a large estate or manor, often associated with vineyards and winemaking. A winery, on the other hand, is a facility where wine is produced. 
In the context of Chateau St. Jean, the term "chateau" may be used to evoke a sense of a grand estate, while "winery" specifically refers to the facility where the winemaking process takes place.
Who owns the Chateau St. Jean now?
Chateau St. Jean is currently owned by Foley Family Wines. Bill Foley founded Foley Family Wines in 1996 after purchasing Lincourt Vineyards in the Santa Ynez Valley of California. Since then, Foley Family Wines has expanded to become a significant manufacturer, distributor, and marketer of handcrafted, highly regarded wines from some of the best vineyards in the world.