Sonoma On A Budget: Where To Get The Most Sips For Your Buck
You've made your decision on Napa vs Sonoma. Now you want to know how to sip your way around Sonoma on a budget. We've got you covered with pro tips to sip without sacrifice.
Traveling through wine country is a thing of beauty, but it could also be a thing of "where the heck did all my money go?".
Sonoma wine country is supposed to be Napa Valley's more down to earth, more affordable neighboring cousin, and it is. 
But recently the area has gained popularity with Michelin-starred restaurants and high-profile resorts and tasting rooms opening across the county, driving up the prices. Fret not, you can visit Sonoma on a budget.
So, how can you make a high-end destination affordable? It's not always easy to cut corners and budget in wine country, but here are some tried and true tips for making your next Sonoma vacation easy on the bank account.
Cheers to that!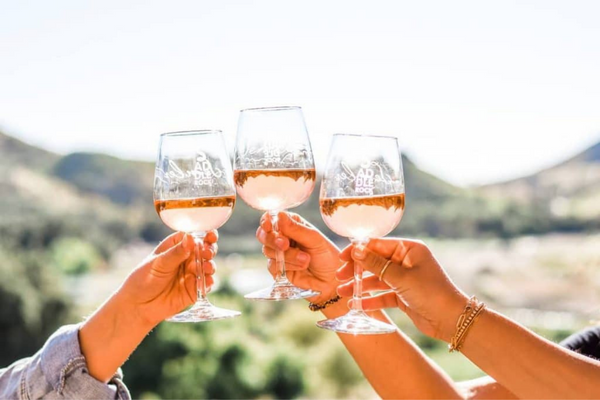 Where To Stay In Sonoma On A Budget
Here's the thing about saving money in Sonoma, you want to stay in a centralized location so you can drink wine and walk back to your hotel without having to worry about expensive, late, or even non-existent ride-share drivers. 
In small towns like Sonoma and Healdsburg you can stay at the familiar Best Western. I know what you're thinking. 
I want cheap hotels in Sonoma but Best Western?
Yes. This Best Western has over 700 Very Good reviews!
This hotel chain has designed their hotel to resemble the quaint and cozy town, while keeping within walking distance to the main squares.
Most offer free breakfast and discounts at tasting rooms to further save you money. The Best Western Sonoma Valley Inn makes you feel like you're staying in a tiny bungalow with your own fireplace and patio overlooking the pool, not a cheap hotel in Sonoma.
They have free Wi-Fi, hot breakfast, an outdoor garden area where you can sip wine at any available table. Where to get wine? Oh, there's a Whole Foods Market right across the street from the Inn where you have a selection of wine from all of Sonoma's favorite wineries.
Perfect for grabbing food for a picnic too.
---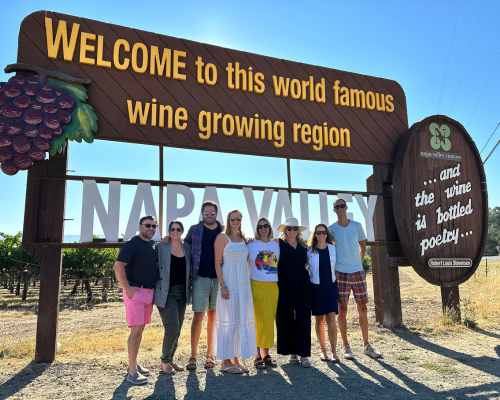 Planning a trip to Napa but don't know where to start, or worse yet, you're 10 hours deep and frustrated? You won't want to miss our Napa Trip Planner!
---
Where To Sip In Sonoma On A Budget
Instead of thinking about cheap wineries in Sonoma, the Sonoma County Tasting Pass is an excellent way to see many wineries across the county for a flat fee.
For just $59 you can get a 2-day pass that lasts 48-hours from the time of activation and tour participating wineries and get a complimentary tasting flight.
Now you're speaking my language. Yeah, we thought so.
You can also check out this wine priority pass. It's best to be used if you're traveling with someone as it's a 2-for-1 deal. Meaning, 1 person will pay full price and the other person gets in for 50% off or free. There are some great deals to be found but you need to read the fine print.
It's a great way to see many lesser-known (or even well-known) wineries at a very low cost considering most tasting fees in Sonoma are $25-$75 for a flight. Some wineries included in the pass — Benziger, Landmark Vineyards, St. Francis Winery, Mutt Lynch Winery, Kendall-Jackson Winery, and B.R. Cohn.
Download the app and check-in directly to the wineries and your transaction is complete. Don't forget to bring cash to tip your hosts!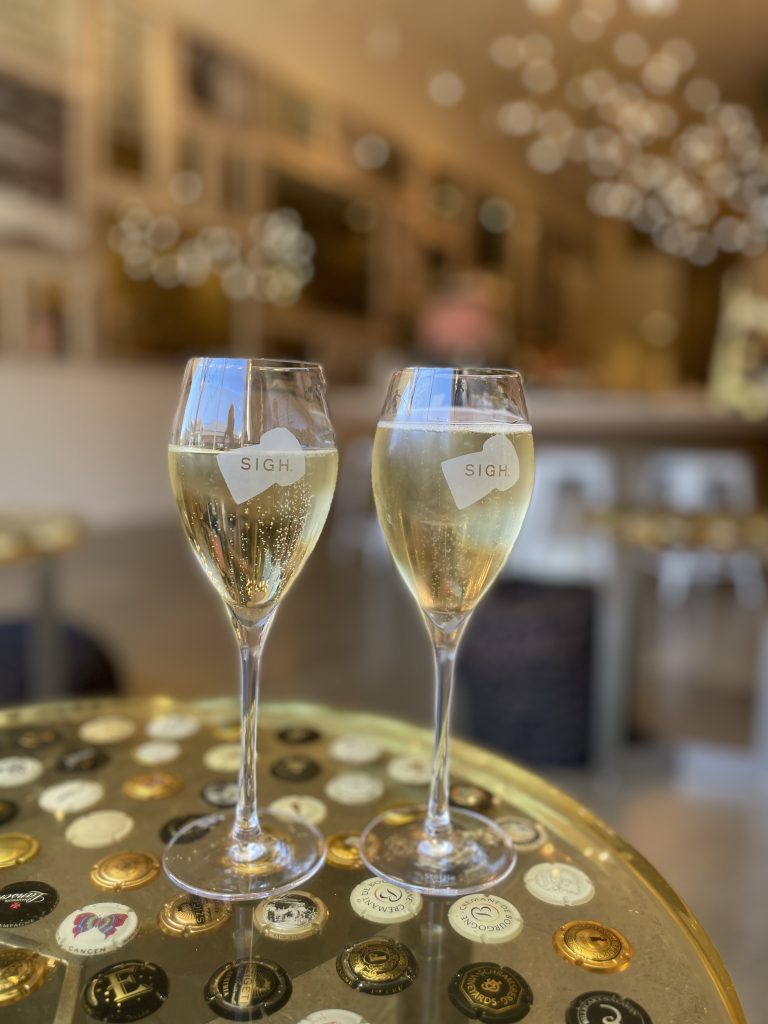 There are plenty of tasting rooms in Sonoma to choose from and many of them can cost the same as tasting at a winery. One of my favorite spots is Sigh, a champagne bar in Downtown Sonoma.
They have an excellent happy hour where you can sip glasses of Champagne for as low as $5. It gives your palate a break from all the red and white wine you've been consuming throughout the day.
Where To Dine In Sonoma On A Budget
For breakfast, if you opt out of the free hotel scrambled eggs and pancakes, there's a quaint little French cafe in Downtown Sonoma, Basque Boulangerie where you can get freshly baked Parisian pastries with a cappuccino or latte.
It's the perfect combination of sweet, carb and caffeinated to get your day rolling.
Since many of the wineries are out in the middle of wine country where there's not a lot going on, a grab-and-go lunch is the perfect way to say, "I'm not letting hunger stop me from hitting more wineries!".
Make your to-go lunch part of your travel experience by finding a winery that allows outside food where you can picnic while enjoying vineyard views.
Oakville Grocery is a great place to get sandwiches, salads, and snacks and the portions are big enough for sharing.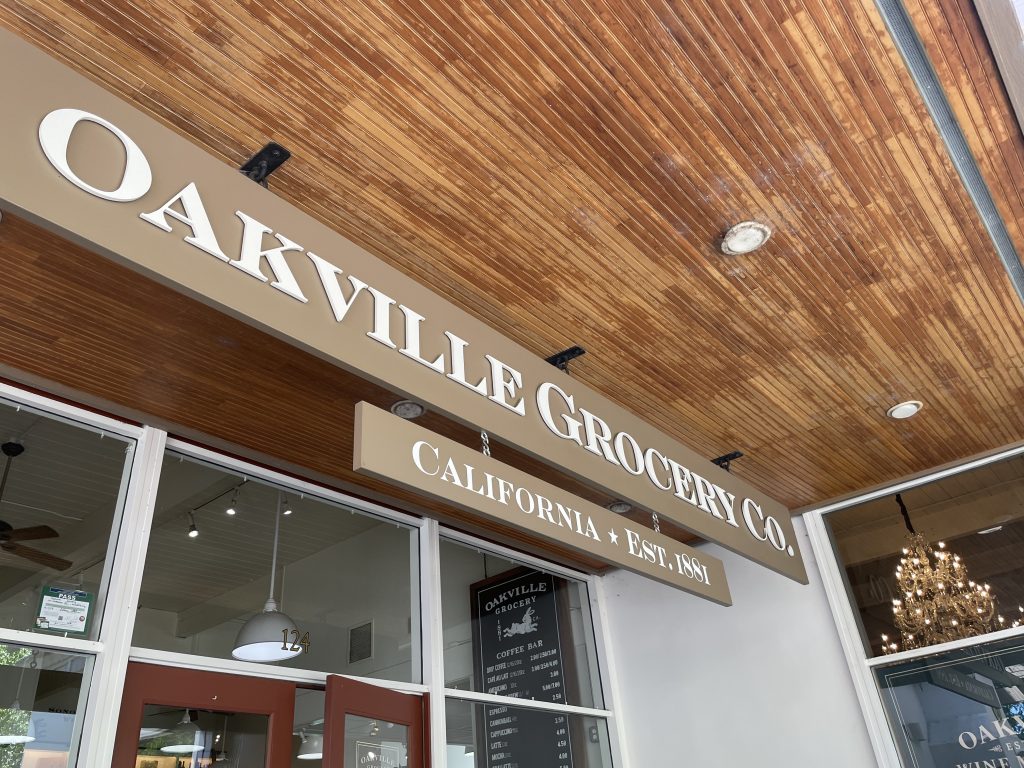 Nobody ever said no to pizza and Sonoma has some of the best Pizzerias on the West Coast.
Pizzando in Healdsburg and The Red Grape in Downtown Sonoma both have a mouthwatering selection of pizzas and wine-by-the-glass menus to keep the tasting party going on through the night.
Whether you fancy a thin crust or a thick crust, meat-eater or vegetarian both Pizzando and The Red Grape have even the pickiest pizza-eaters covered.
Pizzas are large enough to be shared and thus perfect for pinching pennies.
What To See In Sonoma Wine Country
Here's the great thing about Sonoma County, most of their wine regions include a main square that has plenty of shops, restaurants, and tasting rooms to keep you busy.
In Historic Downtown Sonoma there are tiny alcoves between storefronts where the history of the town is laid out in art installations, historical buildings and artifacts.
It's completely free and like walking through an outdoor museum.
Where Do The Locals Hangout In Sonoma Wine Country?
Before heading on your wine country adventure in Sonoma County, check the local travel websites for events. There are plenty of low cost or free outdoor concerts and other happenings intended for locals and visitors.
In Sonoma's Historic Plaza, every Tuesday evening is the Sonoma Tuesday Night Market, an outdoor farmer's market with live music, beer, wine, food and flower and gift vendors.
In addition to locally grown produce from nearby farms, there's so much great food at food truck prices and you can enjoy sitting outdoors with locals gnawing on corn on the cob and falafel.
Another budget friendly idea is to check local tasting rooms and bars for events like Comedy Night and Trivia Night, a great way to blend with the locals while enjoying some of the regional grapes in a glass.
6 Top Tips To Keep Travel Costs Down In Sonoma
Buy lunch, snacks and wine at a local market instead of dining in at a restaurant.
Keep breakfast light. Take advantage of free hotel breakfasts or grab a coffee and pastry to go.
Get a Sonoma Tasting Pass online or 2 for 1 tasting coupons from your hotel or local visitor's center for the best value Sonoma wineries.
Check ahead for local events in the area like free outdoor concerts.
Stay in a centralized location close to restaurants and entertainment to avoid high ride share costs. Quaint, cheap hotels in Sonoma do exist.
Find happy hours in the area for keeping nightlife fun, but at a lower cost.
Sonoma On A Budget FAQ's:
Is Sonoma or Napa cheaper?
Frankly, Napa is typically more expensive than Sonoma. However, if you wanted to, you could also spend a small fortune staying in 5-star hotels, eating at Michelin starred restaurants, and  tasting in the winemaker's private cellars in Sonoma, too.
Is Sonoma cheap?
Is Sonoma cheaper than Napa? You will find that Sonoma will almost always be cheaper than Napa. While Sonoma certainly has its share of wineries with tasting fees that'll make your head spin, you can still create an incredible itinerary packed full of tastings with fees in the $10-$20/range during your Sonoma on a budget wine tasting extravaganza.
How much does it cost to go to Sonoma?
Here's the deal. The average price of a 7-day trip to Sonoma is $2,900 for a solo traveler, $5,500 for a couple, and $10,000 for a family of 4. Sonoma hotels range from $100 to $600 per night with an average of $250, while most vacation rentals will cost $270 to $1000 per night for the entire home.
Is Sonoma expensive?
If you want to live it up and throw the above out the window, you could plan to spend around $175 per day on your vacation in Sonoma, which is the average daily price based on the expenses of other visitors. Past travelers have spent, on average, $45 on meals for one day and $110 on local transportation. Also, the average hotel price in Sonoma for a couple is $150.

Author: Tiffany Carter
Tiffany is a contributing writer to Armchair Sommelier. When she isn't writing about wine, the California native is touring local wineries (Hello Napa and Paso!) and filling her glass across the globe (Ciao, Tuscany!). She loves a full-bodied cab, but she plays favorites when it comes to a spicy Zinfandel or juicy Malbec. Her fridge is stocked with a bottle of sparkling rosé for emergencies. Hint: there's always an emergency. You can follow Tiffany @winetastetravel.