Find The best Sonoma Pinot Noir Wine Tasting: An Expert's Guide!
Are you wondering what's all the buzz about Sonoma pinot noir and which Sonoma wineries have the best Pinot Noir?
Sonoma Pinot Noir has no problem standing next to the giant that is Napa Cabernet. We've got you covered with the best places to taste Pinot Noir in Sonoma County (map below).
Napa Valley is known for their big, bold Cabernets, Paso Robles for their robust Zinfandels, and Sonoma? Well, Sonoma is for Pinot Noir lovers. There are over 65 grape varietals harvested in Sonoma, but Pinot Noir reigns king. In fact, thirty percent of all Pinot Noir in California is from Sonoma County.
Sonoma is known for being one of the largest wine regions in the state with diverse microclimates and unique topography. And with over 425 wineries, you'll never run out of wine to taste. While you can practically trip and fall into a great tasting room in Sonoma, here are some of the best places to sip pinot noir in the Sonoma region.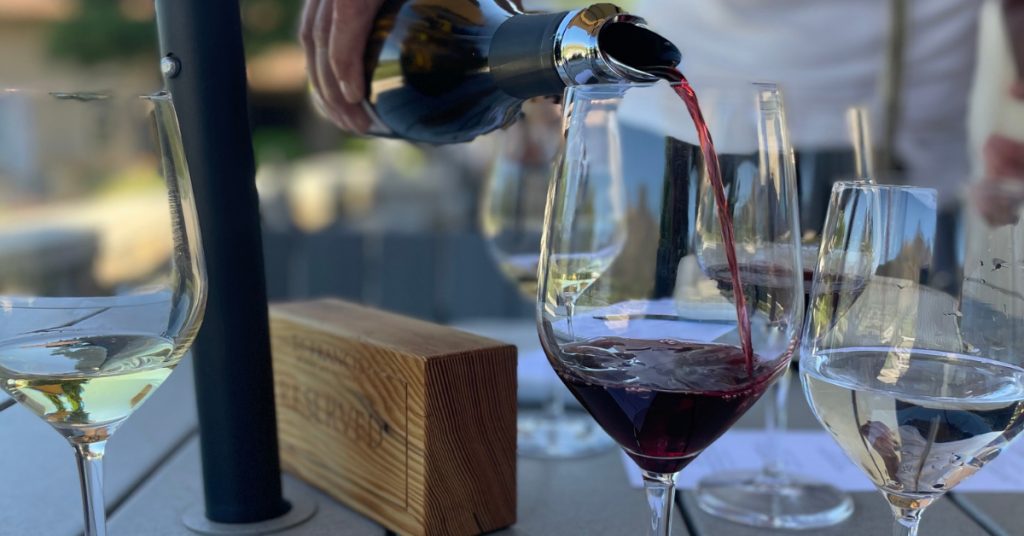 Best Pinot Noir Wineries In Sonoma
Francis Ford Coppola Winery In sonoma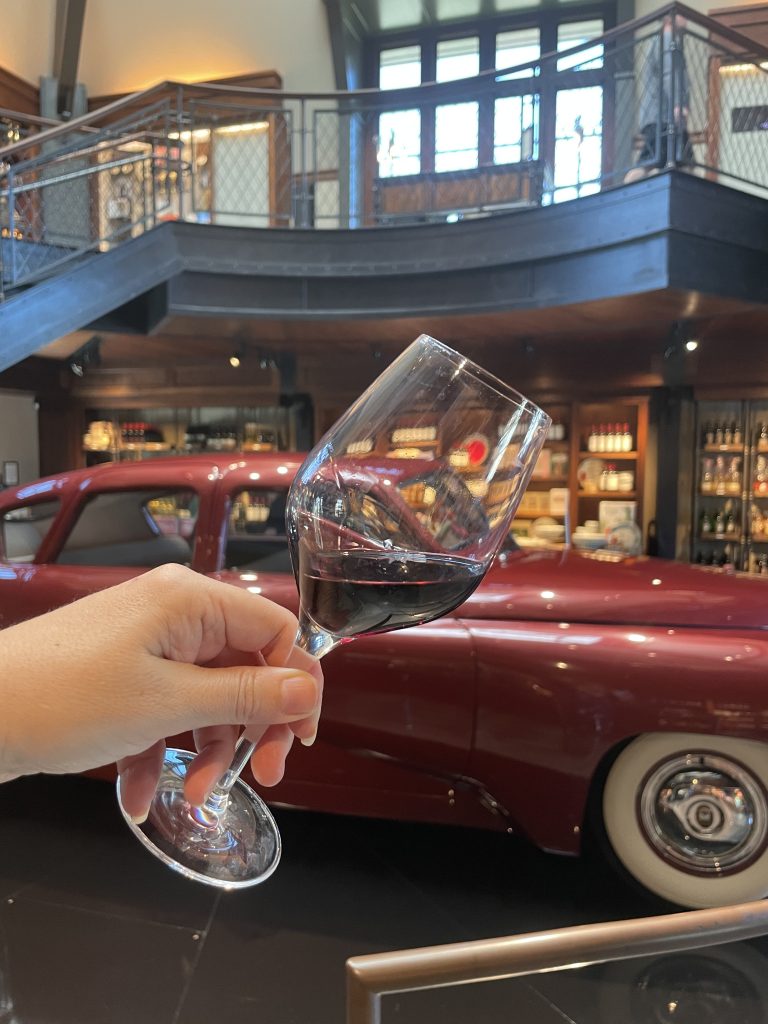 At this Sonoma winery, come for the pinot noir, stay for the museum of classic Hollywood history. The Francis Ford Coppola Winery in the Geyserville region of Sonoma is the Godfather of wineries (pun intended).
It is a large estate that features an outdoor swimming pool where visitors can buy a day pass to use and swim, hang out at the bar and drink wine in the cabanas.
There's an indoor tasting bar, a terrace for wine tasting, and a two story room featuring relics from many of Coppola's films including his one of two Tucker classic cars, the desk from The Godfather, and all of his Oscars.
The indoor tasting room welcomes walk-ins (no reservation required) which can be a rare find in Sonoma. Their tasting menu features five wines including their Director's Cut Pinot Noir.
It's a wine rich in tannins with aromas of raspberries, roses, and tea leaves and your palate will linger with tastes of ripe cherries, strawberries, allspice and oak.
Did you know that Francis Ford Coppola also owns Inglenook, which is one of the oldest wineries in Napa Valley?

Shop Coppola Winery Pinot Noir On Vivino

---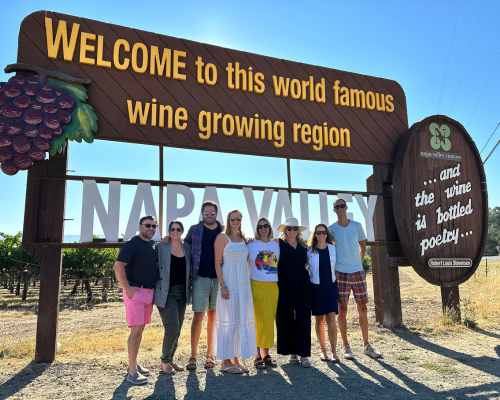 Planning a trip to Napa but don't know where to start, or worse yet, you're 10 hours deep and frustrated? You won't want to miss our Napa Trip Planner!
---
Flowers Vineyards & Winery
You know your wine glass is in good hands when you visit the House of Flowers located in the Healdsburg region of Sonoma, with their main focus being to create an excellent Pinot each year.
You'll be seated in a private area in the open air gardens and taste an exquisite flight of the coastal estate Pinot Noir (and also their Chardonnay) paired with seasonal bites from their in-house culinary team.
The Flowers Vineyards Sonoma Pinot Noir 2020 has aromas of fresh cherries, plum, and raspberry complemented with flavors of raspberry, and spice.

Shop Flowers Vineyards Sonoma Pinot Noir On Vivino

St. Francis Winery & Vineyards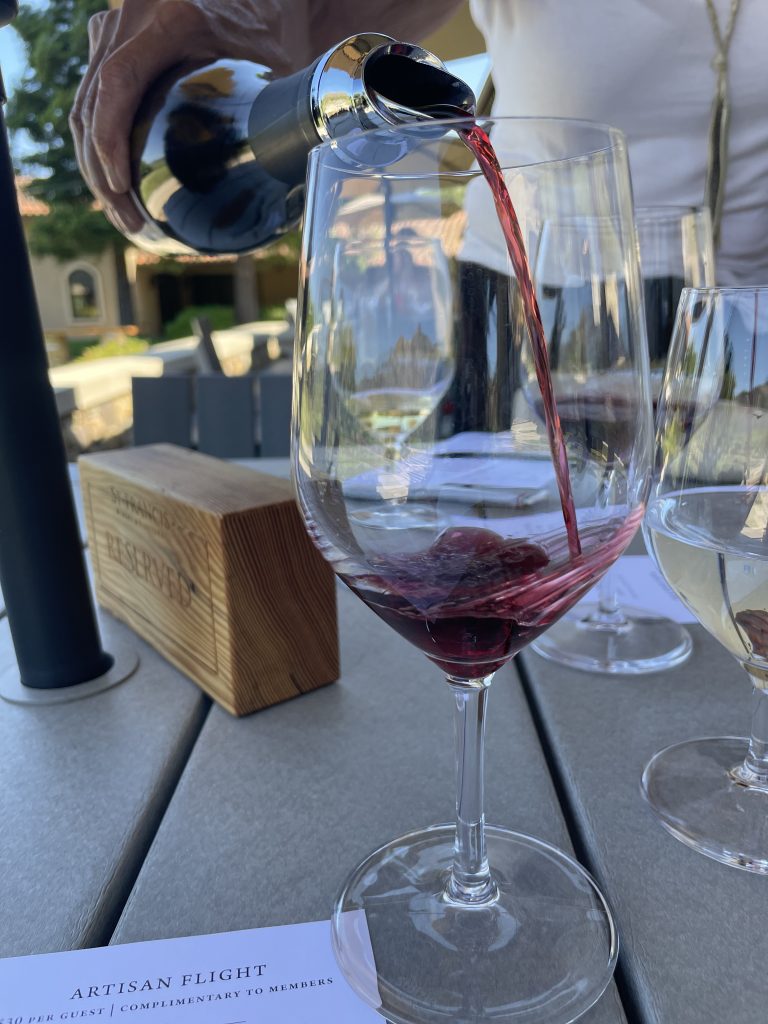 Enter through the mission-inspired tasting room (the bell tower has a 1,000 pound bronze cast bell from Italy) and outside to a gorgeous terrace overlooking vineyard views of the St. Francis Winery.
Get a taste of five wines across their many collections by one of their knowledgable hosts.
This stunning certified sustainable winery has a portfolio of award-winning wines that include a bright and aromatic Pinot Noir bursting with red fruits, notes of sandalwood, and dried orange peel, ending in a smooth finish.

Shop St. Francis Winery Sonoma Pinot Noir On Vivino

La Crema Winery
Sonoma's La Crema specializes in cool-climate Pinot Noir and Chardonnay. Sip wine in a historic barn that has been converted to a multi-level tasting room on the property of Saralee's Vineyard, dating back to 1900.
Guests can sit outdoors and taste six wines including a collection of Sonoma Pinot Noirs that are elegant, rich, textured, and refined.
The best way to enjoy their Pinots? Reserve a picnic table, bring your own food, and have a DIY Picnic Flight or enjoy bottle service with one of their premier wines.

Shop La Crema Pinot Noir On Vivino

Benziger Family Winery
There's so much more to soak up at Benziger than just wine. Belly up to the tasting bar (walk-ins welcome) and get a taste of up to six of their wines from Rosé, to Malbec to Pinot Noir.
Your host will guide you through the spectacular wines while telling the interesting story of the winery and its biodynamic farming practices.
Many of the wines offered are organic and they even have a special wine club named The Pinot Cellar club for Sonoma Pinot aficionados.
Their Sonoma Coast Pinot Noir 2019 has elegant layers of red fruit and spice with notes of black cherry, red licorice, and sweet tobacco, a hint of black pepper, and topped off with a soft and silky texture.

Shop Benziger Pinot Noir On Vivino

Emeritus Vineyards
Emeritus Vineyards is a winery that focuses solely on producing the best Pinot Noir in Sonoma. Their vines are planted at close-spacing modeling those in Burgundy, France.
All their wines are produced with a dry farming method where the grapes are able to achieve full ripeness without dehydrating flavor.
The tasting room is housed inside the iconic Hallberg Ranch Vineyard and their tasting experiences vary from tasting current releases to the curated Art of Pinot Noir tasting where you can experience the power of food pairings with a collection of their Pinots.
Their 2018 Emeritus Vineyards, Pinot Hill has a 94-point rating from Wine Enthusiast described as wine with a misty ethereal quality that adds to its sophisticated beauty — aromas of old growth forest floor, brambly thickets, graphite minerality, and sea spray that mix with boysenberry, huckleberry and elder berry and hints of burnt orange marmalade, mahogany, and roasted chestnuts.

Shop Emeritus Vineyards Pinot Noir On Vivino

Map of the best Sonoma Pinot noir wineries
Ready For Your Sonoma Pinot Noir Tasting Tour?
For Pinot Noir lovers, Sonoma is the quintessential wine region to visit. Explore the large area from the coastline to the inland including the beautiful Russian River valley. It's the perfect wine country weekend or even a stop before heading into Napa Valley.
Sonoma Pinot Noir FAQ
Is Sonoma known for Pinot Noir?
For Pinot Noir lovers, Sonoma is the quintessential wine region to visit. Explore the large area from the coastline to the inland including the beautiful Russian River valley. It's the perfect wine country weekend or even a stop before heading into Napa Valley.
What is the difference between Napa and Sonoma Pinot Noir?
Sonoma is idea for Pinot Noir because of the cooler breezes. This is also ideal for Chardonnay and sparkling wine. Napa's warmer climate makes it ideal for Cabernet and other Bordeaux-style varieties.
Is Sonoma Coast Pinot Noir sweet?
Pinot Noir, although very fruity, is not sweet. The lighter styles like Sonoma Coast Vineyards, could technically be a breakfast wine.
What are the characteristics of Sonoma Coast Pinot Noir?

Sonoma Pinot Noir has big notes of plum and ripe red berries as well as hints of baking spice. You can pair so many dishes with pinot noir because of its soft tannins and bright acidity.
Is Sonoma as good as Napa?
Sonoma is a mecca for Pinot Noir lovers. Sonoma is also known for being more laid back and affordable. You want to be in Sonoma if you mainly drink Pinot Noir, red blends, Zinfandel or unoaked Chardonnay.

Author: Tiffany Carter
Tiffany is a contributing writer to Armchair Sommelier. When she isn't writing about wine, the California native is touring local wineries (Hello Napa and Paso!) and filling her glass across the globe (Ciao, Tuscany!). She loves a full-bodied cab, but she plays favorites when it comes to a spicy Zinfandel or juicy Malbec. Her fridge is stocked with a bottle of sparkling rosé for emergencies. Hint: there's always an emergency. You can follow Tiffany @winetastetravel.