2023 Guide to The Best Osoyoos Wineries, Wine Tours And Hotels
In this guide, we will take you through the 10 best Osoyoos wineries, each offering a distinct and diverse selection of wines embodying the region's rich terroir. And, of course, you don't want to miss the region's top wine tours and hotel accommodations!
Osoyoos is a hidden gem in the heart of British Columbia's picturesque Okanagan Valley. Known for its sun-drenched vineyards, warm hospitality, and delectable wines, Osoyoos is a premier destination for wine enthusiasts and travelers seeking a unique and unforgettable experience.
From bold and robust reds to crisp and refreshing whites, Osoyoos wineries boast an array of flavors that cater to every palate.
Map Of Wineries And Hotels In Osoyoos
Best Wineries In Osoyoos
1. NK'MIP Cellars in Osoyoos
NK'MIP Cellars has achieved numerous firsts in the Oliver-Osoyoos wine area. It wasn't just the first winery in Osoyoos but also the first Native American-owned winery in British Columbia and all of North America. The Osoyoos Indian Band owns the award-winning winery Nk'Mip, situated on 1,200 acres of land and makes Chardonnay, Pinot Blanc, and Merlot.
The unmatched view from Nk'Mip Cellars, which looks out over Osoyoos Lake, the valley, and the surrounding mountains, enhances the enjoyment of drinking these acclaimed wines. Wine flights start at just $5 per person, and reservations are required for food pairings and vineyard activities.
2. Adega Estate Winery in Osoyoos
Adega's sun-lilting appeal will carry you across continents because of Portugal's long history of vineyards that inspired it. The family that owns and operates this winery has roots in the warm Iberian region. You can taste this in their wines and feel it in the ambiance and architecture.
They have a fantastic selection of ports, a fortified wine from Porto, the second-largest city in Portugal. To experience a culture that extends beyond the Okanagan, be sure to try it.
3. LaStella Winery in Osoyoos
The LaStella Winery is a hidden gem of the Okanagan Valley located in the Osoyoos Lake wine region. Thanks to its extensive collection of exceptional wines, it is regarded by many as one of the top wineries in Osoyoos.
Since 2006, LaStella has offered a variety of white and red wines. Along with its distinctive Chardonnay, the winery provides a variety of red blends like Fortissimo and Espressivo. For $10, you can have the classic flight at the tasting room and sip them on the seasonal patio.
4. Moon Curser Vineyards in Osoyoos
Moon Curser won 3 Best of Category awards at the 2023 All Canadian Wine Championships. For only $10 per person, you can taste five pre-selected wines and enjoy the views of the vineyard and Osoyoos Lake.
The moniker Moon Curser comes from a well-known tale associated with Osoyoos' past. During the gold rush, hundreds of criminally inclined miners crossed the border at night in an obvious attempt to evade detection by customs officials. The moonlight frequently worked against them, exposing their illicit actions. Hence, Moon Curser's name.
Some Moon Curser wines include labels like "Dead of Night" or "Afraid of the Dark" that pay homage to this extensive heritage. The people of Moon Curser cultivate lush grapes and produce unrivaled wines.
5. Young & Wyse Winery in Osoyoos
In the heart of the productive Okanagan Valley's wine-growing region, this family-owned winery creates world-class wines at its winery in Osoyoos. Young & Wyse Winery winery features limited collections of Merlot, Cabernet Sauvignon, and Viognier and choices of custom blends, fusing tradition with contemporary artisan winemaking processes.
Young & Wyse is dedicated to preserving every facet of Okanagan's long-standing winemaking and grape cultivation legacy. Visit their wine store or reserve a tasting experience for just $10. I know!
6. Lakeside Cellars in Osoyoos
Located on Lake Osoyoos' eastern coast, Lakeside Cellars represents a rich tapestry of historical tales. It symbolizes the fulfillment of a lifetime devotion to farming.
Lakeside Cellars today occupies a 14-acre tract of property that was formerly a sizable expanse of cattle and farming. This historic site, which contains the remains of the previous Haynes Homestead built in 1882, was purchased by Harbans and Harkesh Dhaliwal in 2015.
The Dhaliwals became the guardians of the historic Cabernet Sauvignon and Sauvignon Blanc vines, which were first planted in 1998, after purchasing the lakefront property in 2015. Seated tasting starts at $10 per person. Try their guided yoga followed by a wine tasting for only $20 per person.
7. Liber Farm & Winery in Osoyoos
Liber Estates, established by Mike and Nicole Dowell, is a stunning example of their commitment to using organic farming methods and making fine Certified Organic wines.
When Mike and Nicole bought this Certified Organic estate with a working vineyard producing Merlot and Chardonnay, the Liber Estates narrative officially began in 2016. Their drive to create excellent wines and their love for organic farming inspired them to turn the vineyard into the successful winery it is today.
8. Lariana Cellars in Osoyoos
Lariana Cellars is a boutique-style winery in Osoyoos, British Columbia, specializing in handcrafted, small-lot wines. It was built at the southernmost point of the Okanagan Valley, on 10 acres of land on Osoyoos Lake.
Larian Cellars fuses traditional and cutting-edge vinification methods while respecting the fruit and the land and being as gentle as possible. Viognier, Cabernet Sauvignon, and Carménère can all be grown successfully in the warm, dry climate of Osoyoos Lake thanks to the lake's moderating influence and the chilly, crisp evenings that follow.
9. Bordertown Vineyards & Estate Winery in Osoyoos
Bordertown is another Osoyoos vineyard that embraces the scorching sun and the wonderful soils of the border between Canada and America. They prioritize flavor complexity above all else, promoting it across the entire range of wine varieties and even in some estate-grown ciders.
Their Cabernet Franc has brooding, enigmatic tobacco notes, black spices, and a seductive tinge of mint. Living Desert features the top local grapes and wild herbs, showcasing the fruits of the arid desert. You'll want to try a bit of everything at Bordertown!
10. Blue Sky Estate Winery in Osoyoos
Blue Sky Estate Winery is a brand-new boutique winery with a rich background in farming and a strong enthusiasm for it. It was a logical progression (and a desire) from caring for fruit crops to vineyards.
The Blue Sky Estate Winery is ideally positioned on a bench overlooking Osoyoos Lake. Just beyond the vines are stunning lake and mountain vistas. Its namesake, the breathtaking South Okanagan Sky, provides the light that grape vines require to grow.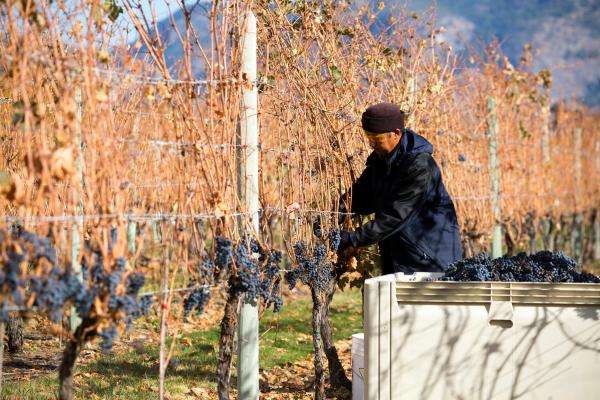 Want to bring your wine from Osoyoos home with you?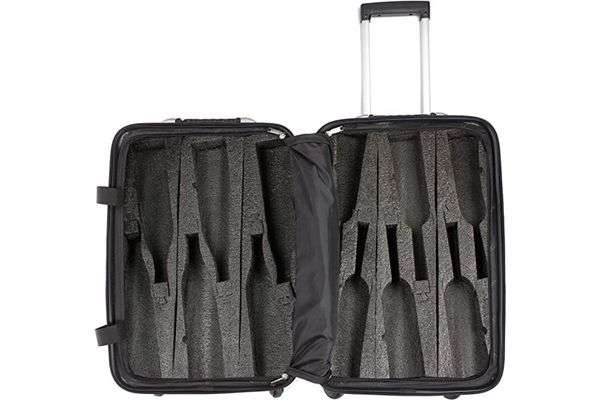 We recommend the VinGardeValise 12 bottle wine suitcase. There are a couple ways you can use this suitcase. One is, when you come home you only pack half the suitcase with wine and the other side clothes; or, what we do is bring a duffle bag to carry our clothes home. You can still check a duffle bag home btw, you don't have to schlep it around for all four connections.
Pro tip: you can also use the duffle bag to drop off your clothes to be laundered if you're doing an extended trip. Multiple uses for one duffle bag.
Osoyoos Wine Tours
Can you visit Osoyoos wineries on your own? You bet you can. But if you're not familiar with the lay of the land, you should 100% book a tour. You are seriously guaranteed to have great time. Not only is it relaxing but your guide can fill you in on the territory gossip (because there's always gossip) and make dinner recommendations. And even if you are local, it's still nice to have someone else in the driver's seat for a change.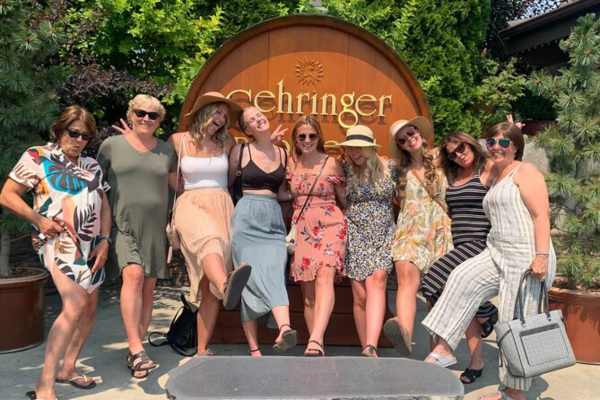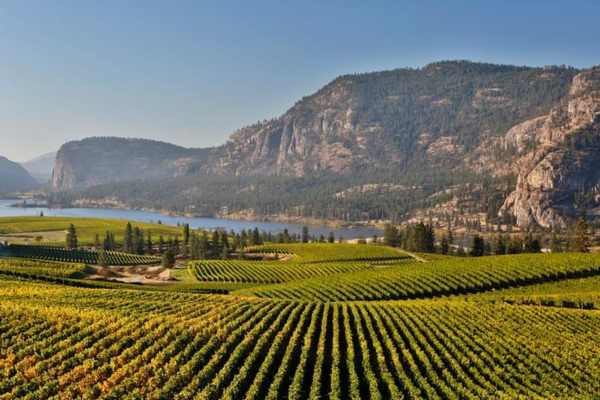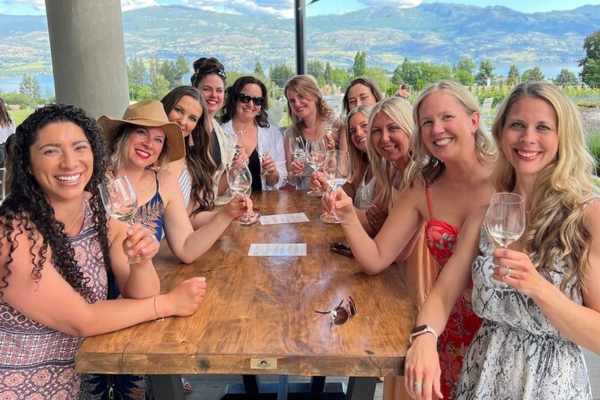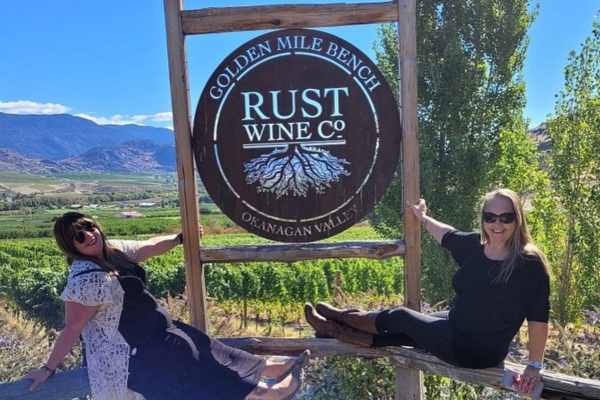 Best Hotels Near Osoyoos Wineries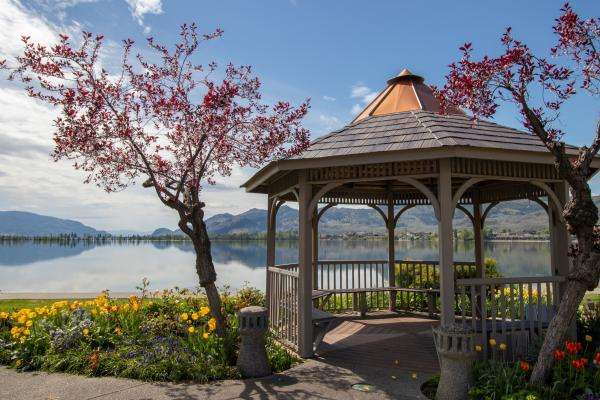 As you explore this picturesque region, you'll undoubtedly seek the perfect retreat to complement your experience. Look no further as we present a selection of the best hotels in Osoyoos, each promising a luxurious stay and a memorable escape from the ordinary.
Walnut Beach Resort
At Walnut Beach Resort, relax on a private beach near Lake Osoyoos, the warmest lake in Canada. Alternately, unwind on the sizable sundeck surrounding a magnificent outdoor heated pool while enjoying red and white wines from the wine bar. Walnut Beach Resort is, without a doubt, the top holiday location in the Okanagan Valley.
Watermark Beach Resort
The experiences at Watermark Beach Resort are unparalleled in personal service and attention to detail. Unwind in the many rooms available—even ones that welcome dogs!
The restaurant and terrace are fully licensed, and your private balcony offers picture-perfect views. The downtown area, the Osoyoos lifestyle, and Canada's hottest freshwater lake are all within walking distance.
Spirit Ridge
Spirit Ridge is easy to spot thanks to its picturesque surroundings, which include the gently sloping vineyards, shimmering Osoyoos Lake, and the spectacular Okanagan Range, a section of the Cascade Mountains. This is located in Canada's only desert, which the Osoyoos Indian Band holds in high regard.
Stay at the all-suite resort and experience the breathtaking scenery, mouthwatering cuisine, and relaxing atmosphere that make Spirit Ridge a true health haven.
Super 8 by Wyndham Osoyoos
The Osoyoos Super 8 is a hotel that has received Super Natural BC approval and has 42 recently remodeled rooms. Their large rooms and heated pool are ideal for helping you achieve the level of relaxation you deserve. The Super 8 is the ideal place to start a long day of sightseeing in Osoyoos because it offers a sumptuous continental breakfast every morning.
Shiraz Villa
Shiraz Villa provides an opulent, distinctive, yet reasonably-priced retreat. Unwind in a quiet setting surrounded by Osoyoos Lake's sparkling waters, rolling vineyards, and stunning mountain vistas. Unquestionably, the Okanagan Valley's most romantic couple-friendly establishment is this quaint boutique hotel.
What You Can Expect From The Osoyoos Climate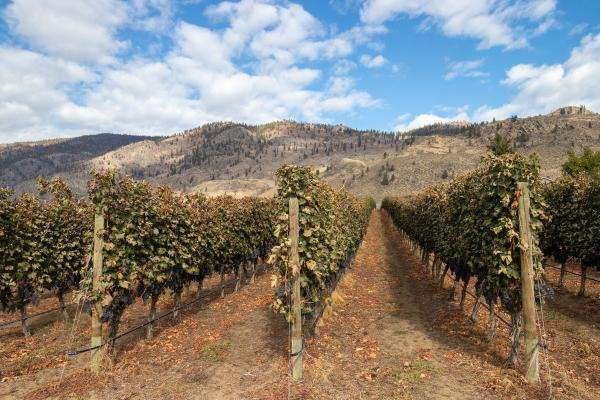 The 200 km (124 mi) Okanagan Valley cuts through the southern heartland of British Columbia, Canada. One of North America's premier wine-growing regions, this stunning terrain is gilded with lakes and sage-covered mountains.
Osoyoos, Canada's pocket desert, is tucked away at the southernmost point of the Okanagan Valley. The Coast Mountain Range, which protects the area from the cold and rainy weather systems generated by the Pacific Ocean 400 kilometers (250 miles) to the west, controls the temperature in this area. The result is a hot, dry climate with an average annual temperature of 22°C (71.6°F) during the key growing months and a meager 200 mm (eight inches) of yearly rainfall.
British Columbia is a viticultural paradise compared to many other growing areas worldwide. The unique geology and temperature of the Okanagan Valley make it the perfect place for viticulture. Winemakers from France to South Africa have taken notice of it.
One of the main industries in South Okanagan is winemaking, which employs thousands of people annually in the Osoyoos, Oliver, and Similkameen Valley, including growers, pickers, production, and retail.
The Most Common Grapes In An Osoyoos Winery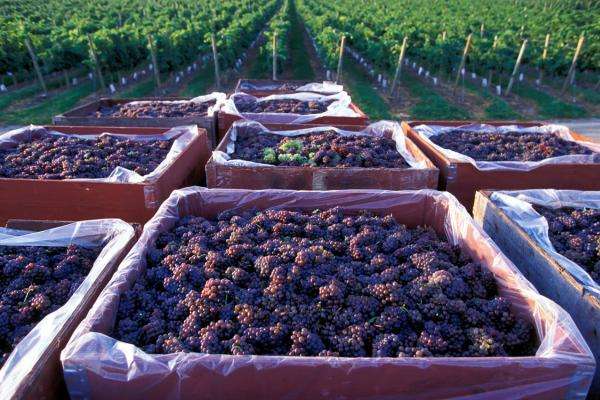 The exceptional temperature of the Okanagan Valley allows winemakers to create magnificent wines that can compete with those from the world's best wine locations while generating various wine varieties.
Red grapes predominate in this region. The leading varietals are Merlot, Cabernet Sauvignon, Syrah, Pinot Noir, and Canada's first successful Zinfandel block or area of grapes. White grape varieties like Chardonnay, Sauvignon Blanc, and Viognier are also grown. Leading wineries like Jackson-Triggs, Mission Gill, CedarCreek, Osoyoos Larose, Inniskillin Okanagan, and NK'MIP Cellars get Osoyoos Lake Bench grapes.
Wineries in the Okanagan Valley don't merely produce grapes because that's what other locations "should" do given their latitude. They are experimenting with unusual grape types and utilizing isolated regions with pronounced climatic differences. Vineyard managers are learning which varieties will thrive in the new burgeoning wine area from north to south, east to west, and everywhere.
Osoyoos Wineries FAQs
How many wineries are in Osoyoos?
In Osoyoos and the nearby region of Oliver, there are about 50 wineries you can visit to sip and savor the wine. Wine tours are the greatest way to see as many wineries as possible. It's always a good idea to check the latest winery information from local tourism websites, winery associations, or official sources for the most up-to-date count.
What is the largest winery in Osoyoos?
The largest winery in Osoyoos was "Burrowing Owl Estate Winery," which is technically located in the nearby town of Oliver. It is one of the region's most well-known and prestigious wineries, and it boasts a significant vineyard area and production capacity. Burrowing Owl Estate Winery is renowned for its high-quality wines and has garnered numerous accolades and awards.
Is Osoyoos considered a desert?
Yes, Osoyoos is often referred to as a desert region in Canada. It is located in the southern part of British Columbia's Okanagan Valley, which is known for its warm and dry climate. The unique geographical features and rain shadow effect from the surrounding mountains contribute to creating a semi-arid desert-like environment in the Osoyoos area.
How do wineries in Osoyoos produce great wines in a  desert region?
Wineries in Osoyoos, despite the region's desert-like conditions, can successfully produce grapes and cultivate vineyards through various methods and agricultural practices. Wineries in the Okanagan Valley don't merely produce grapes because that's what other locations "should" do given their latitude. They are experimenting with unusual grape types and utilizing isolated regions with pronounced climatic differences.