Ultimate Guide to Best Wineries In Okanagan Valley 2023 Plus Best Tours and Hotels
We've lined up the 10 best wineries in Okanagan Valley. And because you need options, we've also listed the top wine tours and hotels to round this ultimate guide.
Okanagan Valley is nestled in the heart of British Columbia, Canada and boasts a flourishing wine industry with international acclaim. Aside from being known for its breathtaking landscapes, Okanagan Valley's wine country is one of the main attractions in the region.
Whether you are a wine connoisseur seeking the best vintages or a casual enthusiast looking for an immersive wine-tasting experience, these wineries promise to captivate your senses and leave you with unforgettable memories.
Best Wineries In Okanagan Valley, BC
Map of wineries in Okanagan Valley, BC
1. Mission Hill Family Estate Winery In Okanagan Valley
Mission Hill winery is on Okanagan Valley's Westside Wine Trail. This winery has it all, amazing architecture and experiences that embrace everything that the Okanagan wine region has to offer. Discover how they combine old-world practices with new technology, meet the vineyard experts, and learn about their wine collections.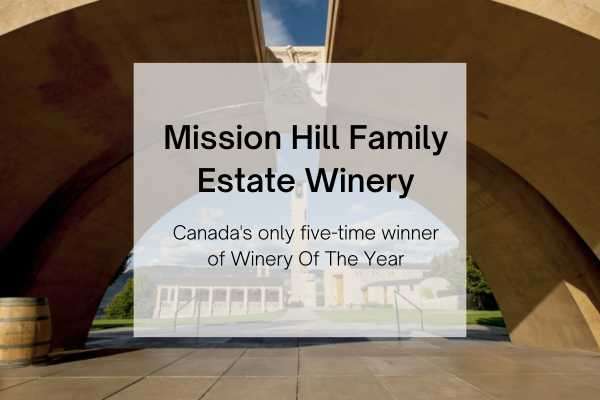 Try their A Taste of the Okanagan event, which includes seated wine tasting for $35 per person. Alternatively, the Lasting Legacy experience is available. This wine tour includes a vineyard tour, lunch, and wine tasting. For $275 per person, you can sample everything this lovely estate winery offers.
2. Okanagan Valley's The Vibrant Vine Winery
Vibrant Vine is a quirky winery frequently featured as a top winery experience. Taste their exquisite wines in any of their nine tasting bars before unwinding in one of their two lounges.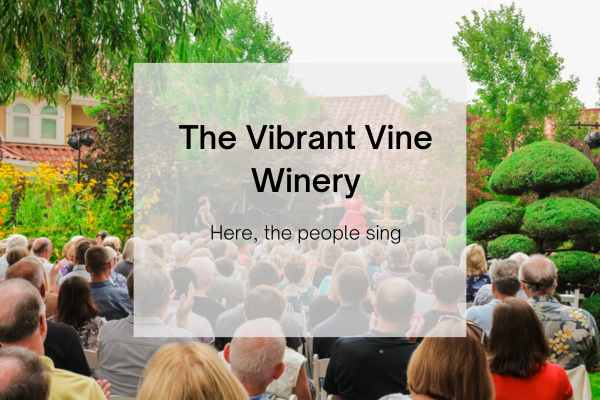 Along with high-quality wines, Vibrant Vine features a variety of beautiful art. This artistic atmosphere influences the wine bottle designs as well. Each bottle's brightly colored logos make it an ideal gift or a striking display item in your wine collection.
They even have two outdoor stages that hold over 100 events during the summer, making it the ideal spot to unwind and enjoy excellent wine and entertainment!
3. Quails' Gate Winery In Okanagan Valley
The scenery, wines, and cuisines at Quails' Gate Winery are among the best in Kelowna. Start by sampling their renowned wines in indoor or outdoor tasting rooms with lake and vineyard views.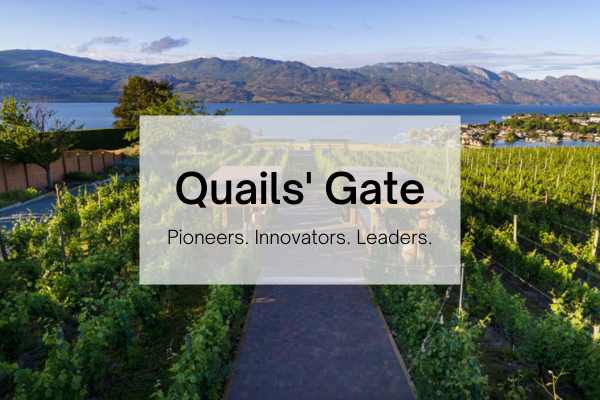 Quails' Gate Winery is managed by a fourth-generation Okanagan agricultural family that has lived in the area for over a century. They farm over 200 acres of vineyards and have been instrumental in advancing Canadian viticulture standards. You can enjoy locally produced farm-to-table meals on their tranquil terrace with the ideal Kelowna wine pairings.
4. Sumac Ridge Estate Winery in okanagan valley
Sumac Ridge is one of British Columbia's first estate vineyards. Sumac Ridge Private Reserve, Steller's Jay Wines, and Black Sage Vineyard are now housed there. This is a popular winery among locals and visitors in Okanagan wine country.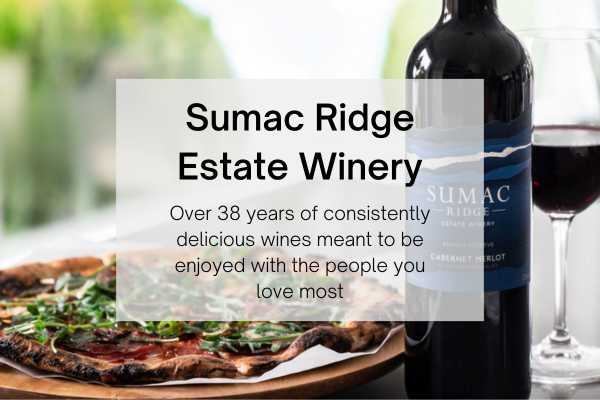 Try their crisp and excellent reds and whites. Check their website before you see if one of their unique events is taking place. These events include food and wine pairing tastings and a relaxing workout session followed by brunch and mimosas!
5. Okanagan Valley's Dirty Laundry Vineyard
Dirty Laundry, a destination winery for many visitors to the Okanagan, embraces its cheeky history with an exuberant tasting, a large patio with spectacular views, and a diverse menu. On your walk-in, you can purchase tasting tickets at the self-service kiosk, then proceed to the tasting bar to sample award-winning Okanagan wines. Tastings cost $6 per person for 5 wines and are offered during regular business hours.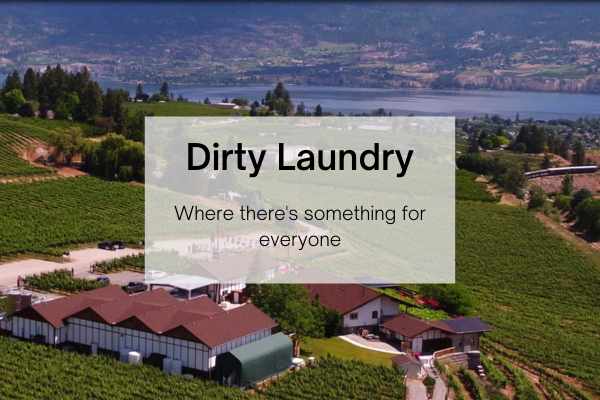 Wine, beer, cider, pizza, and smoked meat are available on the self-service patio. The terrace at Dirty Laundry Vineyard is ideal for a summer day, shaded by a canopy of grape vines and chilled by misters.
6. Gray Monk Estate Winery in Okanagan Valley
Gray Monk is a stunning estate winery set on 75 acres of vineyard overlooking Okanagan Lake. The winery got its name from the Gray Monk grape, which used to manufacture their award-winning Pinot Gris. They were the first winery in British Columbia to cultivate Pinot Gris grapes.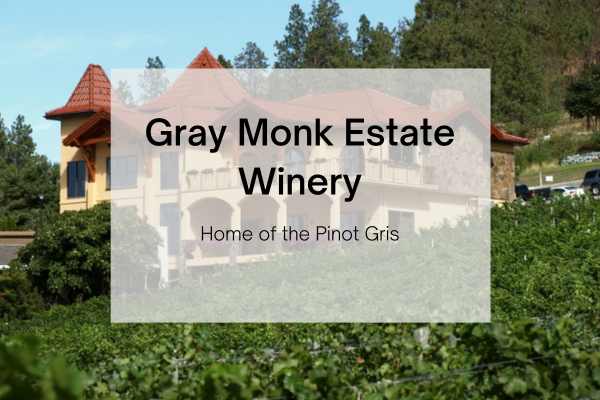 Gray Monk, the "home of the Pinot Gris," offers samples of their recognized variety and other whites and reds. Tastings cost $20 per person, including charcuterie and small bites.
The Lookout Restaurant at the estate serves brunch, lunch, and dinner. Seasonal cuisine crafted with local products is served alongside their wines, a cocktail, or frozen rosé.
7. Okanagan Valley's Summerhill Pyramid Winery
Summerhill Pyramid Winery in Okanagan Valley takes pride in producing exquisite organic wines as one of the only wineries in Kelowna, BC, with a biodynamic vineyard. Reds, whites, rosés, and Canadian ice wine can be sampled and purchased here. Summerhill Pyramid is also a leading producer of sparkling wines, which will please those who love bubbles.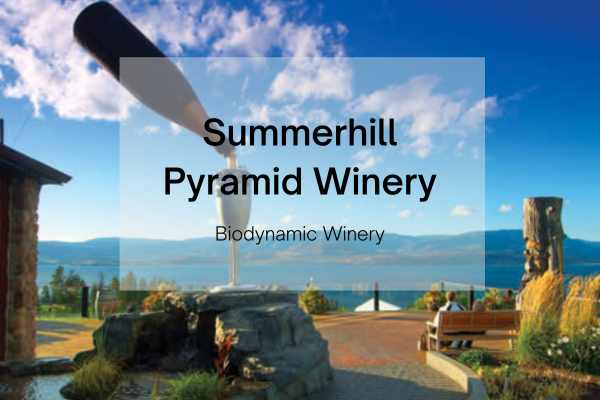 Try their Pyramid Experience Tour at $20 for a more in-depth experience, including a vineyard tour, a visit to the winery's geometric wine cellar, and a sample of four wines. After sampling the wines of Summerhill Pyramid, head to the Summerhill Organic Bistro for internationally inspired organic cuisine.
8. CedarCreek Estate Winery in okanagan Valley
The 50-acre CedarCreek estate produces organic, single-vineyard wines from 30-year-old vineyards. Their Pinot Noirs are created from some of British Columbia's oldest vines. On the beaches of Lake Okanagan, you may sip award-winning Okanagan wine while overlooking the lake.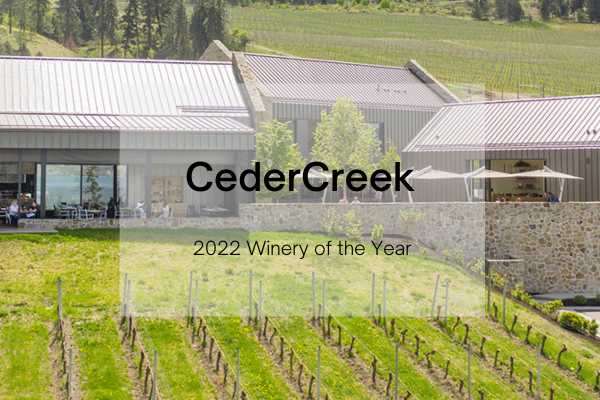 CedarCreek Family Estate uses the cool climate of the North Okanagan to create highly nuanced Pinot Noir wines with rich, berry-forward flavors. The estate frequently cites its commitment to creating a healthy ecology teeming with animals and plants as the source of its flavored wine.
Tastings and experiences start at $20 per person. With their Silt & Stone experience, Pinot Noir fans may enjoy CedarCreek's full collection of Platinum wines. If you're hungry, try their Home Block Restaurant, which serves Canadian cuisine and wine pairings.
9. NK'MIP Cellars- Winery in okanagan valley
NK'MIP (pronounced INKAMEEP) Cellars is an Osoyoos Winery and aims to honor its culture while giving respect to the land with every bottle of wine produced. The vineyard is on Osoyoos Indian Band land, surrounded by soaring mountains and mirrored lakes. This Indigenous-owned winery incorporates cultural elements into all they do. You will find world-acclaimed wines here and Indigenous artisan items and food and wine-related products from the region.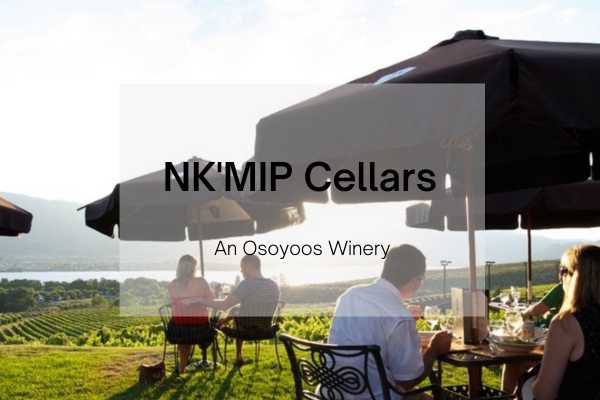 It can be difficult to decide what to buy with their huge collection. But don't worry, NK'MIP Cellars has a variety of taste alternatives. Start by sampling their Winemaker's Series Flight at $5. If you're interested in a private vineyard tour, try their Private Grotto Tasting Experience, which also involves a tasting experience in the Grotto overlooking the Red Barrel room.
10. Tantalus Vineyards in Okanagan Valley
Tantalus Vineyards is a southeast Kelowna vineyard producing some of the best single-vineyard wines in the Okanagan Valley wine region. Tantalus is British Columbia's oldest continuously producing vineyard. Try everything they offer in their gallery-style tasting room, including paintings by Canadian artists.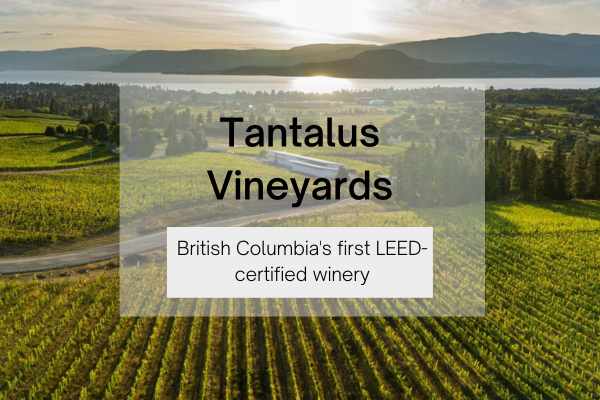 Tantalus, which overlooks Lake Okanagan, dates back to 1927 when local horticultural JW Hughes planted table grapes. Previously known as Pioneer Vineyards, Eric Savics purchased the land in 2004 and repurposed the grape plantings to create three flagship varietals.
All of its grapes are farmed sustainably, and their Rieslings are among the best in Canada. Tantalus is also noted for producing excellent Pinot Noirs and Chardonnays. It is now also considered one of Canada's leading riesling producers, and it developed British Columbia's first LEED-certified winery.
Best Wine Tours in Okanagan
Top 5 Hotels In Okanagan
With its stunning natural beauty, abundant recreational activities, and world-class wineries, Okanagan Valley wine region offers many accommodations to suit every traveler's preferences. When planning a visit to the captivating Okanagan wine region, finding the perfect place to stay is essential for a truly memorable experience.
1. Sparkling Hill Resort
Sparkling Hill Resort at the north end of Okanagan Lake near Vernon is for you if you like rocks and diamonds. Umm who doesn't?
Sparkling Hill Resort, which overlooks the Monashee Mountains, has a luminosity that stretches far beyond the sunlight shining off its infinity pool.
The resort emphasizes whole-body wellness, and the KurSpa will also help you shine. With 100 treatments and over 3,700 m2, it is the country's largest luxury spa and the first North American spa to provide a Cyro Cold Chamber, popular with individuals suffering from inflammation.
Chefs provide farm-to-table cuisine, and while leaving the resort is difficult, it is an interesting day trip to visit local food producers in and around the area.
2. Delta Hotels Grand Okanagan Resort
Delta Hotels Grand Okanagan Resort is located in the center of Kelowna, the valley's largest city. It includes a spa and pools to keep you busy before the nightlife begins, and you can walk a short distance to Kelowna City Park.
Wine enthusiasts can sample wines at some of the valley's hundreds of wineries, each with its own narrative. You may meditate in a four-story high pyramid at Summerhill Pyramid Winery. Aside from trying local cuisines, finish your day by going to BNA Brewing and bowling while sipping a lager.
3. Walnut Beach Resort
Walnut Beach Resort, located at the southern end of the Okanagan Valley and away from Osoyoos' major streets, is ideal for couples looking to escape the summer crowds and unwind on a private beach. In one of Canada's drier regions, relax on a lounger with beach umbrellas covering you.
The resort, which has a year-round heated outdoor pool, is a terrific place to visit in the fall, when grapes are harvesting, and sagebrush-dotted hillsides are bathed in golden sunlight. The wine bar serves a selection of local vintages, but going straight to the source is more fun. There are several dozen wineries in the Okanagan's south; you can drive there, but consider a bike trip on your own or with a guide.
E-bikes are available for rent from various businesses. It doesn't matter if you're in shape for major hills or just want to buy more wine – the bike's power will carry you over long distances, allowing you to enjoy the Okanagan Valley's beautiful skies, carpets of vineyards, and mountain peaks.
4. Watermark Beach Resort
Watermark Beach Resort in Osoyoos is the place to go if you want a fun adventure. The resort's watersports are refreshing because they are located at the warmest lake in Canada, Lake Osoyoos, in a community with the hottest summer daytime temperatures in the country.
The resort is in the heart of town, so you can walk to boutiques and coffee shops or attend a summer festival. In July, the Osoyoos Cherry Fiesta celebrates local cherries, which are more valuable than valley grapes, with a procession (and the occasional water fight).
Make memories that will last a lifetime in Osoyoos. Visit award-winning vineyards and taste the bounty of the Okanagan. Dine on the lakefront at 15 Park Bistro. Bike, walk, or sightsee through the unique desert ecology, or play a round of golf.
5. Summerland Waterfront Resort & Spa
As temperatures rise, Canadians seeking vitamin D visit beaches and vineyards in the Okanagan Valley. Summerland Waterfront Resort & Spa provides a private escape from the valley's hustle and bustle while allowing plenty of warm-weather entertainment.
The resort is located on the edge of a wetland, and because there are few wetlands left in the valley, your neighbors will be birds, turtles, and beavers. The resort goes above and beyond to safeguard the environment as one of only two dozen hotels in the province to obtain a four-star designation from the Hotel Association of Canada's Green Key sustainability program.
Summerland hosts a farmer's market every Tuesday where you may sample spring cherries, summer peaches, and fall apples. The area attracts artists and musicians; you can meet many at resort events.
What Is The Climate Like in Okanagan Valley?
The Okanagan Valley is classified as a cool climate location; however, with summer temperatures reaching approximately 35 degrees Celsius, this classification only tells part of the story.
The Okanagan Valley boasts a continental climate throughout the grape growing season, with plenty of bright sunshine and little rain. The 135-kilometer-long Okanagan Lake runs down the valley's center and keeps the winters warm. Warm days and cool nights allow the grapes to develop rich fruit character and naturally high acidity.
The Okanagan Valley embraces cool climate wines, but more full-bodied single-varietal wines arise as you travel south. This is especially true in and around Oliver and Osoyoos.
The climate is what attracts both grapes and people to the Okanagan. The valley, located in the rain shadow of the Coast Mountains, has a short but strong growing season.
Types Of Grapes From Okanagan Wineries
With a length of 250 kilometers from north to south, the Okanagan Valley has amazing geography, weather, and geology variance. Most vineyards are grown on high benchlands, allowing for better drainage, longer solar exposure, and better frost protection. Technically, the area near the US border is a semi-desert, with half the rainfall of the northern portion.
Its uniqueness distinguishes it from other wine areas across the world, like California's Napa Valley.
In the Okanagan Valley, more than 60 grape types are planted, providing wines with a wide range of sweetness levels. In the north (Lake Country, Kelowna, Summerland), more white and early-ripening grape types are planted, whereas in the south (Oliver, Osoyoos), more red and late-ripening kinds are planted. Red and white grapes are cultivated in about equal proportions.
Okanagan wines are light and fruity, with a fantastic acidity balance. The following are the most prevalent wine varietals found at Okanagan wineries:
Pinot Gris
Pinot Noir
Syrah
Some Okanagan wineries also make ice wine.
The Ultimate Guide To Exploring The Best Wineries In Okanagan
As we conclude this ultimate guide to exploring the best wineries in the Okanagan, we hope that we have given you a glimpse into the incredible world of wine that awaits you in this breathtaking region.
From the rolling vineyards to the passionate winemakers and the exceptional wine-tasting experiences, the Okanagan offers a wine lover's paradise worth exploring. Cheers to unforgettable experiences and the joy of discovering exceptional wines in this remarkable corner of the world!
Want to Bring your wine from okanagan wineries home with you?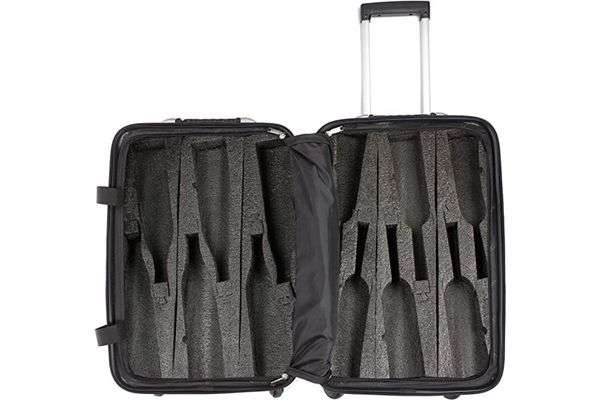 We recommend the VinGardeValise 12 bottle wine suitcase. There are a couple ways you can use this suitcase. One is, when you come home you only pack half the suitcase with wine and the other side clothes; or, what we do is bring a duffle bag to carry our clothes home. You can still check a duffle bag home btw, you don't have to schlep it around for all four connections.
Pro tip: you can also use the duffle bag to drop off your clothes to be laundered if you're doing an extended trip. Multiple uses for one duffle bag.
Best Wineries In Okanagan FAQs
What type of wine is Okanagan known for?
The Okanagan Valley is known for producing a wide range of high-quality wines. The region's unique terroir, which includes a combination of warm summers, cool nights, and diverse soil types, allows for the successful cultivation of various grape varietals. Some of the most notable wine types produced in the Okanagan are Chardonnay, Merlot, Syrah, and Riesling.
Which Okanagan town is known as Canada's wine capital?
The town of Oliver, located in the South Okanagan region of British Columbia, is often referred to as Canada's "Wine Capital." Oliver is renowned for its exceptional wineries and vineyards, earning its reputation as a premier wine destination within the Okanagan Valley. With numerous award-winning wineries and a strong viticultural presence, Oliver has become a leading wine-producing town in Canada.
What makes Okanagan wine special?
The Okanagan Valley boasts a continental climate throughout the grape growing season, with plenty of bright sunshine and little rain. The 135-kilometer-long Okanagan Lake runs down the valley's center and keeps the winters warm. Warm days and cool nights allow the grapes to develop rich fruit character and naturally high acidity. 
The Okanagan Valley embraces cool climate wines, but more full-bodied single-varietal wines arise as you travel south. 
How many wineries are in the Okanagan BC?
Despite being one large ecosystem, the wine business in the Okanagan Valley has matured significantly more on the Canadian side of the border. According to winebc.com, there are 186 licensed grape wineries and 9,617 acres of vineyard between Salmon Arm and Osoyoos.
What is the oldest winery in the Okanagan?
The oldest winery in the Okanagan Valley is Calona Vineyards, established in 1932. Located in Kelowna, British Columbia, Calona Vineyards holds a significant place in the region's winemaking history. 
Over the years, Calona Vineyards has played a crucial role in shaping the development of the Okanagan wine industry and has been instrumental in establishing the region's reputation for producing quality wines.