the Provence Wine Region is Famous and for good reason
The Provence wine region is most well known for its Rosé wine. After all more than 80% of all the wine made in the Provence wine region is Rosé.
If you're planning a trip to the Provence wine region we've got you covered with a wine-travel guide including Provence wine map, where to stay in Provence and things to do.
Carpe Vinum (the wine club I'm part of) is heading to France (sidebar, I found a great resource while checking out Paris wine bars), so for the next 4 months, we'll be doing an in-depth study of the French wine regions where we'll be traveling.
History Of The Provence Wine Region
Over the centuries, many cultures came, saw and conquered Provence, each leaving their mark on viticulture.
Grapevines in the Provence wine region can be traced back to sometime around 600BC, when the ancient Greeks established the city of Marseilles, which became a major trading port (and the source for bronze tchotchkes).
Marseilles began producing its own wine, trading and exporting it as early as 500BC.
Btw, women weren't allowed to drink wine in ancient Marseilles (an obvious black mark on the history of civilization).
Hannibal marched his elephant army through Provence in 218BC, no doubt stopping for some Rosé along his way (you work up quite a thirst after marching a bunch of elephants through the Pyrennes).
Then came the parade of conquerers — the Romans, the Christians, Visigoths, Merovingians, Franks, Arabs, Saracens.
You get the picture. They all left their mark.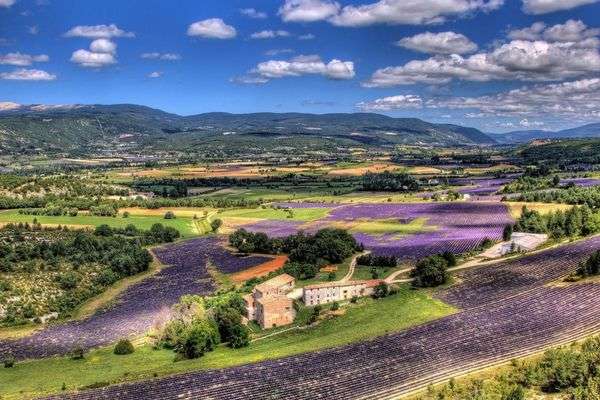 The Climate Of The Provence Wine Region
Once you check a map, the climate in the Provence wine region is pretty obvious — Mediterranean. Because, it's the south of France. And it sits on the Mediterranean Sea
Mild winters, warm summers, tons of sunshine, very little rainfall.
The Provence wine region has to deal with something called the Mistral Winds, which are great for cooling and drying things off in the vineyard (preventing pesky vineyard pests), but they can also beat the heck out of fragile grapes and vines.
Soils vary considerably in Provence, anything from limestone and shale (near the coast) to schist, quartz, clay and/or sandstone.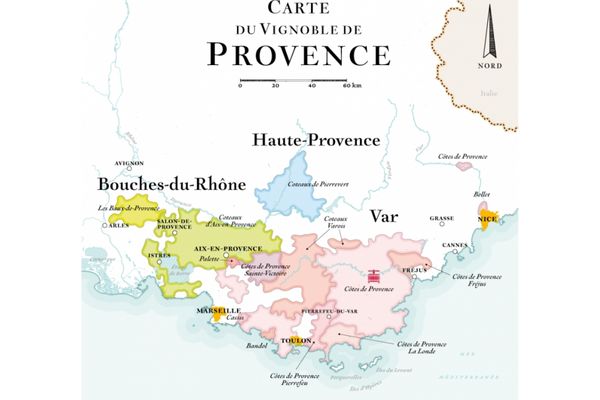 Provence Is An Aromatherapist's Dream
Provence is an aromatherapist's dream — it's overrun with assorted shrubbery like lavender, rosemary and juniper.
It has to be one of the most relaxing places on the planet.
People say that this part of Provence terroir shines through in its wines. Oh, I hope so! I'm going to be looking for hints of lavender, whispers of juniper, and reflections of rosemary in my wines today!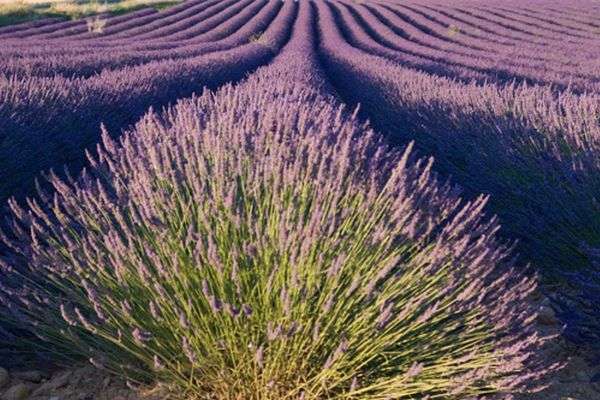 The AOCs (AOC is short for Appellation d'Origine Contrôlée, and refers to standards set for wines made in France) in Provence wine region use a dizzying array of grape varieties and and even dizzier system for how much of what grape can be blended with another grape.
Here's a cheat sheet:
Main Grape Varieties Used To Make Provence Rosé
Main Grape Varieties Used To Make Provence White Wine
Bourboulenc
Clairette
Grenache Blanc
Marsanne
Roussanne
Rolle (aka Vermentino)
Sauvignon Blanc
Semillon
Ugni Blanc (aka Trebbiano)
Main Grape Varieties Used To Make Provence Red Wine
Mourvèdre is the star! After that, it's all about blending in varying amounts
Grenache
Cinsault
Carignan
Cabernet Sauvignon
Syrah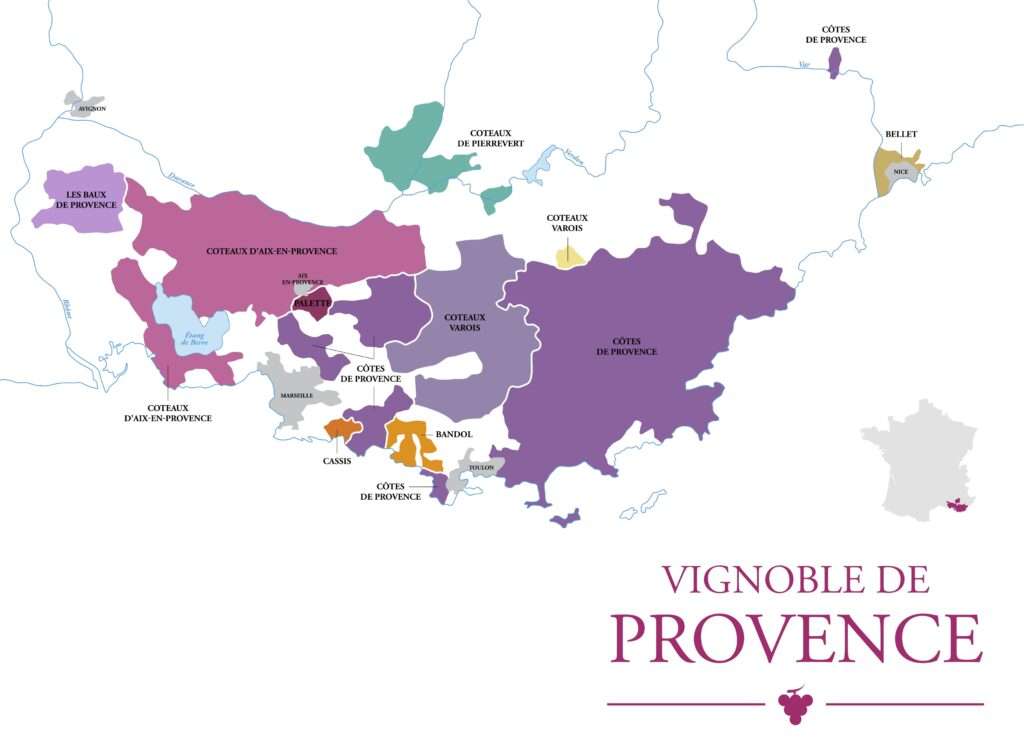 The 9 Primary AOCs In Provence Wine Region, Where to stay and what to do
Côtes de Provence
Sigh, Saint-Tropez. You're staying in Saint-Tropez if you want to experience the eastern part of the Provence wine region. Also, how on earth can you be in the south of France and not stay in St. Tropez? You must.
Stay in the heart of this quaint little beach town at the affordable Lou Cagnard. It's still close to the beach and has air-conditioned rooms, a pool and free wi-fi (although, the wi-fi isn't that great so if this is a working remotely situation, bring your own hotspot). There is private parking for an additional fee.
Lou Cagnard offers a buffet or continental breakfast which is important IMO. If you're going to run around all day you need something in your belly before venturing out. Even is it's just an espresso and croissant.
La Ponche Beach, La Fontanette Beach and Saint-Tropez Beach are all close by. The nearest airport is Toulon – Hyeres Airport.
Or… treat yo'self to the bourgeoisie Maison Panthère – Luxury Harbour Residence. How french would that be?
Maison Panthère is a 5-minute walk from La Fontanette Beach or La Ponche Beach and Saint-Tropez Beach is 0.6 miles away. You're 600 feet from the town center.
The apartment (yes, I said apartment) is air-conditioned accommodations with free wi-fi, and a mini-bar.
There's a terrace, city views, a seating area, a fully equipped kitchen with a fridge and dishwasher, free toiletries and a coffee maker and an electric tea kettle.
Côtes de Provence is the largest appellation in the Provence wine region, and as such, has a lot of climate and soil variations.
Accounts for 75% of all wine produced in Provence, and of that, 80% is Rosé.
The main grape varieties include Carignan, Cinsaut, Grenache, Syrah and Mourvèdre, some Cabernet Sauvignon (also the local reds Tibournen and Calitor).
Côtes de Provence is large enough to have four sub-appellations: Sainte-Victoire, La Londe, Fréjus, and Pierrefeu.
Coteaux d'Aix-en-Provence
If you're visiting this wine region you're likely to stay in Marseille or Aix-En-Provence.
You may already know or would be interested to know that Aix (pronounced "EX") En Provence literally translates to "a city and spa in southeast France". It is the medieval capital of Provence.
Hôtel des Augustins is a crowd pleaser for sure. It's so popular because it's in a great location, has air conditioning and a very good breakfast which is so important before you head out on your day of sight seeing and wine tasting.
You're here for the wine (most likely) so get out and experience the wine of the Côte de Provence- Sainte-Victoire region. It's a morning tour so you'll have your afternoon free to take in the city.
Burn off the abuse you did to your body yesterday (no judgement!) on a walking foodie tour of Aix-En-Provence. Lunch is included!
The region makes red, white and Rosé wines, using Grenache, Cinsaut, Mourvèdre, and small amounts of Cabernet Sauvignon. The white grape varieties used here include Bourboulenc, Clairette, Chardonnay, Grenache Blanc, Sauvignon Blanc, and Semillon.
Don't forget to visit Luberon from Aix-En-Provence. Even better, pop up to Gourdes, stay at Airelles Gordes and have lunch at famed Clover Gordes like Emily and Gabriel.
Coteaux Varois de Provence
Specializes in red wines, made with Grenache, Syrah and Mourvèdre. An occasional white wine from Rolle. Vines here are inland and at higher altitude, making them a bit more intense.
Les Baux de Provence
The warmest appellation in Provence, focuses on reds from Grenache, Syrah and Cinsault. Blended with Cabernet Sauvignon.
Cassis
Marseille is a popular place to stay when visiting the western Provence wine regions. From Marseille you can visit Coteaux d'Aix-en-Provence (1hr drive), Palette, Côte de Provence- Sainte-Victoire and Cassis.
The view from Sofitel Marseille Vieux-Port is the best in Marseille. The hotel also has a spa, air conditioning and a great restaurant (with the amazing view).
You can make the drive yourself or you can book a private tour for your group. If you book a private tour. You'll not only experience the most famous french wine country but you can also book a history tour of Marseille at the same time.
The appellation for Provence white wines, focusing on Clairette, Ugni Blanc and Marsanne.
Bandol
The appellation for Provence red wines, Mourvèdre is the star. Both red and Rosé from Bandol tends toward spice notes.
Palette
Tiniest appellation. Mourvèdre is the main varietal. If any lesser known grapes come into play, it's in Palette. There are only two estates here.
Bellet
Here's another destination that should be on your list if you're traveling around the Provence wine region… Nice. Staying in Nice is lovely and can be very affordable for a bougie town. Also, how cool would it be to send your friends a postcard from Nice? You already know the answer to that.
There are loads of swanky hotels, charming inns and B&Bs in Nice.
Red, white and Rosé. The Rosé from Bellet is known for its nose of rose (hey, that rhymes!) petals.
Did you know the Tour de France 2024 will conclude in Nice? Book your hotel now!
Pierrevert
The newest AOC in the Provence wine region (1998). They're still working out their kinks. It is the furthest north of the AOCs in the Provence wine region.
Located in the Alpes de Haute Provence, next to the Luberon. There is definitely a Rhône influence.
How To Travel Around Provence- The trip of a lifetime
Our recommendation is to work your way from one end of the region to the other. If you're starting in Paris and passing through Lyon before beginning your wine tour, obviously you'll start in the western part of the region. Stay at the Emily In Paris hotel Airelles Gordes, La Bastide.
From there, book stays in Aix-En-Provence, Marseille, Saint-Tropez and Nice. Depending on the rental car return rates for a one way rental and flights from smaller towns, you can drop your car in Saint-Tropez and fly back to CDG.
Or, If you have all the time in the world, fly into Paris, travel through Tours and Loire Valley, down through Beaujolais, spend a night or two in Lyon, head to Nice, enjoy Provence and THEN hit up Catalonia.
You are guaranteed to be the envy of your squad back home and isn't that what life's all about?
Want to bring your wine from provence home with you?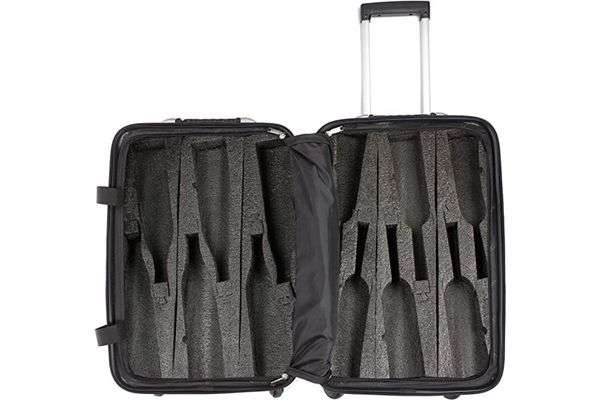 We recommend the VinGardeValise 12 bottle wine suitcase. There are a couple ways you can use this suitcase. One is, when you come home you only pack half the suitcase with wine and the other side clothes; or, what we do is bring a duffle bag to carry our clothes home. You can still check a duffle bag home btw, you don't have to schlep it around for all four connections.
Pro tip: you can also use the duffle bag to drop off your clothes to be laundered if you're doing an extended trip. Multiple uses for one duffle bag.
Provence Wine Region- Buyer's Guide
Provence Wine Region FAQ
What wine region is Provence in?
Provence (Provençal) wine comes from the French wine-producing region of Provence in south France on the Mediterranean Sea.
What wine is Provence famous for?
The Provence wine region is known predominantly for its rosé, which accounts for more than 80% of wine production. Bandol produces the region's most highly-regarded reds, while the only area known for its white wines is Cassis.
What are the 5 famous wine region in France?
The most famous French wine regions are the Provence wine region, Alsace, Bordeaux, Burgundy, Champagne and Rhône Valley.
What is the most popular wine in Provence?
The Côte de Provence AOC (created in 1951) is the most well-known of all wine AOCs in Provence, France (it accounts for three quarters produced in any Provence winery) and of this, 80% is rosé.
Why is Provence so popular?
Provence is an aromatherapist's dream. The Provence wine region is famous for its picturesque and diverse landscapes with blossoming lavender, rosemary and juniper in the summer months. It is also famous for the delicious wines and rosés that have been produced in the region for centuries.