15 Best Prosecco Cocktails (With 15 Different Recipes)
Picture this: you and the effervescent symphony of popping corks as you dive headfirst into a world where Prosecco cocktails aren't just a drink—it's a liquid canvas for your wildest cocktail dreams.
I'm about to spill the beans (or should I say bubbles?) on 15 dazzling recipes that will have you shaking, stirring, and sipping in style. Today's the day we pop those corks, toss out the ordinary, and infuse every moment with the effervescent charm of Prosecco.
So, grab your shakers, dust off those fancy glasses, and dazzle your palate with a sparkling spectacle that's part chemistry, part art, and all fun. Get ready to impress your guests, or just treat yourself to a little DIY cocktail therapy—because life's too short for mediocre drinks.
Jump to Recipe
What Is Prosecco?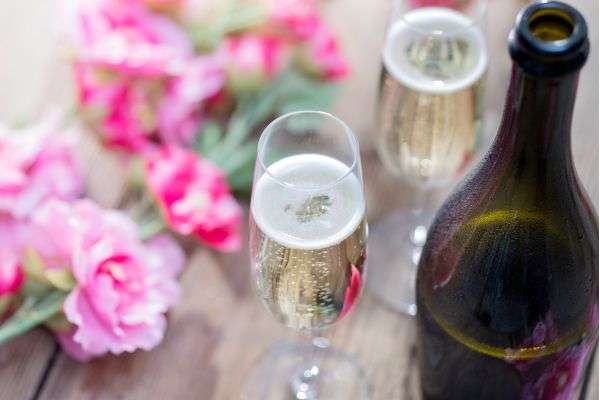 Prosecco is a sparkling wine from the Veneto region of Italy, particularly from the hills of Valdobbiadene, Conegliano, and the surrounding areas. It's crafted primarily from the Glera grape variety, known for its crisp acidity and fruity flavors. Prosecco has gained immense popularity globally for its approachable and effervescent character, making it a delightful choice for celebrations or casual sipping.
The production of Prosecco involves a unique method known as the Charmat or tank method. Unlike Champagne, where the secondary fermentation occurs in the bottle, Prosecco undergoes this process in stainless steel tanks. This results in a fresh and fruit-forward profile, distinguishing it from other sparkling wines.
What Does Prosecco Taste Like?
Prosecco delights the palate with various flavors that dance across the taste buds. Expect vibrant notes of green apple, pear, citrus, and sometimes hints of floral or tropical elements. Its moderate acidity provides a refreshing crispness, creating a harmonious balance with the gentle sweetness of the wine. While not as persistent as those in Champagne, the bubbles contribute to a lively effervescence that enhances the drinking experience.
Prosecco's taste profile is often described as approachable, making it an excellent choice for those who appreciate a lighter and fruitier sparkling wine. The versatility of Prosecco allows it to pair seamlessly with various dishes, from appetizers to seafood or even spicy cuisine.
Is Prosecco Dry or Sweet?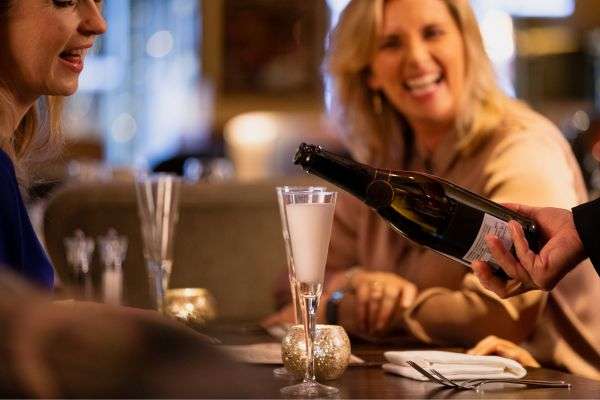 Prosecco comes in different sweetness levels, and it can be found in varying styles to suit different preferences. The sweetness levels are often categorized using terms such as Brut, Extra Dry, and Dry. Here's a brief explanation of these terms:
Brut: This is the driest style of Prosecco, with minimal residual sugar. It typically contains up to 12 grams of sugar per liter. Despite the term "Brut," it is the least sweet category.
Extra Dry: Contrary to what the name might suggest, Extra Dry is slightly sweeter than Brut. It usually contains between 12 to 17 grams of sugar per liter.
Dry: The term "Dry" in the context of Prosecco indicates a higher sweetness level than Brut and Extra Dry. Dry Prosecco can contain between 17 to 32 grams of sugar per liter.
It's essential to check the label or product description to determine the sweetness level of a particular bottle of Prosecco. This allows you to choose a style that aligns with your taste preferences, whether you prefer a crisp and dry profile or a hint of sweetness in your sparkling wine.
Can You Drink Prosecco On Its Own?
Prosecco is not just a stellar supporting act in cocktails; it shines brilliantly on its own. Its effervescence and lively character make it a fantastic aperitif or a delightful choice for toasting on special occasions. Prosecco's crisp and fruity notes take center stage when served chilled, providing a refreshing and enjoyable experience.
Whether you're celebrating a milestone, lounging on a sunny afternoon, or simply unwinding after a long day, a glass of Prosecco can be the perfect companion. While it plays well with mixers in cocktails, savoring the simplicity and elegance of Prosecco in its unadulterated form is a testament to the wine's inherent charm and versatility.
15 Easy Prosecco Cocktail Recipes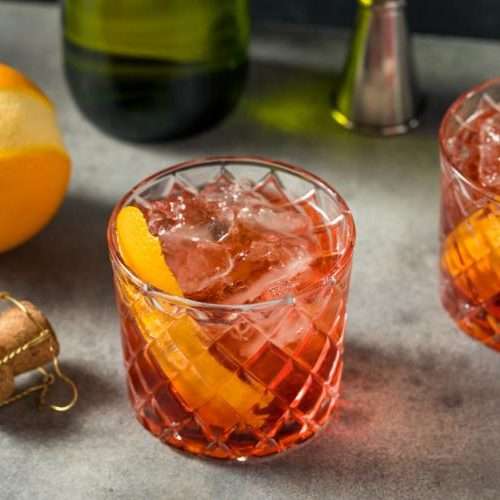 Negroni Sbagliato With Prosecco
What better way to start this collection of Prosecco cocktail recipes than with a Negroni Sbagliato… with Prosecco in it. Yep, this Prosecco cocktail was a trend for quite some time. And while more and more people are awaiting the next season of House Of The Dragon, why don't we try this infamous cocktail made viral by the lovely Emma D'Arcy?
Ingredients
1

ounce

Campari

1

ounce

Sweet Vermouth

1

ounce

Prosecco

Orange twist for garnish
Instructions
Put one huge ice cube in your double Old Fashioned glass. It should be crystal clear.

Pour the sweet vermouth and Campari over the ice.

Gently stir, then add an orange twist as a garnish.
Video
Gin And Prosecco Cocktail
Ingredients
1.25 ounces pink gin of your choice
Prosecco
3/4 ounce Sugar Syrup
1 ounce freshly squeezed lemon juice
Ice cubes
Instructions
Grab a glass. To keep your prosecco bubbles intact, serve it in a classy, long glass, such as a Champagne glass or 'flute.' Before you begin, you should have a chilled glass.
Pour in the 40ml pink gin in a cocktail shaker.
To make your sugar syrup, mix two parts sugar to one part boiling water and let it cool. Add 20ml of sugar syrup.
Add 25ml fresh lemon juice, then put lots of ice.
Give everything a good, firm shake.
Put some ice in your chilled glass
Pour your drink through a strainer twice before pouring it into your glass from your cocktail shaker. Half of the glass should be filled.
Pour more prosecco into your glass.
Gently insert a sprig of fresh mint and a long lemon peel into your glass so they rest on top. To get fancy, decorate with a long piece of dried lavender.
Aperol Spritz
Ingredients
2 ounces Aperol
1 ounce Prosecco
1 ounce Soda Water
1/2 ounce Orange Juice
Instructions
Add ice to a wine glass.
Top with club soda, Aperol, Prosecco, and orange juice.
Garnish with an orange slice.
Prosecco Margarita
Ingredients
1 ½ cups freshly squeezed lime juice (from about 15 limes), plus slices for garnish
1 cup tequila blanco, or to taste
½ cup Cointreau
½ cup simple syrup, or to taste
Coarse salt, for rimming
1 750ml bottle prosecco, chilled
Instructions
Mix the simple syrup, Cointreau, tequila, and lime juice in a pitcher. Stir thoroughly to combine.
Spread some salt onto a small plate. After wetting the rim of a glass with a lime wedge, dip it into the salt. To fully cover the moist portion of the rim, wiggle the glass.
After adding ice to the cups, pour the tequila-lime mixture halfway into them.
Pour prosecco over the glasses, add some lime slices as a garnish, and serve.
---
Interested in touring The Prosecco Winemaking Region In Italy?
Learn about the production process of Prosecco at a local winery and enjoy guided tastings. Lunch is included! This small group tour leaves from Venice and is about 6 hours long. Book early, as this is a small group tour it is likely to sell out.
---
Orange Blossom Bellini
Ingredients
1 ½ ounces peach puree
Chilled Prosecco
Peach slices for garnish
Instructions
Fill a Champagne glass with the peach puree.
Top with a chilled bottle of Prosecco.
Garnish with peach slices.
Prosseco Mimosa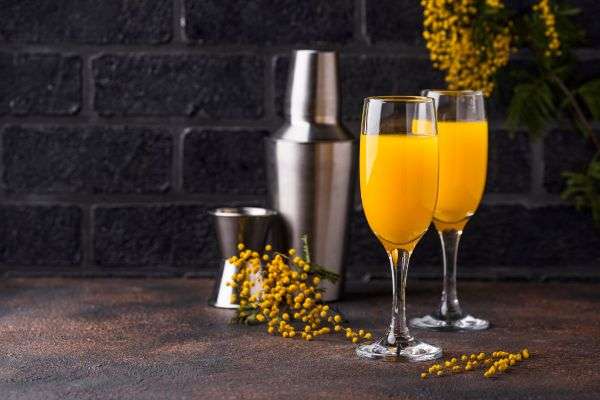 Ingredients
1 (750 ml) bottle Prosecco
3 cups chilled orange juice (freshly squeezed is best)
½ cup Grand Marnier, optional
Instructions
Pour the Prosecco into Champagne flutes, filling them halfway.
Add orange juice on top.
Pour one tablespoon of Grand Marnier, if using, into each glass.
Prosecco And Elderflower Cocktail
Ingredients
2 ounces gin
1 ounce Elderflower Liqueur
3 ounces Prosecco
Lime wedges
Sugar for the rim of the glass
Instructions
Place the gin and elderflower liqueur in a shaker with ice. Mix by shaking.
Transfer the sugar to a little plate. Press the rim of a martini glass in the sugar to coat it after running a lime wedge around its rim.
Pour the shaker's contents through a strainer into the glass, then top with Prosecco.
Squeeze one lime wedge into the beverage and use another one as a garnish.
Serve right away.
Hugo Prosecco Cocktail
Ingredients
1/2 ounce Elderflower Liqueur
4 ounces Prosecco
1 ounce Soda Water
Mint
Instructions
Muddle the mint leaves in the glass gently.
Pour in the elderflower liqueur and then pour ice into the glass.
Add a touch of soda and prosecco on top.
Add a lemon wheel and a mint sprig as garnish.
Raspberry Peach Sangria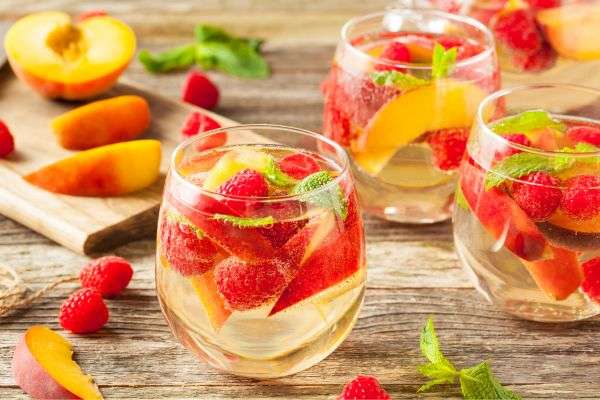 Ingredients
3 ounces peach schnapps
3 peaches sliced into thin wedges
1 pint raspberries
2 tablespoon palm sugar
1 bottle crisp, un-oaked white wine sauvignon blanc or similar
Prosecco to top off the pitcher
Mint leaves for garnish
2 cups crushed ice
Instructions
Fill a big pitcher with two cups of ice.
Cut the peaches into slices and put them in the pitcher with the sugar and raspberries.
After adding the white wine, refrigerate for approximately two hours.
Take the pitcher out of the refrigerator right before serving, add the prosecco, and fill wine glasses, being sure to top each one with a raspberry and a peach wedge.
Garnish with mint leaves on top.
Blackberry Lime Prosecco Cocktail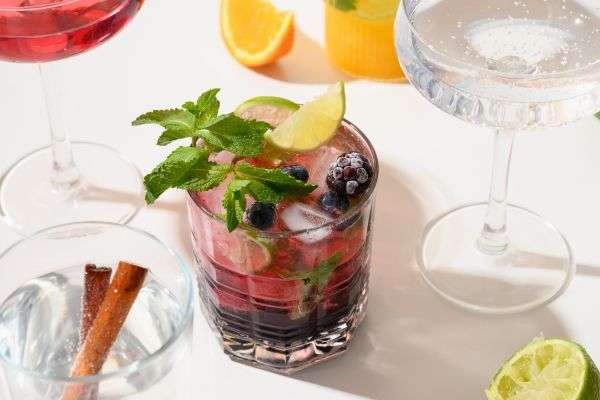 Ingredients
6 ounces fresh blackberries, plus more for garnish
24 mint leaves, plus more for garnish
6 slices fresh lime for garnish
1 tablespoon pure honey
½ cup fresh lime juice (about 6-8 limes)
1 (750 ml) bottle Prosecco
ice
Instructions
Add the lime juice, blackberries, mint leaves, and honey to a 2-cup measuring cup or a pint-sized jar. Mash the berries, mint, and lime juice together with a muddler or the end of a wooden spoon until the mixture resembles jam.
Pour the berry combination through a fine-mesh strainer placed over a big pitcher to remove the seeds and mint leaves. Press down firmly with the back of a spoon to extract all the juices from the combination, then throw away the remaining berry mixture in the filter.
Pour the Prosecco into the pitcher of berry juice; make sure to whisk to remove any accumulated foam carefully.
Stir the pitcher once more after adding 3–4 cups of ice. Serve cocktails in pitchers or split them among six tall, ice-filled glasses.
Add a few blackberries, a lime slice, and some mint leaves as a garnish for each cocktail. Serve right away.
Sparkling Raspberry Martini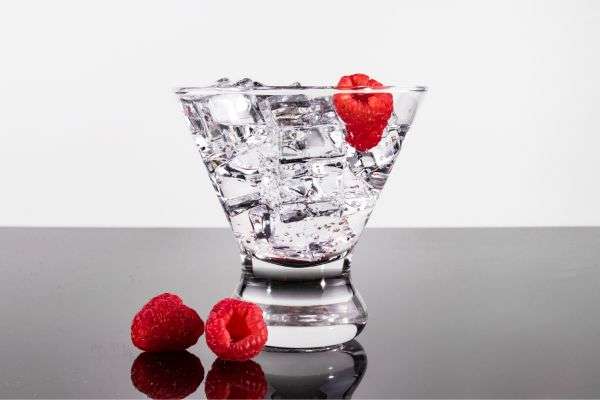 Ingredients
6-8 fresh raspberries
2 tsp white sugar
2 ounces Raspberry Vodka
10 ounces prosecco
2-3 tsp raspberry syrup (adjust for sweetness)
Instructions
Muddle the raspberries and white sugar in a cocktail shaker.
Add ice, raspberry syrup, and raspberry vodka. Close the shaker's cap and give it a good shake.
Fill the shaker with prosecco. Don't shake.
Pour the shaker's contents through a strainer into a martini glass.
If desired, garnish with a fresh raspberry.
Raspberry And Lemon Prosecco Cocktail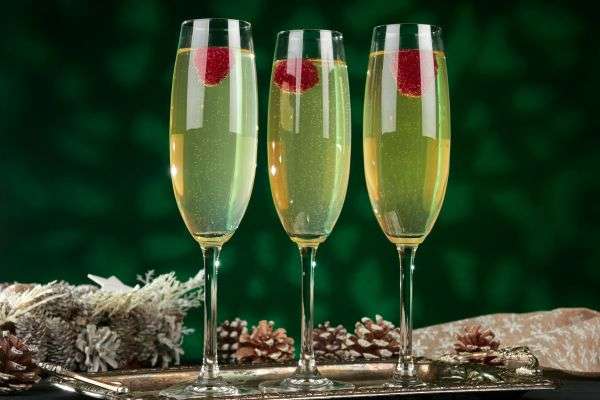 Ingredients
2 handfuls raspberry
½ lemon, juiced
1 ½ shots simple syrup
1 shot vodka
ice cube
Prosecco
Instructions
In a jug, crush the raspberries with the lemon juice and mix after adding the simple syrup.
Pour one shot of vodka into a glass with a ¼ portion of the fruit mixture.
Add more prosecco and ice cubes as garnish.
Poinsettia
Ingredients
1 ounces Cranberry Vodka
¾ ounce Orange Liqueur
4 ounces Prosecco
Rosemary Sprig for garnish
Instructions
Combine orange liqueur, cranberry juice, and vodka in a shaker. Fill with ice and shake.
Transfer into a martini glass and pour Prosecco over the top.
Add a sprig of rosemary as a garnish.
Sparkling Pear & Ginger Cocktail
Ingredients
For the pear and ginger cocktail syrup:
½ cup ginger – grated
2 pears – sliced
2 tbsp granulated sugar
½ cup water
For the cocktail:
½ oz. pear & ginger cocktail syrup
½ oz. St. Germain
½ oz. fresh lemon juice
3 oz. prosecco
Instructions
For the pear and ginger cocktail syrup:
Cut two pears into small pieces, making sure to remove the core.
Grate and peel a half-cup of fresh ginger.
Add the pear, ginger, and ½ cup of water to a saucepan. Simmer for 20 minutes on low heat. After 20 minutes, mash the pear as much as possible using a potato masher.
Stir in 2 tablespoons sugar. Simmer for five minutes more while stirring.
To make the pear-ginger mixture manageable, transfer it to a container and chill it for approximately 15 minutes. Squeeze the syrup from the mixture using cheesecloth or a nut bag when it has cooled. Store cold until needed.
For the cocktail:
Pour ½ ounce of pear and ginger syrup, ½ ounce of St Germain, ½ ounce of fresh lemon juice, and 3 ounces of Prosecco into a cocktail shaker filled to the brim with ice.
Pour into a frosted glass after giving it a gentle stir.
Strawberry Rossini
Ingredients
2 cups strawberries washed and stems removed
2 tablespoons sugar
750 ml bottle Prosecco chilled
strawberries for garnish (optional)
Instructions
In a food processor or blender, combine the sugar and two cups of strawberries. They should be blended on high until they are liquid.
Transfer the purée to a sieve with fine mesh and a bowl underneath. To assist in straining the strawberries through the sieve, use a spatula. After using the sieve to remove the strawberry seeds, store the remaining puree in the refrigerator until needed.
Transfer approximately two tablespoons of the strawberry puree into a champagne glass when you're ready to serve the Rossinis.
Pour Prosecco into the empty glass, swirl, and top with a strawberry.
Sip, Savor, Sparkle: Your Celebrations with Prosecco Cocktail Creations
And there you have it, fellow revelers—your ticket to a world where every sip is a celebration, every flavor is a spark, and every moment is worth toasting! From brunch delights to midnight marvels, each cocktail has been a brushstroke in the canvas of our at-home mixology masterpiece.
As we bring this fizzy escapade to a close, armed with 15 dazzling recipes to impress any guest or dazzle our taste buds, I can't help but feel a newfound appreciation for the liquid artistry that is Prosecco. So, the next time you're raising a glass to cheers, remember the dance of flavors Prosecco cocktails bring to the party.
Prosecco Cocktails FAQs
What is good to mix with prosecco?
Prosecco is incredibly versatile and pairs well with a variety of mixers. Some popular options include:
Aperol or Campari: Create a refreshing Aperol Spritz or Campari Prosecco cocktail.
Fruit Juices: Mix with peach, orange, or strawberry juice for a fruity twist.
Liqueurs: Experiment with elderflower liqueur, Chambord, or St-Germain for added flavor.
Fresh Fruit: Drop in berries, slices of citrus, or even a watermelon wedge for a vibrant touch.
How do you drink prosecco sparkling wine?
To savor Prosecco at its best:
Serve Chilled: Ensure your Prosecco is well-chilled, typically around 45-48°F (7-9°C).
Use Proper Glassware: Opt for a tulip-shaped glass to preserve the bubbles and enhance the aroma.
Hold the Stem: Handle the glass by the stem to prevent warming the wine with your hand.
Sip, Don't Guzzle: Take small sips to appreciate the flavors and effervescence.
What is so special about prosecco?
Its versatility, accessibility, and distinct characteristics make Prosecco a beloved choice worldwide. Crafted primarily from the Glera grape, Prosecco has a unique and fruity flavor. Generally, it's more affordable than Champagne, making it accessible to a wider audience.
Perfect for various occasions, from casual gatherings to formal celebrations. Its gentle bubbles add a lively and celebratory quality to the drinking experience.
Is Prosecco a Champagne?
No, Prosecco is not Champagne. While both are sparkling wines, they come from different regions and use different grape varieties and production methods. Prosecco comes from Italy, primarily using the Glera grape and the Charmat fermentation method in tanks. 
On the other hand, Champagne is produced in the Champagne region of France, typically using Chardonnay, Pinot Noir, and Pinot Meunier grapes, and undergoes the traditional method with fermentation in the bottle.
Is prosecco good with Sprite?
Yes, Prosecco can be mixed with Sprite to create a refreshing and easy-to-make cocktail. This is often referred to as a "Prosecco Spritzer." The combination of Prosecco's effervescence and the citrusy sweetness of Sprite creates a light and enjoyable drink. Add ice and a lemon or lime slice for extra freshness.
Can you add Coke to Prosecco?
While it might not be a traditional combination, some people enjoy mixing Prosecco with cola to create a bubbly and slightly sweet concoction. This is sometimes called a "Prosecco and Cola" or "Hugo." It's a matter of personal taste, and experimenting with ratios can help you find the balance you prefer. Adding a twist of citrus or a splash of liqueur can enhance the flavor complexity.