Your Ultimate Guide To Arizona's Wine Country — Yes, You Can Taste Wine In The Desert
We're answering all your questions about the Arizona wine country. We'll help you plan, show you the best places to stay and the top AZ wineries to sip. There's even a map!
Get in touch with your inner drunken cowboy in Arizona wine country.
Among the prickly cactus and the scorching sun, there lies acres upon acres of tough vines that are able to withstand grueling temperatures and still produce some very noteworthy wines. Turns out there is more to Arizona than cactus, The Grand Canyon, rattlesnakes, turquoise, and more cactus. There is wine!
Wine tasting in the desert is not like wine tasting in Napa.
You have to navigate your day driving hours across desert highways while keeping extra hydrated.
There are over 120 wineries in the state (one of them even owned by a famous musician!), so you'll never run out of places to wet your wine whistle.
You won't find Michelin-star restaurants or picnic spots in lush gardens, instead you'll sink your teeth into diner delicacies and sip your wine overlooking red rocks and succulents.
Imagine wine tasting in Westworld, in old towns that still have saloons and tie-ups.
It's a different experience when tasting wine in the desert, but surely one you will never forget.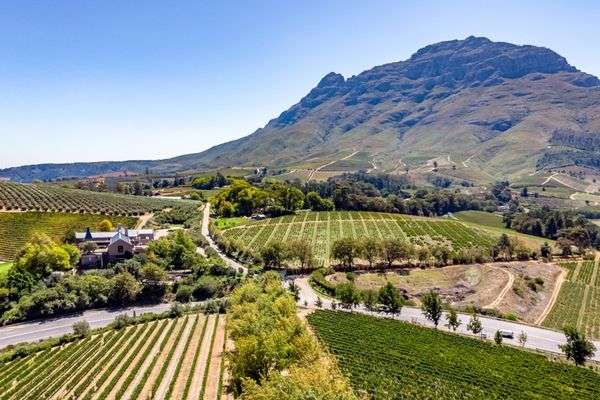 What To Know Before You Head To Arizona's Wine Country
A few insider tips to help you when planning a wine tasting excursion in Arizona.
Choose which area you'd like to do your Arizona wine tasting in. Most wineries are hours away from metro cities like Phoenix and Scottsdale and could require renting a car and/or hotel rooms.
Weather in Arizona varies from mild temperatures in the early spring and late fall to three-digit temperatures in the summer and as low as 20 degree temps in the winter.
Research your Arizona wine tours and transportation before heading out wine tasting. This will allow you to see multiple wineries in a day alongside a knowledgeable guide while keeping you off the road while drinking. There are so many unique ways to get around the wineries including Oregon-trail style wagons and horseback.
Save where you can by downloading the Arizona Wine Trail Passport app and get discounts on wine, club memberships, gift shop merchandise, and even free tastings. Be entered to win prizes from the Visit Arizona board of tourism when you check into a least one winery on the app. It's free to download and sign up.
Research wineries and their varietal specialties. Due to the vast climate and degrees of altitude, a number of wine varietals are grown in Arizona that resemble those grapes grown in Europe — Sangiovese, Cabernet Franc, and Viognier. However, depending if you're solely a red wine drinker or prefers white, there are wineries that are more heavy leaning towards one without many options for the other.
It goes without saying, but most wineries will ship wine to your door, so if traveling in the summer months, don't leave the wine in your hot car and instead have the winery ship your wine purchase. Or better yet, you can just become a member of their wine club (more affordable than becoming a wine club member in Napa).
Bring your own glass. Inquire ahead of time to see if the winery offers discounts if you BYOG (many do). Some wineries offer tastings in branded wine glasses for yours to keep that are in included for an upcharge or they serve their wine unconventionally in paper or plastic cups which might not be ideal for your wine tasting experience.
Where To Stay During Your Arizona Wine Tasting
Once you choose the location of your Arizona wine extravaganza, it's time to book your hotel.
Scottsdale Wine Tasting
You're not going to find any wineries in the metropolitan city of Scottsdale (just 18 minutes from the Phoenix airport), but you will find enough walkable tasting rooms in Old Town Scottsdale to end your night passed out drunk at a bus stop — savor those memories!
The tasting rooms are also a great pregame activity before dining at one of the many notable restaurants in the area.
Scottsdale Wineries & Tasting Rooms To Visit: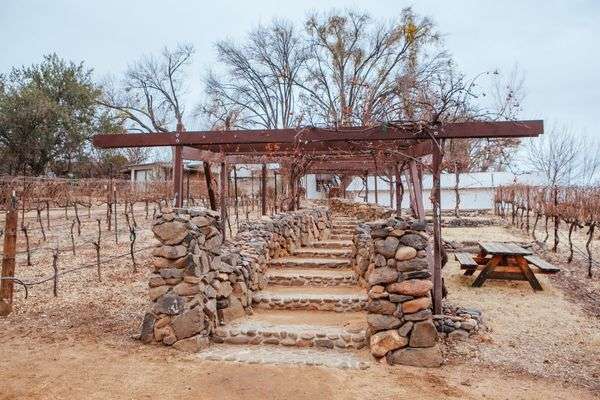 Cottonwood Wine Tasting
A two-hour drive from Phoenix International airport and just 18 miles south of Sedona, Cottonwood is known as the heart of Arizona wine country as it's the epicenter of the Verde Valley wine region.
Here, you'll find a number of wineries and tasting rooms to tour and enough outdoor activities (especially the shopping and dining in historic Old Town Cottonwood) to do to make this more than just a wine destination.
Cottonwood Wineries & Tasting Rooms to Visit:
Jerome Wine Tasting
Sandwiched in the middle of Prescott and Sedona, Jerome is Northern Arizona's largest city (about an hour away from the Grand Canyon).
It's known as the "wickedest town in the west" because it is the largest ghost town in America that used to be a bustling copper mining town with bootleggers, gamblers and prostitutes.
Now you'll roam the old west-inspired downtown filled with art galleries, live music, and kitschy gift shops.
The area is home to the most notable winery in Arizona — Caduceus Cellars & Merkin Vineyards which is owned and operated by musician Maynard James Keegan, the former frontman for Tool and A Perfect Circle.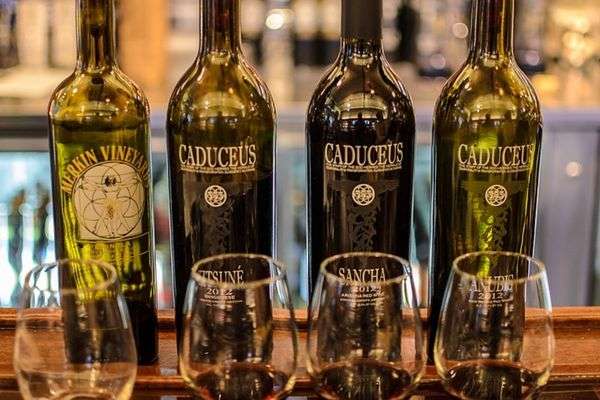 Jerome Wineries & Tasting Rooms to Visit:
Camp Verde Wine Tasting
Wine tasting is wild in Camp Verde! This wine country town, about an hour outside Phoenix, has the popular Out of Africa animal wildlife park.
There's also the Native American cultural monument Montezuma Castle.
Camp Verde is situated in the lush Verde River Valley where the environment is more green than other parts of the Arizona offering a winding river home to beautiful blue herons, bald eagles, beavers and otters.
Camp Verde Wineries & Tasting Rooms To Visit:
Willcox Wine Tasting
That southeast corner of Arizona? That's Willcox, about one hour east of Tucson and one hour from the New Mexico border in Cochise County.
Not only will you find wineries and tasting rooms, Willcox is also the home to the Cowboy Hall of Fame. Yee-Haw!
Want to taste wine with ghosts?
Willcox is also the place to visit real ghost towns along their Ghost Town Trail.
Willcox Wineries & Tasting Rooms To Visit:
Cornville Wine Tasting
Located just 10 miles south of Sedona, Cornville will surely be on the tour bus route as you make your way through this vacation spot where desert dwellers come to beat the heat (expect temperatures 15 degrees cooler than Phoenix and Scottsdale).
There are plenty of Native American ruins to explore and various spiritual vortexes in the mountain areas.
Cornville Wineries & Tasting Rooms To Visit: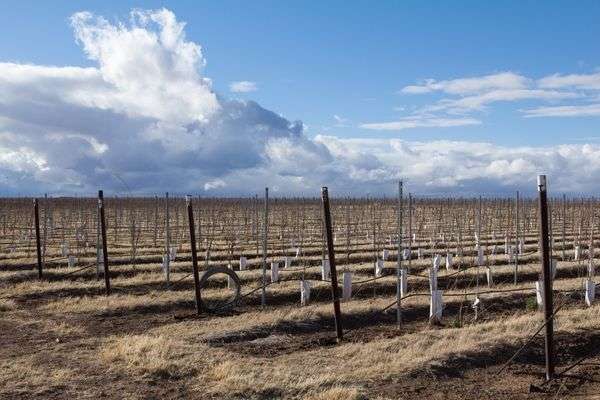 Sedona Wine Tasting
Wineries in Sedona are certainly among the most stunning places to sip your vino. Sedona is a mythical place where red rocks surround your every peripheral and cool temperatures make Sedona wineries a relaxing environment.
Less than two hours from the Phoenix airport, it's a beautiful drive into Sedona on the winding roads where those sunset-colored canyons hug every turn.
Great place to book your AZ wine tour visiting multiple wineries.
Most of the Sedona wine tasting rooms are within the main downtown area and offer plenty of great local wine, live music and oh, those majestic views.
Sedona Wineries & Tasting Rooms To Visit:
Elgin Wine Tasting
Coined as Arizona's Original Wine Country, it doesn't really get more rural than Elgin.
With under 500 people contributing to the population, you better believe that if you're visiting Elgin, it is definitely for the wine.
The town of Elgin has many wineries in just a small concentrated area.
It's located 45 minutes south of Tucson and experiences cooler climates than the rest of the state with temperatures getting only into the upper 80s in the summer months.
It also offers hiking, camping and beautiful landscapes for budding photographers.
Elgin Wineries & Tasting Rooms To Visit:
Sonoita Wine Tasting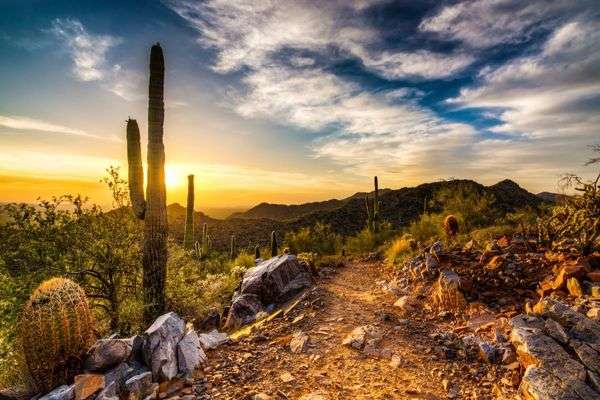 Just 25 miles from the Mexican border and one hour outside Tucson, this Arizona laid-back desert wine country has been producing wine in Arizona since the 16th century.
In addition to wine tasting, plan ahead for horseback riding excursions, picturesque hiking, and visiting the many galleries dedicated to Native American art, homemade gifts, and jewelry.
Very close to Elgin and makes a great AZ wine tasting trip visiting both areas.
Sonoita Wineries & Tasting Rooms To Visit:
You see, you can drink wine in the Arizona desert!
There's an endless supply of wine gushing out of wine barrels all over the map and Arizona is just another wonderful wine country to add to your future travels.
Soak in the historic culture of the region inspired by the Native American settlers while marveling at the gorgeous wine being created in the middle of the desert.
Arizona Wine FAQ
What wine is Arizona known for?
Willcox and Sonoita are the most well known Arizona wine regions. These regions are producing award-winning Sauvignon Blanc, Cabernet Sauvignon, Malbec and Merlot wines.
Is Arizona wine any good?
With over 120 wineries in the state (one of them even owned by a famous musician!), you'll never run out of places to wet your wine whistle. Arizona produces world-class wines that are unique, dense in flavor with good structure.
Does Arizona have wine vineyards?
Arizona wine makers have been making strides in getting Arizona wines on the map. In fact, today there are a dozen vineyards and more than 120 wineries located throughout the state.
Where is AZ wine produced?
Arizona three major wine growing regions are the Sonoita/Elgin, the state's first AVA in Southeast Arizona; Willcox in the southern part of the state; and the Verde Valley, north of Phoenix which could be AZs third AVA.

Author: Tiffany Carter
Tiffany is a contributing writer to Armchair Sommelier. When she isn't writing about wine, the California native is touring local wineries (Hello Napa and Paso!) and filling her glass across the globe (Ciao, Tuscany!). She loves a full-bodied cab, but she plays favorites when it comes to a spicy Zinfandel or juicy Malbec. Her fridge is stocked with a bottle of sparkling rosé for emergencies. Hint: there's always an emergency. You can follow Tiffany @winetastetravel.