Revealed! The Most Obscure Winery Architecture In The World
There's a wild and wonderful world of winery architecture that showcases the winery as the main attraction.
Before you even enter the tasting room, you are hypnotized by the strange and peculiar design (did I just walk onto a Tim Burton set?).
Some are beautiful, some are just plain odd, but they are all breathtaking in their own right. We scoured the world to find the wineries with the most obscure architecture.
Grab your passport and let's make a toast — Here's cheers to being weird!
Peregrine Wines – Queenstown, New Zealand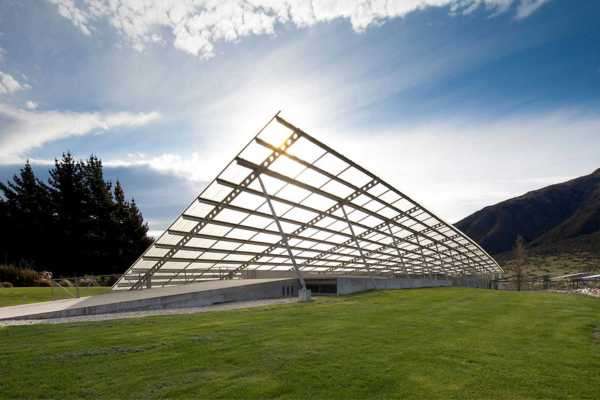 After a few glasses of wine you might be seeing birds when staring at this awestruck winery's architecture. Peregrine's design by award-winning firm Architecture Workshop is inspired by birds in flight (Hitchcock would love it here).
The simplistic design features a translucent canopy that rises out of its foundation like a blade of light. This is to symbolize that there really isn't any boundaries between us and the natural world. A wonder of a place to drink wine.
Bodega R. López de Heredia – Rioja, Spain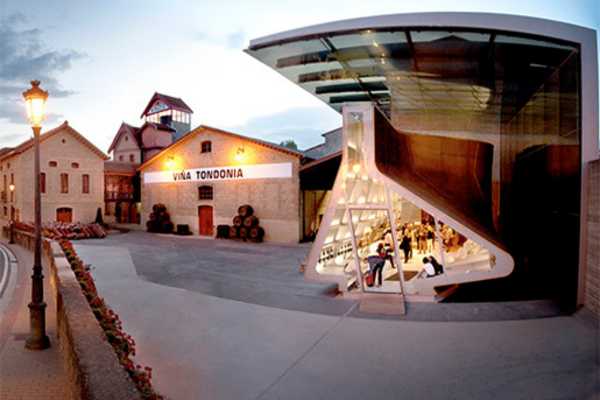 If you're lucky enough to view legendary architect Zaha Hadid's work in person, you'll see the magnitude of her talent.
This Spanish winery's architecture blends modern elements with tradition in a stunning work of art. Notice the whimsical entrance of the bodega designed to look like a wine decanter.
Antinori nel Chianti Classico – Chianti, Italy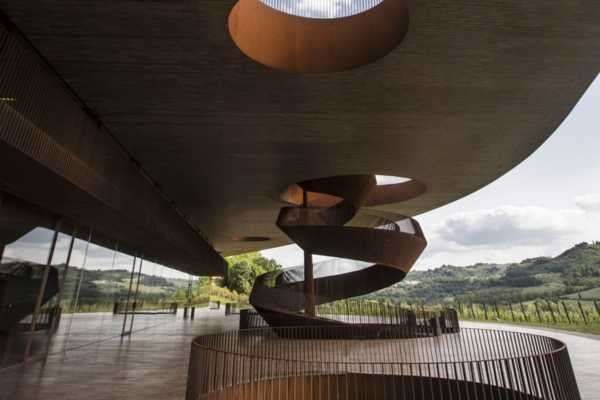 Voted the #1 winery in the world for 2022 by World's Best Vineyards, this modern winery is designed for optimal gravity flow for wine production, guaranteeing ideal climate conditions for the aging of wine, using only natural elements. The winery's construction lasted for 7 years.
Antinori Winery's architecture, Marco Casamonti, includes an external winding staircase leading to a gourmet restaurant serving fresh pastas and charcuterie with vineyard views. No fiascos in the Antinori nel Chianti Classico winery.
The final cost of the design totaled around $110 million which was almost double what was originally planned.
Bodegas Ysios – Alava, Spain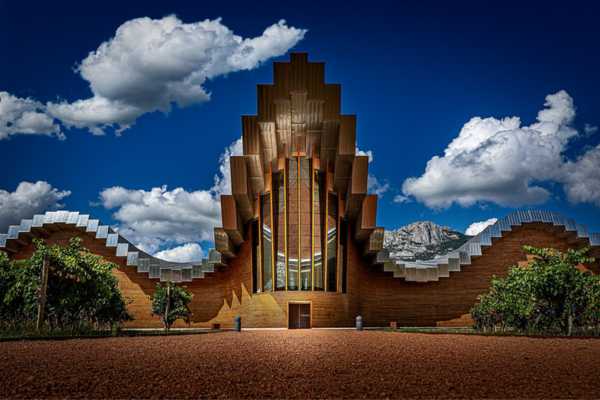 Spain's Bodegas Ysios architecture would be described as avant-garde. This winery is pouring wines from century-old vines and their grounds are traditional.
But their tasting room design looks like a cross between Minecraft and a high-end Lego set.
Petra Winery – Suvereto, Italy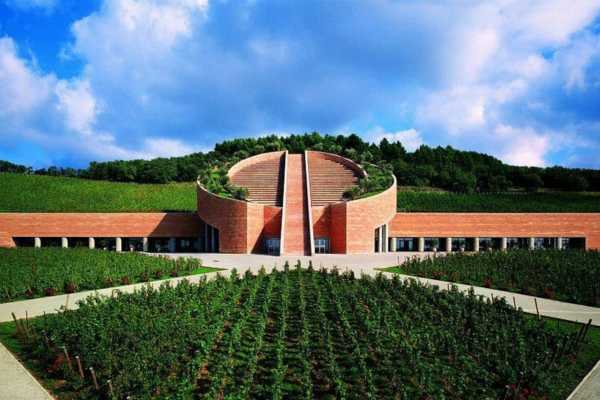 Swiss architect Mario Botta crafted an exquisite design inspired by the Tuscan winery's beauty, depth and natural landscape.
The rooftop is the main attraction here, which inclination models the place where grapes are gathered and then dropped into fermentation tanks.
Or it's just possibly a signal to alien life that their wine is delicious no matter what planet you're from.
Alfa Crux Winery – Mendoza, Argentina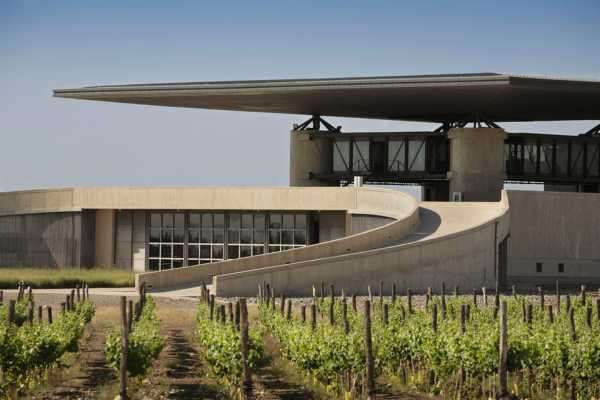 Is it a prison? Is it the scientists' lab from Stranger Things where they are trying to raise bionic children to fight the Upside Down world?
This Mendoza winery was formerly O. Fournier winery before the Agostino Wine Group took over, but kept the same odd design with super sharp edges that are not so Feng Shui and looks rather intimidating to say the least.
Marqués de Riscal – Rioja, Spain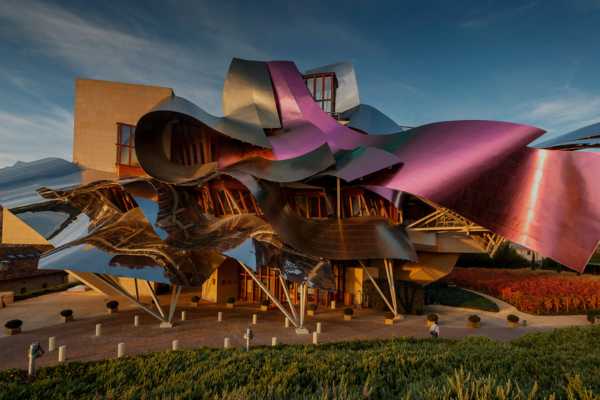 This Rioja winery's architecture looks more like a venue for Cirque du Soleil than a place that serves some of Spain's most applauded wine.
Marqués de Riscal was designed by mega-architect Frank Gehry (he designed Downtown Los Angeles' Walt Disney Concert Hall and the Guggenheim Museum in Bilbao, Spain), the winery features a psychedelic rainbow of wavy architectural elements.
However, don't let its ultra-modern design fool you, it is one of the oldest wineries in Spain dating back to 1858.
Clos Pegase Winery – Napa Valley, California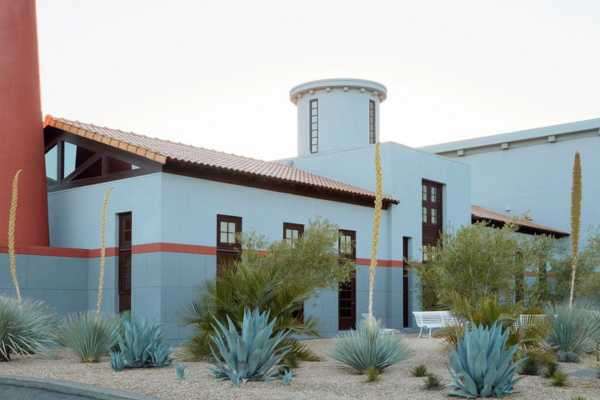 Remember the designer Michael Graves who had that really kitschy line at Target? Okay, well he designs wineries too and did wonders for Clos Pegase's space marrying modern and ancient architecture capturing the spirit of CP's wines while creating a structure that is unique to Napa Valley's landscape.
With the light blue and red facade, can't you just see that Michael Graves toaster on the Target shelf?
And in case you didn't know, Clos Pegase has some of the best white wine in Napa Valley.
Bodegas Portia – Burgos, Spain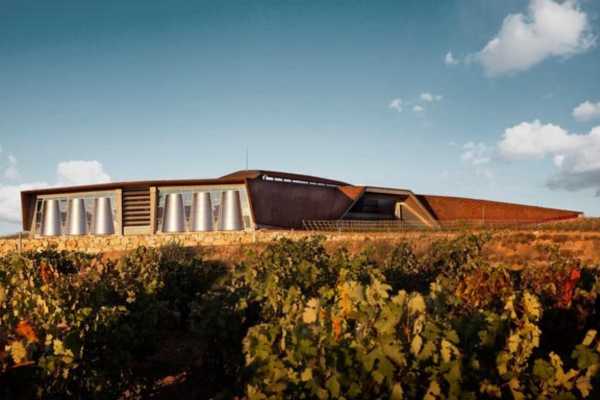 The winery architecture is described as powerful, rich and elegant like their wine, but I can't help feeling like I just want to play a game of Cups with someone.
Like which one of these cups is the wine hiding under? If America had designed this winery, we'd have Red Solo cups as an exterior and a beer pong table as its foundation.
Lapostolle Clos Apalta – Colchagua Valley, Chile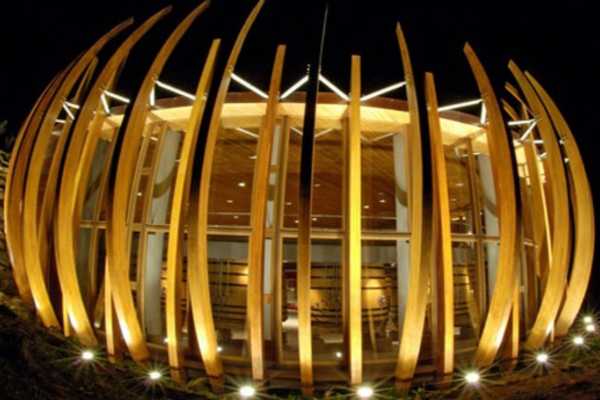 If you're thinking this is a big-teethed predator fish after Dory in a Pixar movie then you are incorrect, however I can appreciate your vivid imagination.
This is actually a tasting room within Chile's Clos Apalta winery that looks like an unhinged wine barrel.
Vik Winery – Millahue Valley, Chile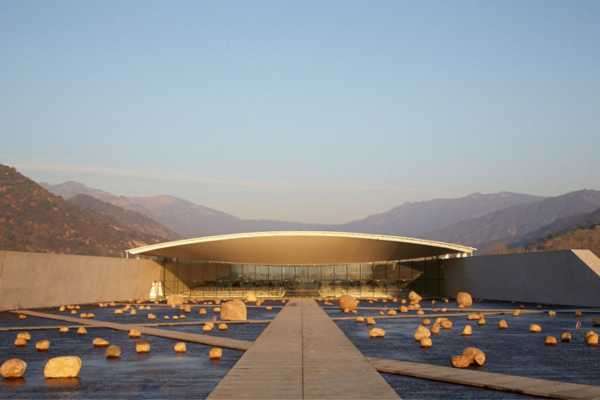 It's a little ambitious to admit that you are setting out to make the world's best wine, but at Vik, the winemakers are serious, spending years in scientific study, cultivating the best soil in order to bottle the perfect wine.
The winery's mid-century modern design looks as though a meteor came from the sky, crashing nearby and leaving bits of rock scattered across the grounds.
Chateau Cheval Blanc – Saint-Émilion, France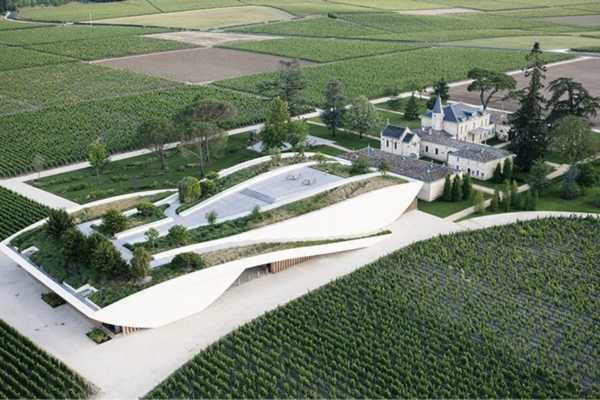 Two waves of white concrete look weightless as wild grass grows atop a faux hill in this Bordeaux winery.
Although the estate looks something out of Bridgerton, the wine cellar is a modern and airy design of simplicity.
Like if Grandma Rose hung her sheets out to dry on clothespin in the fresh spring air, blowing in the breeze.
Ceretto Winery – Alba, Italy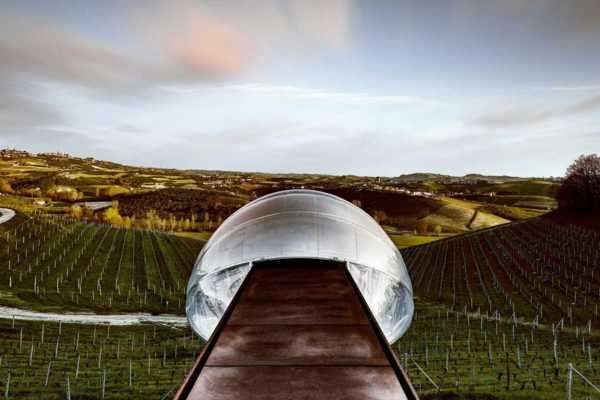 Welcome to the Disco Dome — okay, not really, but wasn't this igloo made for dancing?
This multigenerational family winery set on a farm, has all the comforts of home, but the real stunner is The Grape, a permanent installation that allows guest to view the gorgeous landscape while sipping Barolo.
Waterkloof Winery – Cape Town, South Africa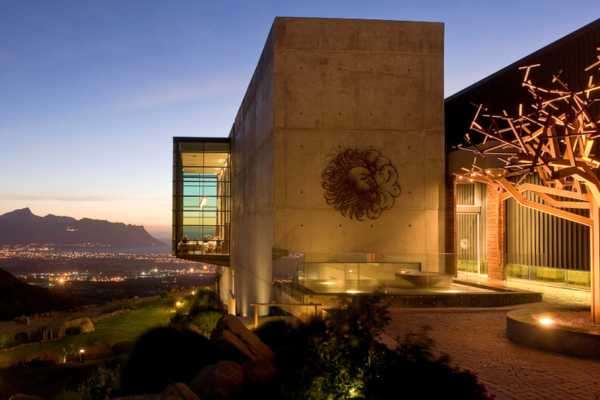 Coined as 'The Winery in the Sky', Waterkloof in South Africa rises above the rest with bold, minimalist design featuring modern elements like an all-glass cube hovering over the vineyards that features a gourmet restaurant.
Progeny Winery – Napa Valley, California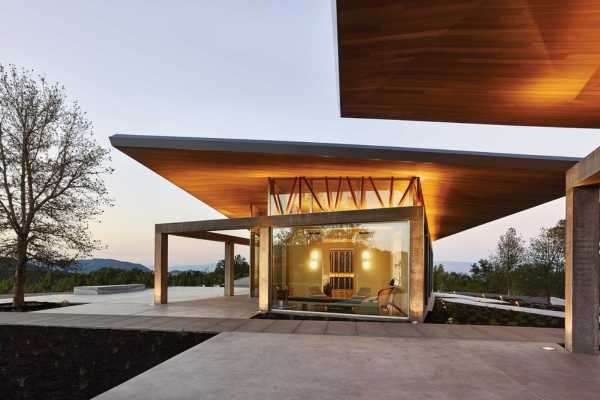 Is this Iron Man's home or a winery?
This Napa Valley winery is a quintessential piece of California architecture with its slanted, sharp edged roofs that are reminiscent of 1950s/1960s home design inspired by space and the outer limits.
The Donum Estate – Sonoma, California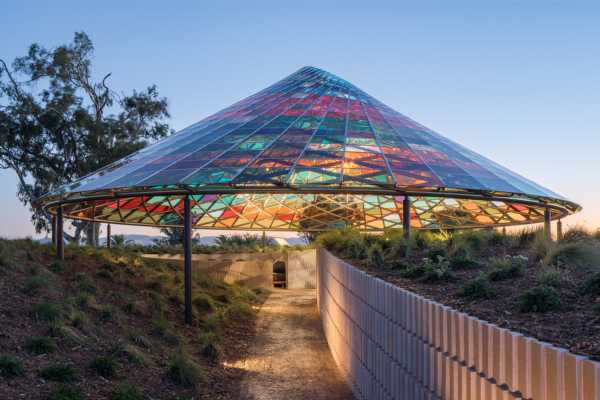 How does a billionaire build a winery?
Look no further than Donum Estate in Sonoma, where its just as much about the fine art as the great wine.
Famous artists like Keith Haring and Yayoi Kusama are featured here, but the standout is the Vertical Pavilion where 832 brightly-colored laminated glass panels cover winery guests in a canopy.
Lahofer Winery – Dobsice, Czech Republic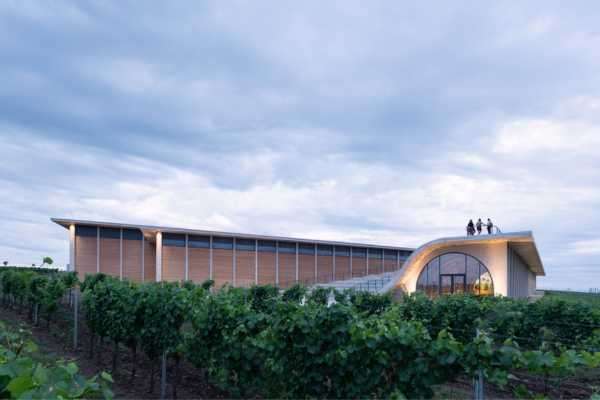 If anyone is looking at this with jaded eyes, it's Tony Hawk who could totally turn this into the greatest skate part in Eastern Europe, mostly because they serve wine.
Now that you've had your passport stamped quite a few times, it's time to sit back, relax, and enjoy a nice glass of wine while you plan out where in this weird world will be your next wine vacation.
Want To Tour The Wide World Of Wine?
Ready to take your relationship with wine to the next level? Book a wine tasting trip! Viator (a Tripadvisor company) is the world's largest online marketplace for tours, activities, and attractions.
Viator has been a partner of Armchair Sommelier since our inception. We love partnering with them because our readers and Viator's trip operators have told us Viator is a great booking company to work with.
Still not convinced, let the reviews speak for themselves. We know you're a review junkie. So are we! We don't want to recommend a product that is going to offer you a bad experience. That said, there are no 100% guarantees in life.
Let me talk to you about my own experience with Viator. I have traveled all around the world. I've booked trips for myself, for my family, friends and even corporate travel (I will never do that one again so please don't ask me). I have used Viator every.single.time. And that's why I'm so excited to be a partner of theirs.
Obscure Winery Architecture FAQ
Who is the architect of Antinori winery?
Voted the #1 winery in the world for 2022 by World's Best Vineyards, this modern winery is designed for optimal gravity flow for wine production, guaranteeing ideal climate conditions for the aging of wine, using only natural elements. Antinori nel Chianti Classico was designed by Marco Casamonti.
How much did the Antinori winery cost to build?
After digging up an area of about 35 acres, stabilizing construction and covering everything up again it ended up costing about $110 million which was almost double of what was originally planned.
how old is Marqués de Riscal in Rioja, Spain
Established in 1858, with its first wines bottled in 1862, Marqués de Riscal is one of Rioja's most impressive names.

Author: Tiffany Carter
Tiffany is a contributing writer to Armchair Sommelier. When she isn't writing about wine, the California native is touring local wineries (Hello Napa and Paso!) and filling her glass across the globe (Ciao, Tuscany!). She loves a full-bodied cab, but she plays favorites when it comes to a spicy Zinfandel or juicy Malbec. Her fridge is stocked with a bottle of sparkling rosé for emergencies. Hint: there's always an emergency. You can follow Tiffany @winetastetravel.